KILLZONE 2
Developer
:Guerrilla Games
Publisher
:Sony Computer Entertainment Europe
Genre
:First-person shooter
Players
:single,online multiplayer
Platform
:PlayStation 3
Release
:2008
Two years after the Helghast assault on Vekta, the ISA is bringing the fight to the enemy's home world of Helghan. Taking the role of Sev, the battle-hardened veteran of the special forces unit known as the Legion, players will embark upon a mission to the planet Helghan to capture the Helghast leader, Emperor Visari, and bring the enemy's war machine to a halt. For Sev and his squad, the invasion of Helghan is just the beginning. Tasked with securing Pyrrhus, the Capital City, the team quickly discovers that the Helghast are a formidable enemy on their home planet. Not only have they adjusted to the planet's hostile conditions, they have also harnessed a source of power from the environment that can be used against the ISA. Sev and his team soon discover the fight is greater than simply addressing the enemy forces; the Legion must also learn how to handle the effects of the fierce enemy planet.
Official websie
IGN preview
Tonight, Sony Computer Entertainment finally pulled the curtains back from its highly-anticipated first-person shooter, Killzone 2. The console giant has been entirely mum on the game since its debut at E3 2005, and though it started with tremendous hype, gamers have grown more and more weary over its status as time has gone on. The issue up until now has been that as impressive as the trailer was, it was all pre-rendered, and being that no one has really heard about the game in nearly two years now (aside from an SDK demo at this year's GDC which was in no-way indicative of the actual title), gamers everywhere have simply had to speculate as to whether or not it would live up to the extremely impressive trailer. And perhaps more so, whether or not said pre-rendered footage would doom the game to become a disappointment.

Tonight's demo opened very similarly to what we saw two years ago. Clouds canvassed the screen until a soldier's head crept into view. He and others on his "cargo" vessel converse in short and abrupt sentences about how they're on their way to certain death. The scene is extremely similar to the lead-up to the invasion on Normandy Beach - certain hell is ahead, and the soldiers can't help but hold on to their helmets and hope to make it to the war zone intact and actually have a fighting chance.

A couple more vessels come into view, engines kicking below their flat surface while soldiers can only crouch and hold on to the thin railing. There's no protection here, nor even seats. Just as the clouds begin to part, one of the vessels is hit by incoming fire and begins plummeting to the very expansive city below. After falling for what seems like an eternity, it finally lands in a ball of flame as soldiers on the other vessels talk about how they're certain to die. Their commander tells everyone to lock and load...

The opening was once again fantastic, but we couldn't help but sit there and think, "When are we finally going to see some in-game footage?" The only thing was that we had been looking at in-game footage. As soon as our soldier hits the ground and his gun comes into view, very much like what we saw with the opening to Resistance, we couldn't help but think, "Holy hell, all of that was in-game?"................................................................
............................................Though the demo was so action-packed that it was hard to pick up on a number of details, we did notice a few more subtleties. For one, the health system works like what you'll find in a number of shooters these days - that is, there is no finite health meter, but rather if you take enough fire over a short period of time you'll perish, while taking cover and waiting it out for a bit will bring you back up to speed. Also, at one point during the demo we noticed that you're able to sprint. It's unclear how far or often you can, though your weapon is lowered and moved to your side, so we're assuming that the inability to fire is your reason for not sprinting constantly.

The demo we lasted was the extent of an entire level and lasted over 15 minutes in length by our count, but remember that it was played by a Guerilla rep and that it'll take a newcomer a good bit longer to get through. Though there were a few pauses for loading at certain spots, Guerilla says that it'll have its streaming tech implemented by ship time and that you won't see any loads mid-level. When you see just how much stuff is here, you'll understand why this may not be an easy task.

If you would like a number to go with that, try 2GB. That's how big the single level was on disc, to which the Guerilla rep noted that the game's level of detail would not have been possible without Blu-ray.

As for multiplayer, the only details that we saw were part of a short PowerPoint presentation at the end, but Guerilla promises an "extensive multiplayer component", one that will make use of Home in some fashion. Sounds good to us.
Screens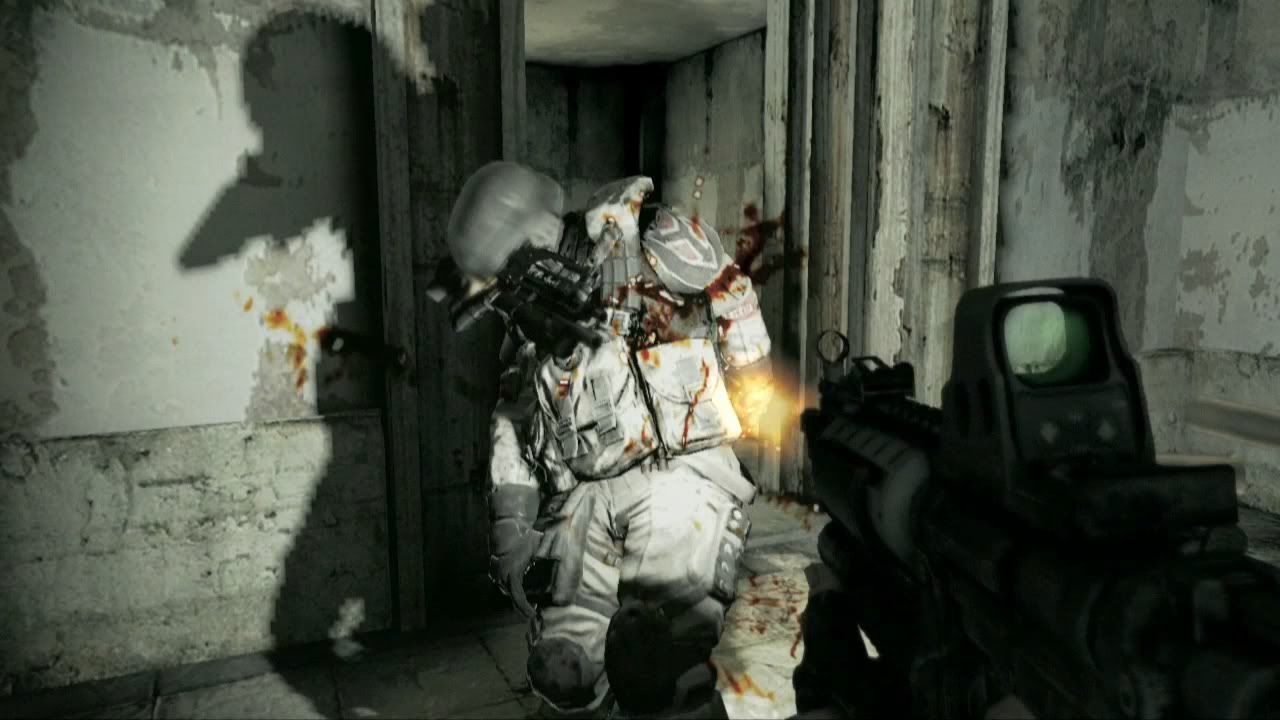 official trailers and videos http://www.gametrail.../game/1668.html

Reviews

IGN-
Gamespot-
1UP-
CVG-