Club Name : IVG PROs XI
Kit and Crest : Borussia Dortmund
League: British Isles
Home Stadium: Avi ka kotha
Me, Dom, Mrinal and Avi started this club as the First IVG Pro club in FIFA 11. We got many awesome players like Tarun and Dharmin on the way.
We continued it in FIFA 12. We've added 4 more awesome players - rockstarnet, Navdeep, Freak, echo_prime n poochandi.
We are a 4-star club right now. In our club we focus only on winning every match. Fun is also a vital part but the main focus of our club is only to win every match we play in.
We invite any IVGan who's ready to commit himself/herself completely to the club. We only want players who can come online regularly. If you intend to join the club then leave it after 1-2 months' fun then please don't bother joining.

These are the ground rules of our club (in effect from 03/01/2012) - 1.
No panicking. Doesn't matter if we go a goal down or whatever but never panic. Don't start posting crap in the chat room.
2.
No blaming anyone. Doesn't matter if someone makes a stupid mistake which costs us. Just back ur team-mates.
3.
No abuses. Yes, I'm saying this.
4.
Stay calm. If u see any team-mate doing something wrong, just calmly tell him that he's making a mistake and that he should improve on it.
If you join our club then you have to abide by the above stated rules.
Here's our team-sheet as of 16/01/2012 -
ANY : Anurag/Pradeep
Formation : 4-1-2-1-2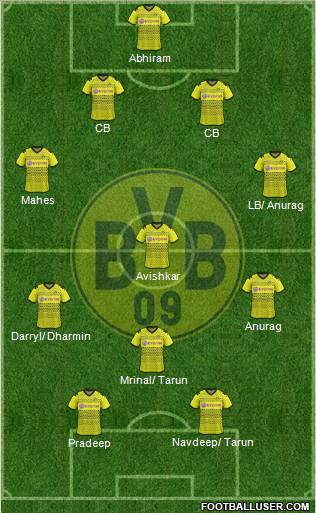 Here are the club stats as of 04/01/2012 -
Previously, we used to address our club discussions in FIFA 12 - PRO CLUBS on PSN thread.
Here is the link to that thread -
http://www.indianvid...opic=27299&st=0
Edited by Don Vito, 30 January 2012 - 11:07 PM.