Assassin's Creed - Review
The first true Next-Gen game?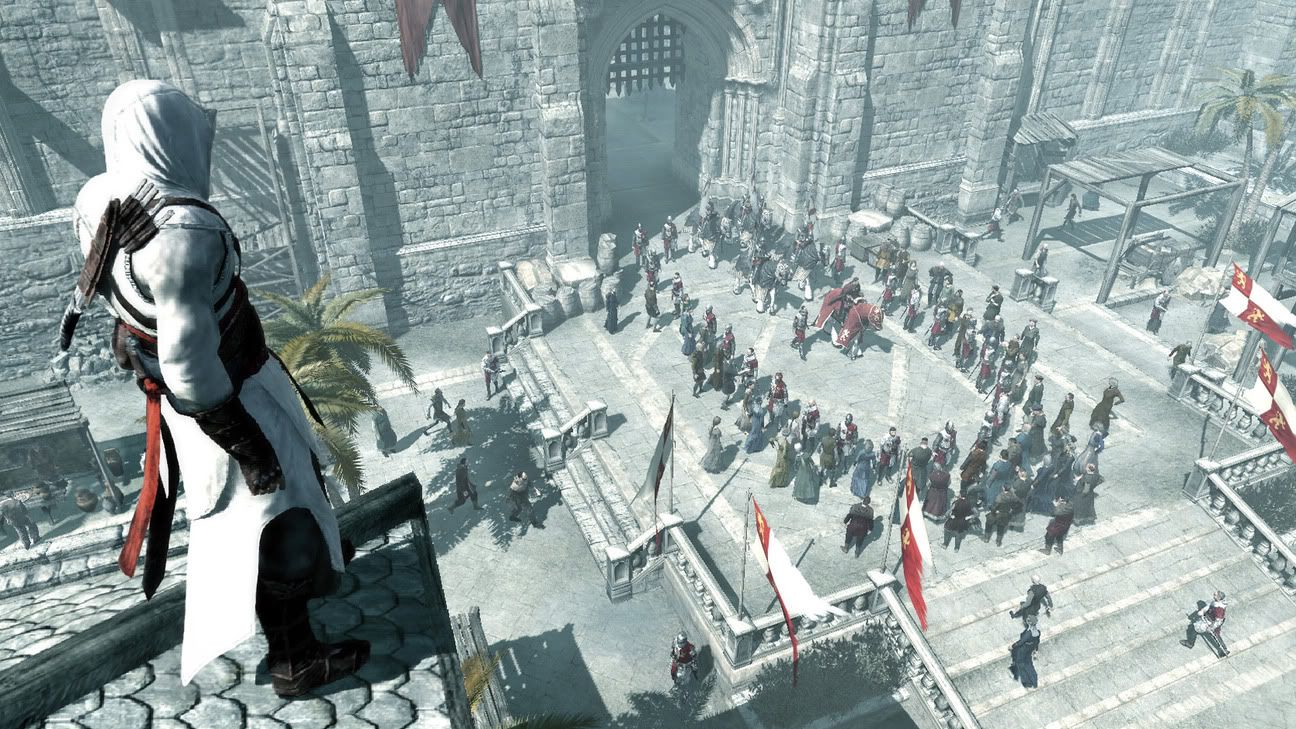 Assassin's Creed was one of the most anticipated titles to release in 2007. A lot of people had pinned their hopes on it to deliver a revolutionary gaming experience and change a few rules in the action-adventure gaming genre. No wonder a game with such high expectations had a lot on the line. Thankfully, Assassin's Creed does not disappoint!
Initially released on the
360 and Playstation 3
, the game was an instant hit thanks to the huge interactive environments it offered and its unique system of exploration where the player can scale or use almost any object present in-game to his advantage which was backed by a stellar storyline filled with twists and turns. Now, moving on. The PC version is a different story all-together due to some minor yet annoying bugs and hardware issues. The game tends to freeze if you don't own a Core2Duo or a high end GPU and therefore I am here to review the PC version of the game initially released on the 360 and Playstation 3.
Assassin's Creed : A Brief Overview
After the success of its console versions, Ubisoft released the game for the PC as well. A late release date and the ridiculously high-system requirements for the game to run without any glitches made life difficult for PC gamers. If you want to truly enjoy the visual extravaganza and features offered by this game than owning a high-end video card is mandatory.
Think your PC can tame this beast?
Now, if your one of the lucky ones who's the owner of a lean mean gaming machine which is able to run this game in all its glory then read on! This is one game which is going to be etched
on your memory as a memory block (pun-intended) for a long time. Assassin's Creed has a storyline which is well-thought out, imaginative as well as intriguing. It is something you will not come across often and as the game progresses it grows into something which manages to keep you guessing throughout the game, though some parts of it appear predictable and the game's
biggest
twist being revealed in the first few minutes of play itself may not have been the wisest decision taken by the developers. However, with its share of flaws AC's story still manages to be quite impressive because of its complex nature. Play the game to realize my point as I will not reveal or explain it to you." wicked smile".
Prepare to play as the most gifted of Assassins!
Moving on, you play as Altair, a gifted assassin who is skilled in his trade. The game it seems did its history lessons! It's set in the time of the Crusades in the year 1191 and a lot of historical figures like Saladin and King Thomas make an appearance. Check the last Para out to know more! As Altair, you travel through the holy lands of Jerusalem, Acre and Damascus in search of your targets which your master has assigned you to kill. The 9 persons you are tasked to assassinate are not always evil and seem to enjoy high political privileges. Your targets are well-guarded and you need to do a lot of exploration in order to gather information regarding their whereabouts and find means to assassinate them, completing a lot of side quests in the process. Therefore, locating and killing them is not supposed to be easy and will often leave space for consequences which will change the fate of the Holy Lands forever
Gameplay wise AC's really well-executed.
AC surely scores some brownie points for its gameplay. The way it's laid out is quite remarkable in itself. Your objectives mostly comprises of investigating the three parts of each of the cities. In each of these parts you need to be on the lookout for clues in order to find the whereabouts of your targets. In doing so, you must accomplish a wide-array of missions which mostly comprises of listening to secret conversations by sitting on a nearby bench, pick- pocketing important documents containing information regarding your targets and following informants to a secluded location Sam Fisher style
and then literally beating the information out of them. That's not all though. Occasionally you also need to complete missions such as action-packed escort tasks and timed sprints, killing a lot of guards in the process. Fun!
There are also some side-missions like rescuing townsfolk from the clutches of evil-guards, which is an excellent way to hone your combating skills as well. Finally, if you manage to complete these objectives you reach your target, who more often than not happens to reside in a fortress guarded by legions of well-trained guards.
This is where the stealth factor comes in. You must sneak into these zones unnoticed and quickly dispatch your targets either silently or after a quick duel. But wait, you are not done yet! After the kill you'll probably stir up the nest and guards will chase you down until you break down their line of sight and make it out of the city alive. These chase-sequences backed by a thrilling background score are the most exciting and enjoyable sequences of the game as Altair climbs roofs and performs some amazing free-run sequences scaling buildings and towers as if they were mere illusions in order to evade the guards while they too follow your lead scaling these obstacles with ease
though not as effortlessly as Altair does because Altair can literally use any obstacles to his advantage and perform some remarkable acrobats like climbing up onto a rooftop using exposed bricks of a house whereas the guards are slow and can only scale limited number of obstacles like walls, windows, ladders, etc. Thus, you have a clear advantage and often easily manage to hide in the stacks of hay or other hiding spots situated at different locations of the city breaking down their line of sight. Then you can enter your headquarters successfully completing the mission. Hooray!
Altair's got some amazing moves up his Sleeves!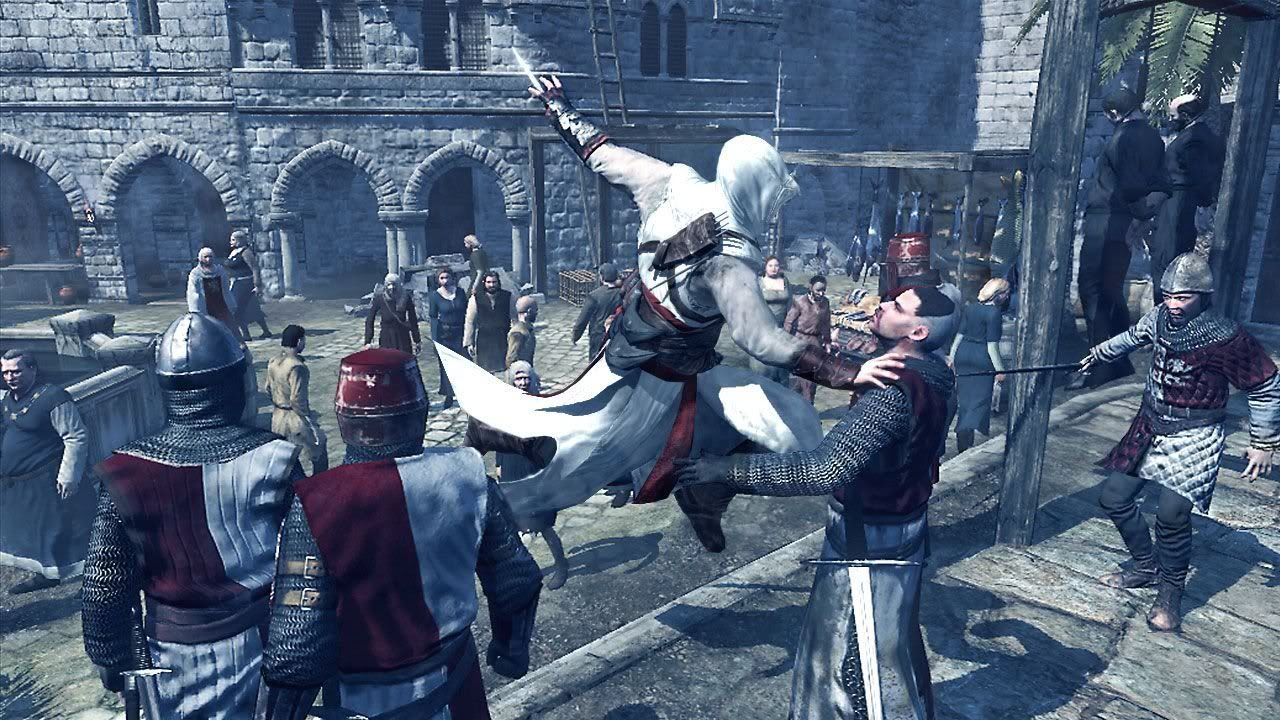 Though Assassin's Creed is believed to be stealth-oriented, combat wise it does not disappoint, since there is a plethora of ways to dispatch your enemies. You can parry, execute counters, perform one stab kills with your Wolverine-style hand knife, grapple or do fast and fluid combo attacks. The animations of these fight-sequences are surreal. On the flipside, as you master these combat schemes, the game tends to fall a little too dangerously on the easy side. Even the final battles seem a tad too easily accomplishable.
Thankfully, the keyboard-mouse combo will not let that happen so expect some challenging final missions. However, if you happen to own a gamepad…your in luck! I played the game in normal difficulty. Maybe playing in hard difficulty settings will prove out to be more of a challenge
.
Visuals and Audio are AC's strongest points!
AC is truly stunning as far as visuals are concerned. From the tower views of the city's grandeur to the plains of the Holy Lands, it is a sight to behold. The level of detail which went into each and every object in AC's world is exceptional. If you have the resources to run this game in its full glory with Post FX on, then AC is no doubt a visual-masterpiece. But on a low-end PC some texture issues and bad-aliasing deterred AC from standing out visual-wise. AC's audio is not as remarkable as the visuals, while it still manages to hold its place. The game's soundtrack is quite listenable as it has a nice West Asian ambience, mixed with some trance/orchestral score. But it is not as enjoyable as the score played out during the chase sequences of the game, as the main track is rather slow-paced at times. Vocal styling wise, AC is above average at most. Though, most of the voices were played efficiently and suited their respective characters. Apart from a few perfect acts most of them lacks depth considering the fact that the game claims to have no cutscenes and all the dialogues are delivered inside the game. Altair's voice turns out to be the major disappointment as he sounds rather fatigued which is unlike his portrayal as the prized assassin. These are just minor hiccups though as AC more than makes up for these little shortcomings by creating an amazing environment featuring sound-effects which are at par with the real-world sounds. Be it the quite gushes of wind blowing by or the crowd of people muttering among themselves, the breaking noise of pottery or the cries for help by hapless villagers, to the distant ringing of the tower bells, they all sound realistic and compliments AC's open-ended world.
The fall of Assassin's Creed!
With all these outstanding qualities Assassin's Creed looked set become one of the benchmark games of this era. Sadly, it failed to achieve that special a place. Thanks to some major flaws in its core-parts. The game tends to become repetitive after sometime as the same missions are repeated again and again which gets really tedious considering the fact that you have to perform the same actions all the while. Level-Design wise, AC also fails to impress. There aren't many variations between levels and it becomes boring after the first few assassinations. The PC version also falls short of expectations due to some bugs and glitches which were not present in the game's console counterparts.
AC's one of those titles you cannot miss-out on!
Nonetheless, Assassin Creed is surely a game every gamer worth his money should buy. Its one of those rare games which you will want to showoff to your buddies and derive pride from it. I really enjoyed playing AC from start to finish, though I must add that it could've been a much more pathbreaking experience.
The most frustrating and shocking spoilsport being AC's ending. After all the fun and enjoyment it offered, Assassins Creed ends abruptly and leaves a lot of questions unanswered. Many gamers actually hated the fact that such a great game ended in such an odd and
unfair
manner. But it did not fail to entertain gamers worldwide and is a must-have game in your collection. It could've been much more but there's a sequel coming which I hope would learn from AC's mistakes and prove to be a lot more satisfying
overall
gaming experience. The question is, will it take place in the same era or will it fast forward or move back in time…
Lagniappe

AC's Studio Ubisoft spent quite a lot of time recreating the gameworld with historical accuracy. The amount of research Ubisoft put for making the events in AC's gameworld relate to real historical events which took place during the third crusade is amazing. The characters present in AC's world are also in fact actual characters that lived and reigned during the 3
rd
Crusade. Interestingly Altair's group known as the
Hashshashin
was a real group of Assassin's which was prevalent during that period and was indeed responsible for a lot of assassinations.
Your main nemesis in Assassins Creed is a templar named
Robert de Sable
, the leader of the Knights Templar. As it were, Robert de Sable was actually a real person, a real crusader, and the real Grand Master of the Knights Templar from 1191-1193.
Assassins Creed also features several appearances by King Richard the Lionhearted as well! Most of you know with him from Robin Hood fame, but Richard was in real quite a key person during the third crusade too. Saladin who is also involved as a key player in AC's plot was in real the powerful leader of the Muslims during the 3
rd
Crusade. All this accurate historical references as well many more which are out of the scope for mention in this review gives the player the opportunity to learn a lot about the actual events taking place during the 3
rd
Crusade. So, there's much knowledge to be gained while playing Assassin's Creed. Good hunting and enjoy your experience.
With help from – yahoo.com, wikipidia.
8 successful
Leap of Faiths
out of 10
Graphics: 9
Audio: 7
Gameplay - 8
Mojo - 7
Developer: Ubisoft Montreal
Platforms available: - Xbox 360, Playstation-3, PC,
Web site: http://assassinscreed.us.ubi.com
Edited by Cyborg, 19 May 2009 - 01:07 PM.