If you're keen on Borderlands 2 and plan on preordering the game, you'll be glad to know that there's quite a bit of content being offered up as a preorder bonus.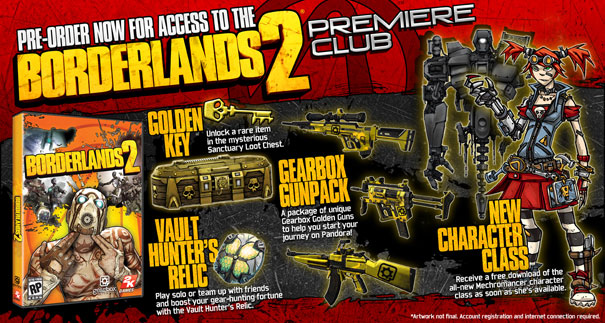 Pre-ordering Borderlands 2 on Xbox360, PS3 or PC will grant players access to the Borderlands 2 Premiere Club, allowing them to download the following content:
The Mechromancer class – Available as downloadable content 3-6 months after game launch. Will be available for purchase for those who do not preorder.
The Gearbox Gun Pack – A collection of unique guns to help players begin their journey on Pandora.
The Golden Key – Used to unlock a rare in-game item in the mysterious Golden Sanctuary Loot Chest found in Borderlands 2.
The Vault Hunter's Relic – An in-game item that boosts players' gear-hunting fortune while playing solo or teaming up with friends.
We haven't yet received details on which retailers this preorder bonus will be available through, but we'll let you know as soon as we do.
Borderlands  2 releases in India on 21st September 2012 for the Xbox360, PS3 and PC.