The announcement of Codemasters gaining the right to make games based on the Formula 1 license was a cheery piece of news for enthusiasts. The series had stagnated under the stewardship of the previous licensees, and Codemasters, with their proven driving games chops seemed to be a great choice as the new pilot for the series. F1 2010 has been widely acclaimed on the home consoles and PC as accessible, challenging and hugely entertaining, and our own review gave it the highest honours. Has that magic been translated intact to the portable iOS platform?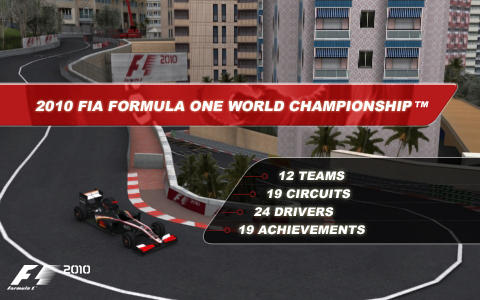 In simple terms, no. The game as it currently stands on iOS is a non-starter. You cannot race against other cars. Okay, let me slow that down. Here is a game based on the pinnacle of competitive open wheel motorsport, where you cannot race against other cars on track. All that the game offers you is two game modes – time trial and endurance, with the emphasis on setting the best lap times all by your lonesome self. The time trial mode offers the basic time trials over a set number of laps and a variation called time trial party, where up to four players can take turns to set the best lap time on a chosen track. Endurance mode encourages you to be consistently fast over a set number of laps to compete against the online leaderboard.
I use the word encourage in the lightest possible sense because everything about the game's look and feel seems designed to do exactly the opposite. The game offers the options of tilt steering as well as two types of onscreen touch controls. Each of the touch options have glaring deficiencies that make the tilt steering option the only one worth playing with. However, imprecise input sensitivity coupled with some sort of flaky auto steering makes fine control over the car an exercise in frustration. The substandard graphics don't aid your quest, with lacklustre textures, blocky models and jerky framerates on the iPad2.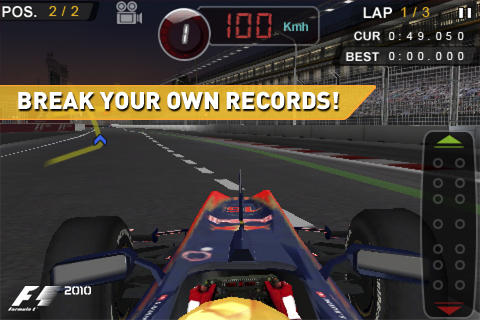 Conclusion
All the teams, drivers and tracks from the 2010 F1 season are represented in the game, and the title has been recently updated to a universal app with Retina display support. However, the game simply isn't worth your time or money given the likes of far superior racing alternatives which offer console quality graphics, excellent handling models and actual on-track racing against multiple opponents.