It's kicked off once again. Another year of football fans getting their virtual fix; another year filled with nights of friendly competition; another year of the Ultimate Team squad building and trading; another year of FIFA madness. FIFA 15 arrives a year after the series made its next-gen debut, when it impressing its vast fan base with the introduction of the EA Sports Ignite engine.
Full marks for presentation from the get-go; integrating the experience of live TV coverage almost to a tee. The first time you boot up the game, you're thrown right into the deep end – a match between Liverpool and Manchester City that would decide the Premier League champion. From the pre-match visuals, to TV presentation-styled graphics, to dynamic and personalised commentary that includes team line-up announcements, to new additions like the Goal Decision System (GDS) – they all combine to take the game up several notches in the presentation department. Even the responsiveness of turf elements is bound to catch your eye as soon as the match kicks off.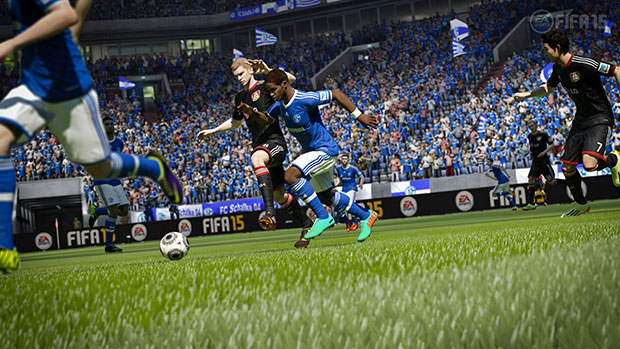 Players seem a lot more animated too, like when continuous pressure from a defender can lead to shirt pulling and during throw-ins or fouls. However, at times there's just one too many cutscenes that may force you into mistakes during set pieces. Stadiums too have been painstakingly designed, especially for Premier League teams. EA could've taken this further though, like Gerrard slipping to concede a goal, but let's leave that for the next game.
While the presentation is a marked improvement, in every other aspect of FIFA 15, the developers have tried to only build upon the foundation of previous iterations rather than trying to revolutionise. It works too, because, you know, "if it ain't broke, don't fix it". A similar menu scheme is used as before, apart from better access to the EA Football Club features. The continuing trend of including a worse OST than the previous game also continues. There are also minor tweaks present in modes like FIFA Ultimate Team and the Career Mode to improve user experience, but the real fun comes with the changes in the gameplay department.
There's genuine delight when you score a goal after delicate one-touch passing between three or four players or using a trickster of a player to bamboozle defenders and score a fantastic solo goal.
In the simplest words, FIFA 15 finally plays like a game. There is just very little simulated behaviour like before that would generally annoy a gamer. You can actually feel taking control of players and twisting and turning them realistically. EA deserves full credit for allowing so much freedom. There's no longer the need to learn what does and doesn't work; the game now invites to try any number of moves and also manages to pull them off. There's genuine delight when you score a goal after delicate one-touch passing between three or four players or using a trickster of a player to bamboozle defenders and score a fantastic solo goal. There are terrific improvements to the supporting AI as well. They now make runs to provide you options in a quick move; something that was lacking previously.
A lot of these things haven't simply been programmed into the game, but can be customised for greater tactical control over your team. The new Instructions tab in management allows you to set specific instructions for each player depending on the position of the player and the formation of the team. You can instruct a midfielder to make supporting runs in the box for headers or instruct a winger to track back to cover his flank each time the ball is lost. And it works exactly as advertised. There is also now a wider range of in-game tactics options mapped to the d-pad. There are newer options to set the intensity of a team's attacking or defensive mentality, like the 'Park the Bus' tactic, plus you can now quickly set your strategy when taking corner kicks, like crowding the goalkeeper. All this adds immensely to the experience for both novice players and experts.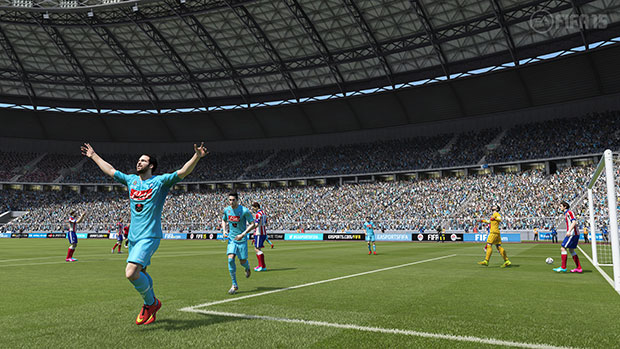 FIFA 15 also places a lot of significance on pace. An attacking player needs pace for agile dribbling and movement, and a defender needs pace to keep up at all times, especially since the controls are so much more fluid. This has tipped the scale of balance in favour of attackers and you'll need absolutely solid concentration to defend properly. Jamming the 'contain' button cannot stop the passage of passing play that is now easier to create. Tackling is now all about timing and timing only. Time it right and the ball is won, but miss it and you're left for dead. The goalkeeper AI is a big step up in many aspects. The goalkeeper is much smarter and sharper than before, making saves from every angle and range unless you hit it absolutely right. What it also means is the goalkeeper will parry the ball a lot, but each time, unlike the previous game, you also have a good chance to get to a rebound, even in penalties.
A lot of what the players do is unconvincing too, like repeated flicks when receiving the ball to get away from the defender, erratic movement that can be attributed to players with higher agility, and the existing issues of overpowered strength, speed and shooting ranges. In a nutshell, you can still take Real Madrid, go online and have a good chance of beating your opponent by just lobbing balls through. For a good player though, the game offers more diverse options.
The goalkeeper is much smarter and sharper than before, making saves from every angle and range unless you hit it absolutely right.
Another great feature that is now present is Team Sheets, which allows you to store two or more different line-ups for a single team, which will also include formation and instruction changes. This is helpful for people who play a lot of Career mode or like to vary teams online as per the opponent. FIFA Ultimate Team mode has also undergone a few changes, but unfortunately, the PS3 and PS4 versions are still left out on the Legends series of players. The newly introduced Concept Squads allow you to try and build a squad that you have already visualised, giving you a clear view of how your team may turn out.
You can now also sign certain players on loan in FUT, meaning they can only be used for a certain set of matches and cannot be signed on loan again. These players can be rewarded by the game itself or a few can be unlocked via EA Catalogue rewards. Trade offers are now removed, so trading amid friends is gone, which is bound to leave a few players disappointed. After many requests, EA has made Friendly Seasons available for use in the FUT mode as well. Changes in other game modes are mostly cosmetic. As you'd expect, online modes are just as smooth as before, with EA managing to retain a healthy network service without random disconnections.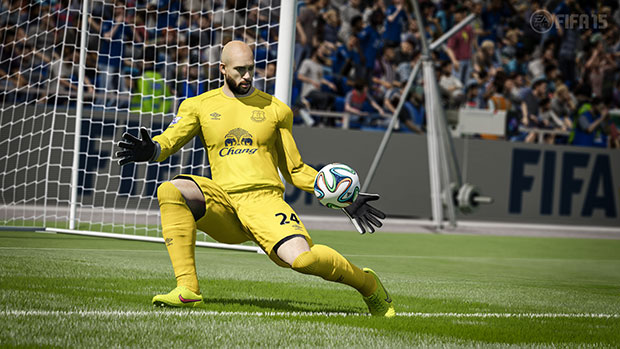 You can argue about whether a football game should be simplistic or realistic, but with FIFA 15, EA has created an intriguing blend of both. It's a game full of freedom for the player, but balance issues persist. The new glamorous presentation is sure to appeal to every football fan, while the increased focus on tactics give players the power to change a match at any point of time.