Not many fans were craving a follow up to Forza 3 when Forza Motorsport 4 was announced, and rightly so. When was the last time there existed a market for a sim racer every two years? But ever since the announcement, the inevitable expectations have been building up. So let's find out how the latest installment in the Forza Motorsport franchise stacks up against the competition and the lofty expectations of its own fanbase.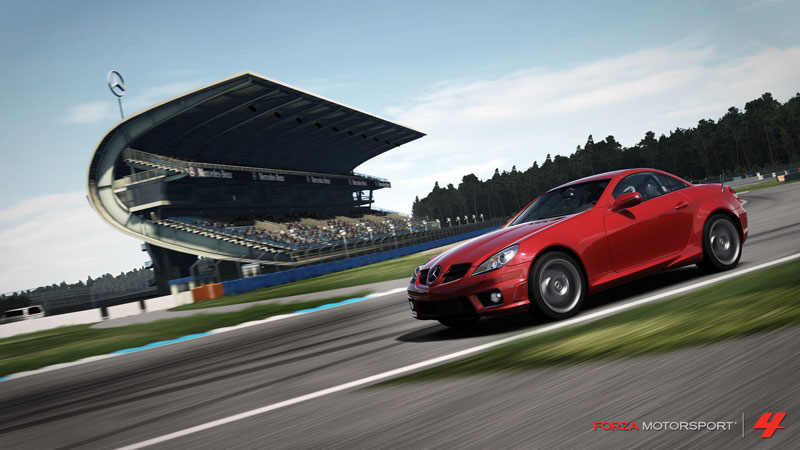 Like the previous games, Forza 4 ticks the box for an impressively huge car inventory, featuring around 500 cars from 41 manufacturers. Porsche cars are missing this time, although some of them are now available under the RUF brand. The game features 21 environments, with Hockenheim, the Top Gear Test Track, Bernese Alps, Indianapolis Motor Speedway and Infineon Raceway being the new entrants, each offering its own set of track variations. The New York Circuit from previous games is surprisingly missing, so it's just five new locales with one being dropped, making for quite a disappointing track list.
Forza 4 sports an entirely new image-based lighting system, which has enhanced the way cars and tracks look. Improved lighting also means that the different times of the day, such as dawn, afternoon and sunset, feel quite realistic. So much so that while racing around Hockenheim in the evening, the glare from the setting sun will hurt your eyes as it would in real life. There is also a new graphic, which rates your driving during gameplay. A nice little touch. The game features engine sounds that'll seduce you into driving around just to hear them sing to you, and Turn 10 really do deserve kudos for that. Menu music is pleasant too, while the in-race background music is nothing out of the ordinary.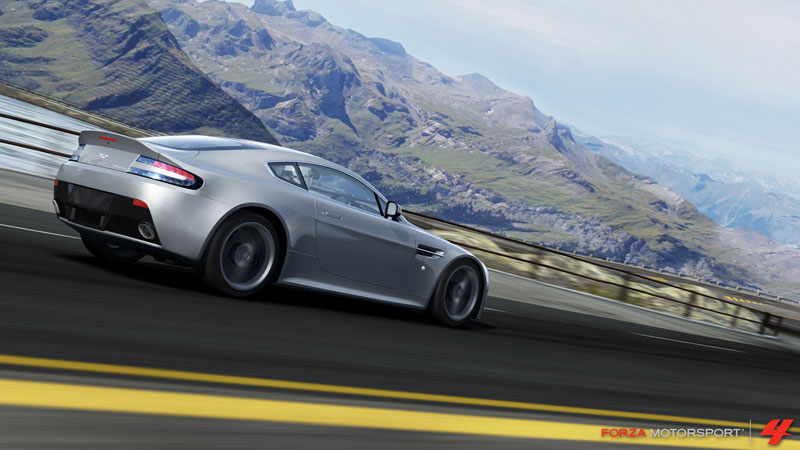 The physics have seen a major improvement in Forza 4. Tyre physics are spot on thanks to Turn 10's tie-up with Pirelli. Instances such as understeer, oversteer, the way the car reacts to tyre lock-ups, and the variable grip levels you get from the slightest undulations on the track surface are all simulated believably. The mechanical damage remains the same from previous games, but the visual damage is a different story; cars now experience localised damage, with impressive level of detail. The only drawback is that cars feel lighter during collisions, often making you underestimate the momentum you're carrying along with you and sending the car in front flying.
Cars are modelled very well, with the odd anomaly sticking out like a sore thumb. The regular camera modes are as they were in previous games, but the cockpit view has been improved significantly. The interiors are very detailed and give a genuine feeling that you're inside the cockpit of the car. It's so improved from Forza 3 that I found myself playing from this view for the majority of my gameplay. The AI system has also changed noticeably in Forza 4. AI opponents now don't slow down at all on the straights, and show little respect for you. Whenever they find you anywhere near their racing line, they are more than ready to trade paint. Instead, you'll find yourself overtaking a lot on braking zones and slow corners. The AI also seems to have lost some of its IQ, acting clumsily at times, but you'd forgive it for the convincingly competitive racing it offers. The difficulty settings, as in Forza 3, are very user-friendly and customisable to a wide range of skill levels.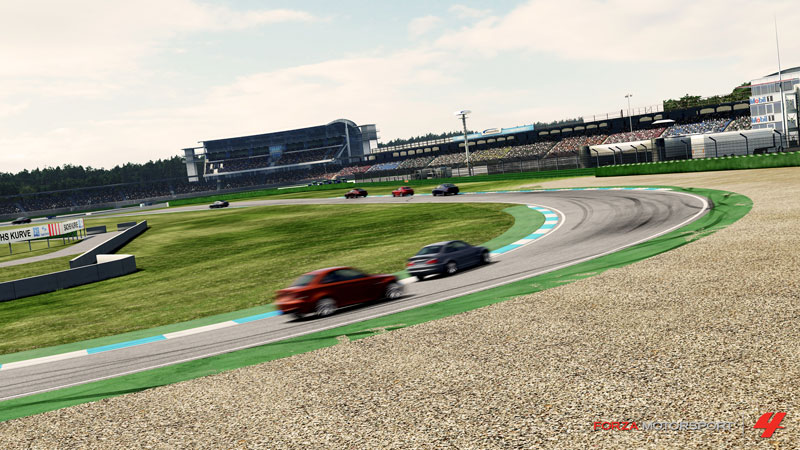 If you have played Forza 3, you're rewarded for your loyalty with 'unicorn cars' (like the Bugatti Veyron 16.4, Audi R8, etc.) in your garage right at the start. The career mode, now called World Tour, has been completely remodelled in Forza 4. You now travel on tour from track to track, with each tour offering a choice between two to three events. For the first time in a Forza game, you're not limited on car choice. The events mostly change based on your current car. On completing races, you gain credits and level up. Now, instead of your car levelling-up, you're given cash bonuses and 'affinity' points for the car manufacturer, which earn you discounts on upgrades. On reaching affinity level four, you get free upgrades from the manufacturer, which isn't the wisest of moves from Turn 10.
On each driver level-up, you can take your pick from a list of cars to take home. The game is very generous in rewarding you with rides, and oddly pays you less when compared to Forza 3. You also have the option of buying cars using Microsoft Points if you don't have the credits, but why anyone would want to do that in such a generous game is beyond me. The remodelled World Tour mode works well, and unlike Forza 3's career mode, it keeps you engaged with variety, travel and progression. New events include cone slaloms, Top Gear bowling, multi-class races and track-day events. Top Gear bowling is fun at first, but gets repetitive after a while. Multi-class races are the pick of the lot, where up to four different classes share the track at the same time.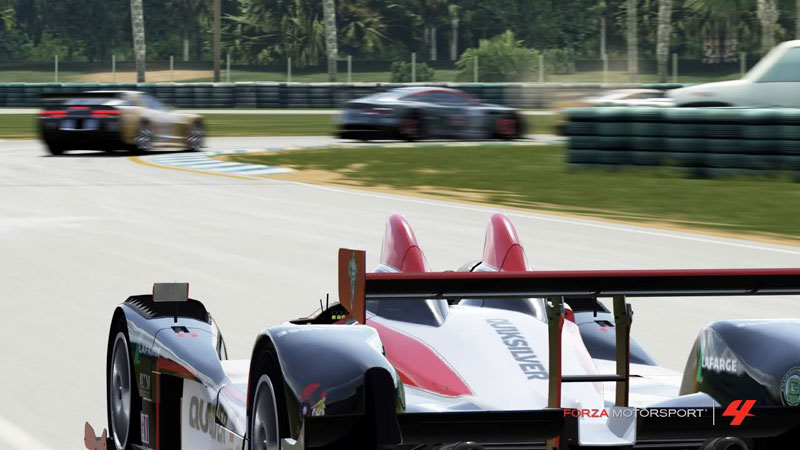 The game doesn't mandate tuning or upgrading. You'll be winning without bothering with them even at the highest difficulty, but both functionalities are implemented meticulously. Even the slightest upgrade/tune-up affects your car's handling, and in turn, your race-craft. Visual customisation seems to have been carried over from Forza 3 with minimal changes or additions. Autovista is Forza 4's party piece. It's a place where special cars are exhibited and you're free to explore them comprehensively. Kinect integration is neatly done, whereby you can lean your body to walk around the car and stretch your arms to open and explore the various parts of the car. On selecting trigger points on the car, specific features are explained via voiceovers. In addition to this, you can also trigger a brief review of the car by the recognisable voice of Top Gear's Jeremy Clarkson. There are more than 20 cars in Autovista, of which only four are available in the beginning. You'll need to complete challenges to unlock the rest for exploration. Outside Autovista, however, Top Gear's presence is very subdued and doesn't feature the lunacy we're familiar with, which is disappointing.
The game's online offerings are robust and have enough variety to keep you engaged for a long time. You now have the option to create/join car clubs, where members can share cars and plan events such as Top Gear soccer. Shared cars are an easy way to access costly rides in the game. The standard multiplayer modes make up for the majority of the online component, while the fun-filled Cat and Mouse, Tag, and Drag Race modes also make a return. Multi-class races impress here as well. Rivals mode is Turn 10's take on Autolog (from recent Need for Speed games). It works exceedingly well, posting messages to your friends' message centre if you have beaten their timings on hot-laps, track-days, etc. It's addictive and reverberates challenges to everyone in the community. Split-screen multiplayer is available, but isn't much fun with only two AI opponents allowed. In essence, the multiplayer is as good, if not better, than the single player component.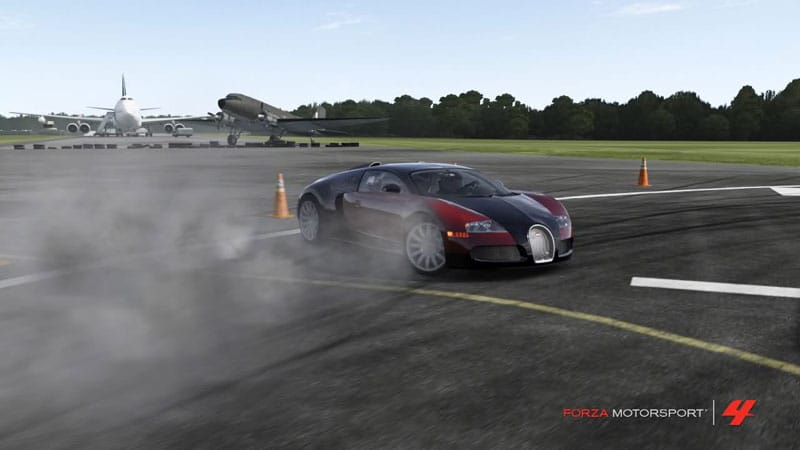 Kinect doesn't fare too well when it comes to driving. You'll need to steer the car by holding your arms up in the air while the game does the rest. Half a lap around Le Mans and I ended up with sore arms. Kinect is, however, good for head-tracking and Autovista, and voice command recognition is implemented well. The game plays remarkably well with the controller, but there's no denying that it has been tailor-made for a racing-wheel. The feedback is excellently detailed and precise, and it changes your experience and driving style completely. This is the way the game is meant to be played.
Conclusion
Forza 4 justifies itself as a true successor to Forza 3, improving upon its predecessor on all counts, but it fades away in comparison to its competition. Neither does it try to innovate, nor does it try to compete. It plays safe by sticking to its strengths and tries to build upon the tried and trusted Forza formula. As a result, you won't find features like weather elements or night racing in the game, both of which were expected and heavily requested by fans. The game features several off-road vehicles, but includes no off-road events, which is quite baffling. That aside, however, Forza Motorsport 4 is a solid sim racer that offers sublime visuals, physics that rank among the best, deep, engaging gameplay, an unrivalled community, and gameplay customisations to suit players of all skill levels. It is the most polished and refined Forza experience yet.