Would you believe that one of the best stealth games to come out in the past half-decade is a downloadable title? The good folks at Klei Entertainment (them from the Shank series) have tapped into the very essence of a genre that's long been waylaid by the mainstream, and in doing so have given fans a soon to become cult classic in Mark of the Ninja.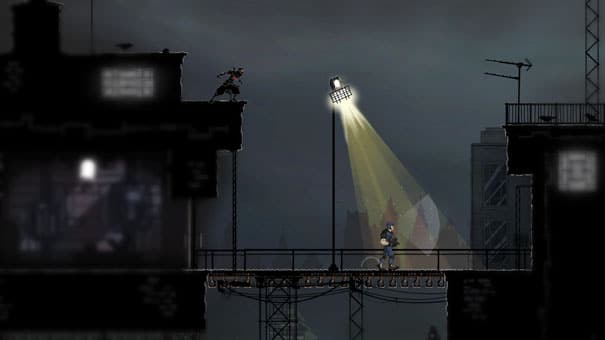 Klei wisely sticks to some of what it got right with Shank, namely its angular Genndy Tartakovsky-meets-Batman: The Animated Series art style, and its high production values. The visuals are colourful when they need to be, but the developers also bathe the game world in beautiful shades of blacks and grays that truly befit a stealth game. Excellent background artwork, animations, and environmental effects all add to the experience. Skulking on a rooftop in a rain-drenched gothic city with guards patrolling below you has never looked or felt this good.
Brilliantly animated cinematics bookend important story beats, and they're all in high enough quality that you aren't distracted by random pixilation or artifacting. You play a Ninja whose clan has just suffered a grievous attack by a private paramilitary force led by a nefarious yet sharply dressed dude with bad intentions. It's a well-told story that packs in its share of drama and plot-twists, and you'll find yourself caring for the titular Ninja hero who has unfortunately been inked with a set of tattoos that heightens his skills but will slowly drive him insane. It's made clear that past heroes have taken their own lives before losing their sanity, so there's that little detail that you'll have to deal with as well.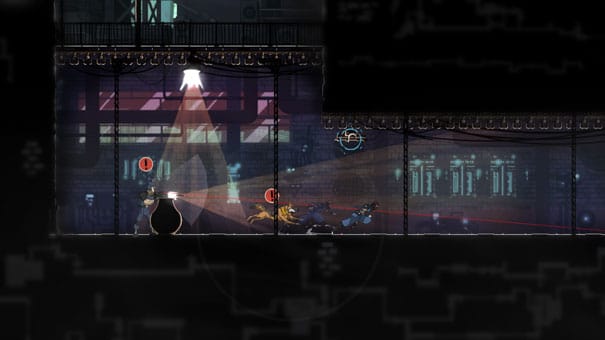 Aside from the story and the visuals, Mark of the Ninja absolutely nails its gameplay. Bang on. You'll feel like a Ninja from the get go, with your default movement speed set to sneak and a range of Ninja tools to use in your crusade. Over the course of the game, you're given a katana to stealth or fight (as a last resort, of course) enemies with, the ability to freeze time, and a grappling hook that'll help you quickly move between elevated platforms. You'll also come into possession of items such as darts, noisemakers and smoke bombs that you'll need to equip between levels.
Mark of the Ninja is also a surprisingly visual game. Everything you need to know about the game world is represented on screen, so much so that you could try playing the game on mute and still have heaps of fun. Sound is depicted as circles that increase in size the more noise you make. This also applies to enemies and objects in the world, so you'll always know when you're being too loud or when a guard is about to walk into your noise bubble and hear something he shouldn't. Enemies also have vision cones that you need to (obviously) avoid. Your foes vary in type and behaviour and you'll need to be on your toes once the game starts mixing them up in levels that are already packed with puzzles.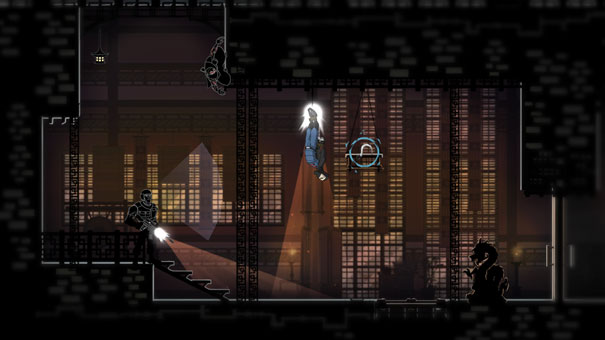 Maps are large and intricate, packed with secrets and hidden areas that sometimes let you avoid enemies entirely. While still a 2D side-scroller, the game gives you enough options in each map that you'll never feel like you're being funnelled down a corridor. Aside from the aforementioned hidden areas, there are vents, closets, pots and all sorts of random paraphernalia to hide behind. It's up to you how you decide to deal with encounters; distracting guards destroying lights and picking them off one at a time in the darkness and in whatever order, or just sneak on by if that's your style. Your every move feels authentic, and the smooth controls ensure that even the simple act of traversing a room makes you feel like you're suddenly part of a Ninjutsu ballet.
Also worth pointing out is how the game rewards your every action, be it stealthily killing guards, hiding their bodies, sneaking past them, or just finding new ways to traverse levels. These points are tied to unlockable rewards, some of which are good enough to make you want to replay the game (not that you needed a reason thanks to the sublime gameplay). There are also bonus challenge rooms, new outfits for your ninja and a new game plus mode that really dial up the value for the money proposition. Add in pitch-perfect difficulty and checkpointing, and you've got a real winner. And what's a Ninja game without haikus?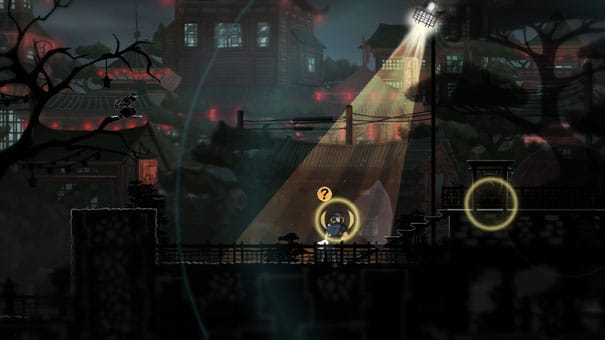 Conclusion
Mark of the Ninja rounds out a fine year for Microsoft's XBLA service. It does what most stealth games never do – it transcends its genre thereby catering to everyone without alienating its core audience. And there's no greater praise you could give Klei than that.