So with cars drifting around corners without even trying, one would think that a drift mode is just what the doctor ordered. But Need for Speed: Shift has one of the worst implementations of drift racing I have ever come across. The drift events are like an entirely different game and none of the rules of physics that apply to the rest of the game matter here. One may argue that drift vehicles are tuned and set up specifically for drifting, so they're bound to handle differently, but it's just unmanageable here. It is a serious challenge to even successfully perform a proper drift around one corner, let alone chaining drifts together and making it around the entire track unscathed. Thankfully, the game doesn't force you to compete in all events, because if I was forced to compete in drift events, I'd stop playing the game right there.
[singlepic id=1323 w=450 float=center]
Another new race type is the head-to-head face-off. You have a choice of two very similar cars, like the Ford GT and Dodge Viper SRT-10, for example. You can choose either car to compete in a best-of-3 event. Races are won by either taking a 5 second lead or being the first to complete a lap. It's a nice concept, but severely flawed because all it takes to open up a 5 second gap is to knock your opponent off the track at the very first corner.
Elsewhere, the standard lapped races make up the bulk of the career mode, which really won't hold your interest for too long. There's a Quick Race option outside the career that lets you race or set lap times on your chosen car and track. Online, you can either participate in standard ranked or unranked races, or Driver Duel, which is similar to the one-on-one best of 3 face off from the career mode, except now, both drivers have the same car. You start in round one, and each win moves you to the next round in a knockout format. If you keep winning, you move to the final, but lose, and you're back to round one. Since it's a one-lap race, the players that usually end up winning are those who drive dirty, because being knocked off the track will lose you too much time. So while Driver Duel is a good idea, it doesn't quite work out because it rewards players for driving dirty.
[singlepic id=1486 w=450 float=center]
As I mentioned at the start, the game does an amazing job of making you feel like you're in the driver's seat. This is achieved thanks to the great driver perspective that uses camera animations to mimic the effects of g-forces. So when you brake hard, the camera will move forward, and it will sway from side to side through a high speed S-curve. The camera will also violently shake and the screen will blur and lose colour when you crash. Further, as you gain speed, everything but the track ahead of you becomes a blur and the corners of the screen start to lose colour, ensuring that your only focus is the track ahead of you. It's unnerving without being prohibitive and makes the racing greatly more immersive. This game is designed to be played from the cockpit view, and it's easily the most enjoyable way to play.
Engine sounds are a pure delight, especially in cockpit view, as are the various other sounds of crashes, twisting metal and gear shifts. The soundtrack is a broad mix; what you would expect from any EA game. Nothing really stands out as awful or outstanding, and it's best to have music off during races so you can hear the engines roar. There's both visual and performance damage in there as well, and you can bang up your car pretty good. Crash it badly enough and you will lose the hood and the trunk, while the rest will get pretty severely deformed. Performance-wise however, damage is a bit forgiving. Even with damage set to full, it's impossible to total the car and the worse that will happen is the car will lose some of its speed and the ability to travel in a straight line. Contrary to what you may have read elsewhere, damage is identical on the PC and PS3 versions, and the Xbox 360 version can't be much different.
[singlepic id=1485 w=450 float=center]
Shift is also a massive improvement over past NFS games in the visual department, thanks to Slightly Mad's brand new engine. It isn't the best looking racing game around, but its close enough and it can certainly hold its own. The game looks equally good on PS3 and PC. With all settings maxed out on my 8800GT rig, it managed a steady 30 frames per second, and dialing a few details down made for a much smoother experience without visibly lowering graphical quality too much. One thing that does need work for the likely sequel is the HUD. If you're smart, you'll switch it off altogether, but for those who like to have all the information on-screen, the HUD is extremely cluttered. The mini track layout is quite poorly designed and hard to decipher, especially with one eye on the road.
Conclusion
Shift has somewhat stopped the Need for Speed franchise's sharp downward spiral. Considering recent NFS games, we'll take what we've got in Shift, but only as a statement of intent for what's to come in the future. On its own, it fails as much as it succeeds. The brilliant driver perspective and the renewed focus on racing above all else is welcome, but it falls short in its attempt to appease both casual and hardcore racing fans. Its simplistic career mode won't hold your attention for too long, and outside that, it's a little short on things to do. So enjoy the ride till something better comes along or just stick to Grid or PGR4 instead.
(+) Best cockpit view in a racing game yet
(+) One of the better looking racing games around
(-) Career mode gets boring fast
(-) Cars over-oversteer
(-) Shockingly bad drift mode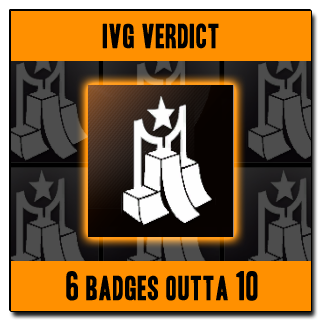 How we score games
Title: Need for Speed: Shift
Developer/Publisher: Slightly Mad Studios/EA
Genre: Racing
Rating: 3+
Platforms: PlayStation3 (Rs 2,499), Xbox 360 (Rs 2,499), PC (Rs 999)

Join the discussion at the IndianVideoGamer Community forums