Reviews
Review: CM Storm Trigger keyboard
Posted on Wednesday, 4th July 2012 by
Sameer Desai
CM Storm is the gaming peripherals arm of Cooler Master, best known for its PC cabinets, power supplies and cooling solutions. The CM Storm Trigger is the company's flagship gaming keyboard, with premium features, a solid build, and an extravagant price tag to go with it.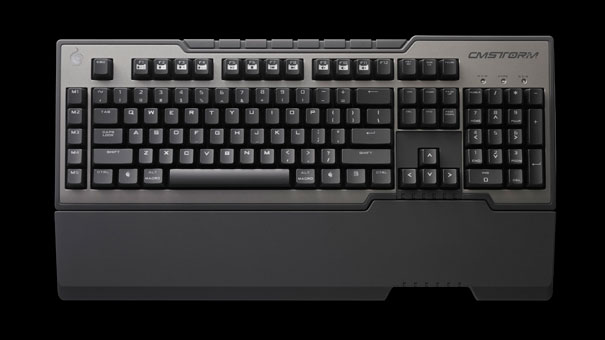 We're a gaming site and I'm no tech expert, so I won't get into nitty-gritties like response times. You can read all about that in the tech specs. So this review, like all future hardware reviews on IVG, will focus on the gaming experience – usability, comfort, features, and build quality.
The Trigger is a mechanical keyboard as opposed to several other cheaper membrane-based keyboards. Without getting into too much detail about the difference between mechanical and membrane keyboards, here's a quick example. Mechanical keyboards are like grand concert pianos, with individual strings precisely connecting each key. Membrane keyboards are more like this; a single mat consisting of nodes connected to each key, where pressing a key activates a particular node. The problem with membrane keyboards is that since you're essentially pressing the entire membrane, there are chances of the wrong key being activated, or even two being pressed at once, especially after prolonged wear and tear.
The advantage of membrane keyboards, of course, is that they're cheaper and membrane technology has come along to the point where several specialist gaming peripherals manufacturers (such as Razer) are now offering membrane keyboards as entry level offerings. The Trigger, however, is as high-end as gaming keyboards get. This mechanical keyboard features Cherry MX keys, and the great thing about them is that they're incredibly tactile, offer the optimum amount of resistance, and don't need to be pressed down all the way to register. The downside, however, is that they usually produce a loud clicking sound when you type. The Trigger though, is an exception. It's responsive, tactile and comfortable to type on and yet relatively quiet, so it possesses all the best aspects of a mechanical keyboard without being noisy.
The Trigger is fully backlit, with red key lighting complementing the grey and black design of the rest of the keyboard well. You can vary the brightness of the backlighting and also choose to only illuminate the WSAD, direction and macro keys. If you're used to [Shift] and [Ctrl] being the left-most keys on the keyboard, the Trigger will take a little getting used to. Here, to the very left, next to the standard keys, are five dedicated macro keys. For a long time, I'd accidentally press a macro instead of [Ctrl]. By default, the Windows key is deactivated and instead acts as a [Fn] key for backlighting adjustments and media controls. If you'd like to use the Windows key, you'll have to install the CM Storm app, which is an unreasonably hefty 100 MB download and a resource hog to boot. Elsewhere, the layout is pretty standard, so the Trigger can just as well double up as a work keyboard if you do a lot of typing.
The Trigger features two USB ports, to which you can connect pen drives and headsets. However, due to power restraints, external HDDs may not work. As a workaround, the keyboard also comes with a DC power input, using which you can connect all sorts of USB devices. So the keyboard essentially adds two extra USB ports to your PC.
I've been using the Trigger for well over a month, and it's clear that Cooler Master has made no compromises whatsoever with the build quality. This is probably the heaviest keyboard I've ever used, but it feels sturdy. It's built to last and after extensive usage, I see no evidence to suggest otherwise. The design is simple but appealing. The slightly rubberish grey and black matte finish and edgy design give it a game-y look without going overboard and looking outrageously flashy. Cooler Master also provides a fairly large removable wrist wrest, which I promptly removed. Connection to the PC's USB port is via a fairly long braided cable.
Conclusion
Having clocked several hours of gaming using the Trigger, I can't exactly vouch for its 1ms response time or its ability to register six simultaneous keystrokes, but gaming with it is a breeze. The Trigger is one of the best gaming keyboards I've ever used. It's at par with Razer's Blackwidow Ultimate in terms of typing comfort and performance, but trumps the Razer with superior build quality and quieter keys. The biggest downside, though, is the price. At Rs 9,899, it's close to Rs 3,000 more expensive than the Blackwidow Ultimate, and despite all its qualities, it simply doesn't justify that price.
Fully mechanical (relatively quiet) keys
Excellent build quality
Comfortable typing
Two USB ports
Expensive
Unnecessarily large (but optional) PC app
One of the best mechanical gaming keyboards on the market, but the quality comes at a very high price.
cm storm
/
Cooler Master
/
gaming keyboard
/
hardware
/
india
/
ivg
/
mechanical
/
pc gaming
/
peripherals
/
review
/
trigger