Ubisoft today unveiled Assassin's Creed 4: Black Flag, which will feature "the largest and most diverse Assassin's Creed world ever created".
Free-run across ships and finish with the new 'boarding assassination'
There's been a bit of an information overload since the trailer was released, as Ubisoft has revealed several details about the game via a fact sheet and a Q&A with creative director Jean Guesdon, so we thought it best to present it all to you in simple, bullet-point form. So here it is.
The new game will be set in the Caribbean and will feature a new protagonist – Edward Kenway, a pirate captain.
Edward Kenway is the grandfather of Assassin's Creed 3 protagonist Connor Kenway and father of Haytham Kenway.
Aside from the hidden blade, Kenway can equip four flintlock pistols and dual cutlass swords, and chain their attacks together. Other weapons include a blowpipe with multiple effect darts and AC3's rope dart.
The game will be set in 1715, the so-called Golden Age of Piracy.
Desmond will not feature in Assassin's Creed 4.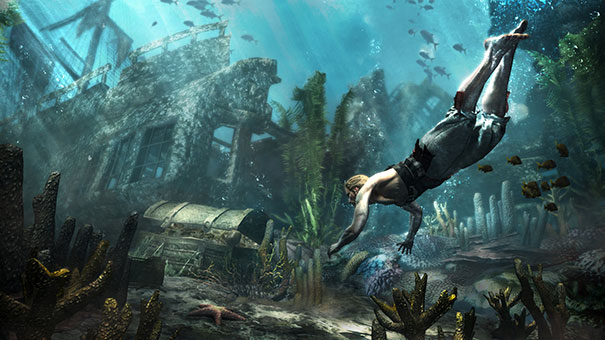 Go underwater and loot wrecked ships
50 unique locations to explore, making this the largest and most diverse Assassin's Creed game world yet.
For the first time in the series, players can dive under the surface to loot underwater shipwrecks.
New Horizon open-world system will be packed with sea and underwater activities, which represent a big part of the game.
Horizon system dynamically creates side missions, such as a merchant ships to rob, whales to hunt, or pirates to rescue. Missions are created based on individual playing style.
The game will be set in three main cities – Havana (Cuba), Nassau (The Bahamas), and Kingston (Jamaica).
Other locations include wild jungles, opening up avenues for free-running across trees and hunting rare animals.
Several lost ruins to explore for hidden ruins and hidden coves to discover.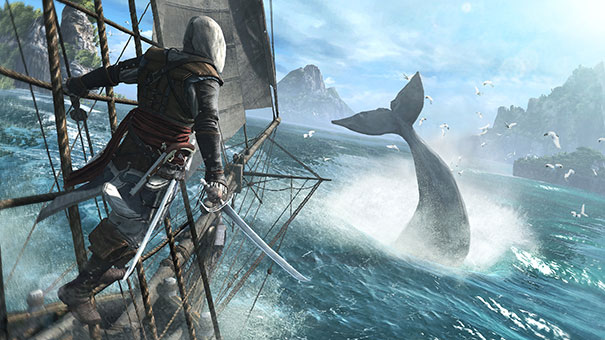 Hunt whales
Command your own ship – the Jackdaw. Plunder and pillage to equip your ship with more weaponry and equipment. Board and attack rival ships and recruit their sailors.
Jackdaw can be upgraded by adding new weapons and attacks such as round shot (base weapons), heat shot (shotgun-like weapon), mines, mortar, swivel guns, chain shot, and ram.
Global progression will rely on Jackdaw's progression as a vessel, which allows Edward to access new territories and defeat stronger enemies.
Overhauled ocean physics system for more intense, realistic and fun navigation.
Naval combat features trajectory-based aiming system that requires knowledge of the distance and speed of the enemy.
Gameplay will be a mix of naval (40%) and on-ground (60%) sections.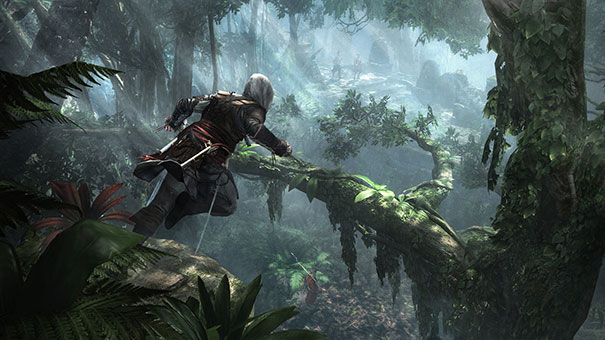 Free-run across the wild jungles and use various darts to hunt rare animals.
There will be more emphasis on stealth by way of infiltrations, tails, and exploration of islands, with level design that encourages stealth.
Players will encounter legendary pirates, such as Blackbeard, Benjamin Hornigold, Charles Vane, Calico Jack Rackham, and Bartholomew Roberts.
The game will include co-operative and competitive multiplayer.
The game is a collaborative production of several Ubisoft studios, with Ubisoft Montreal being the lead. Other studios include Ubisoft Singapore, Sofia and Québec for single player, and Ubisoft Annecy and Bucharest for multiplayer.
The PS3 and PS4 versions will feature 60 minutes of exclusive bonus content, which can be downloaded from PSN after the game's release.
The game's collector's edition will be announced at the end of March, and will be available for India.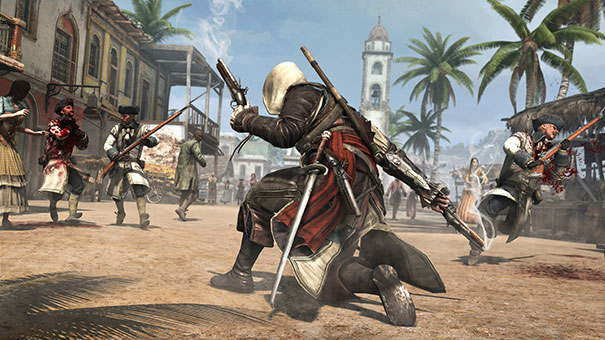 Chain sword and pistol kills together
Set for release on 31st October for Xbox 360, PS3 and Wii U.
The game will also release on PC, PS4 and other next-gen platforms, but no dates are announced for those.
Aside from better graphics, next-gen console versions will feature better community and social features.
Check out the Assassin's Creed 4 debut trailer below.