The other career mode is Be A Pro Seasons, where you control a single player (you can play as your Virtual Pro) through multiple seasons as you play for your chosen club and country. You are given objectives for each match and for the season as a whole, and your player's growth and reputation depend on how many objectives you can complete. At the end of the season, you also have the option to switch clubs, with various clubs offering you incentives like a place in the starting line-up, captaincy of the team, etc.
Be A Pro is fairly addictive but this experience too is sullied by the fact that the friendly AI is under par. Playing as Juventus, I was often outplayed by clubs like Ascoli and Genoa, and my team would uncharacteristically concede multiple goals in many matches. And since I controlled only one player, I was unable to do anything about it. There is an option to control the entire team whilst still tracking your Pro's stats, but your Pro won't do too well in this scenario, as your aim will be to win rather than to make sure your player does well and achieves his objectives.
[singlepic id=1291 w=450 float=center]
Online, while still just as fun as in FIFA 09, is a bit of a disappointment too, largely because it's mostly unchanged. Many of the gameplay issues from FIFA 09, which aren't apparent against the AI this year, are exposed in multi-player matches. Defences still refuse to hold their lines, and it's still too easy to find yourself one on one with the keeper. In these situations, thanks to another bug, the goalkeeper will advance off his line automatically, giving the opponent an invitation to score with an easy chip shot over the keeper, who is in no man's land. The chip shot is still unrealistically easy to pull, and it stands out in a game that otherwise strives for realism in every area.
The Pro Clubs is a new online mode in FIFA 10. It's similar to 10 vs 10 Be A Pro Online, except here, all players are Virtual Pros. Elsewhere, the online code for FIFA 10 seems the same as that of its predecessor. There's still lag when playing against non-Indians and Be A Pro Online is also still ruined by lag. An added kick in the teeth for PS3 players is an unforgivable bug, whereby you will get disconnected from PSN if you happen to have too many people on your friends list also playing the game. You won't be allowed to log back into PSN until you exit the game. The bug may not affect everyone, but it affected me, and I haven't taken the game online ever since.
[singlepic id=1295 w=450 float=center]
FIFA has always excelled in presentation. This year, the game includes rain and snow weather effects, but otherwise, it isn't visually that different from FIFA 09 aside from the aforementioned animations. Lighting and textures are brilliant as always, and player models are improved for well-known players. Some of the lesser known players still look like zombies though. Commentary from Martin Tyler and Andy Gray is mostly taken from past games, but there are a few new comments here and there. More importantly, the commentary is always spot on and seldom out of place, and really, that's the most important thing.
Conclusion
For all the improvements to the core gameplay, FIFA 10 is eventually a buggy mess. EA will no doubt issue a patch that will fix most, if not all, of these bugs. But there are people, especially in India, who don't have their consoles hooked up to the internet. For them, what they get on the disc is what they'll play, and for them, FIFA 10 is not recommended. Even if you do have PSN and Xbox LIVE access, it's very hard to recommend FIFA 10 to someone who already owns FIFA 09. If you're a FIFA fan or a football game fan, you already own FIFA 10. But if you're on the fence, get off it and wait for FIFA 11.
(+) Improved defending and physical play
(+) More realistic opposition AI
(+) Virtual Pro is a neat addition
(-) Plagued with bugs
(-) Multi-player gameplay issues persist
(-) Not enough of a change from FIFA 09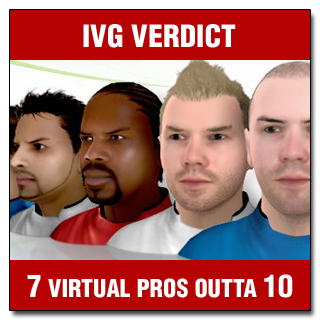 How we score games
Title: FIFA 10
Developer/Publisher: EA Canada/EA Sports
Genre: Sports
Rating:3+
Platforms: All

Join the discussion at the IndianVideoGamer Community forums