The biggest challenge for any developer aiming for a realistic simulation is striking that balance between realism and entertainment. FIFA 11 went hard at uncompromising realism, and the results, while not bad at all, felt a little too rigid, with the technical nuances of the sport given priority over flair. More than the two big talking points in the lead-up to FIFA 12's release – tactical defending and player impact, it's this challenge and EA's ability to overcome it that will determine how much of a success this year's game really is.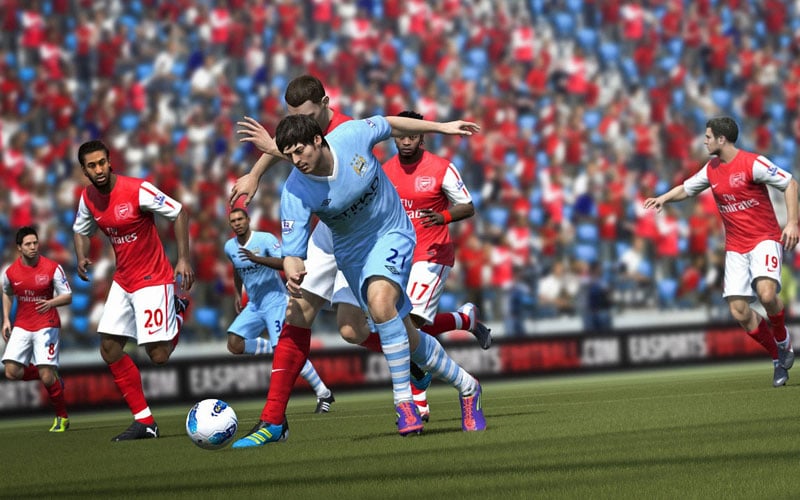 There's no two ways about it – FIFA games are at their best against human opposition, whether on the same couch or halfway across the world. This year, EA has attempted to bring FIFA's massive online user base together into one giant community with the help of EA Sports Football Club. Everything you do in FIFA 12 – online or off, solo or with others – earns you XP, which besides levelling you up, also contributes to the ranking of your club of allegiance in the global online leaderboards. It's a system that has been adopted from the Euro 2008 game and expanded upon greatly, lending a sense of purpose to even something as mundane as scoring goals in the practice arena.
As is customary in EA games now, there's also an Autolog-like system that is constantly throwing up updates on what your friends are up to in the game. Head to Heads are a new addition to FIFA 12's online repertoire, over and above the standard ranked and unranked matches, teamplay modes (up to 11 vs 11), Pro Clubs, online leagues and tournaments, etc. In Head to Head Seasons, you compete in ten ranked matches against random online opponents, earning points for wins and draws to move you up the league table and hopefully towards promotion to a higher league. There's a league cup thrown in as well, and thanks to a fantastic online code and abundance of online players, the experience is smooth and, most of the time, lag-free.
So powerful is the online component of FIFA 12 that fans can quite easily sweep any gameplay issues that it might have under the rug. But there are issues all the same. In the pursuit of total realism, FIFA 12 introduces several new features that directly affect gameplay. The most controversial of these has been tactical defending, a more calculated, technical and risky approach to defence than in previous games. Earlier, dispossessing an opponent was just a matter of the holding down a button combo, while it now requires as much concentration and thought as building an attack on goal; get too reckless or over-eager and you will get punished. There's a steep learning curve here, but tactical defending works, and when you do get the hang of it, pulling off a clean tackle as the last defender is just as rewarding as threading an inch-perfect through ball on goal.
The other major new feature, however, doesn't work quite as well. The player impact engine, which uses physics calculations to determine the outcomes of tackles and player collisions, is a fantastic concept on paper, but the instances where it fails are just too many. Worse, there are times when your own players will trip over one another, and it's infuriating when that happens in your penalty area, giving away a soft goal in the process. There are times when you get glimpses of what the engine is intended to do, and EA are on to something with this, but it's a feature they've perhaps implemented a year too soon.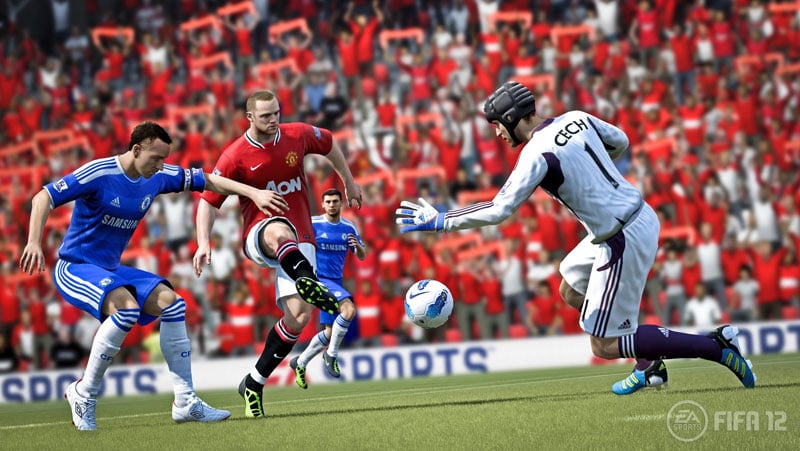 The Career Mode, which was overhauled last year, makes a return without too many major changes. You still have to pick from either a player (Be a Pro), manager (full team control), or player manager (a mix of the two). Like last year, there are weird issues here and there, for example: I loaded up a career mode save to find that my entire squad had been shuffled and the starting 11 comprised of reserves. The structure is pretty much the same, while some of the components, such as transfers, have been streamlined. I'm still not a fan of the calendar system that slowly simulates each day, resulting in a waste of time, especially when there's really not much to do in between matches. The Career Mode is a fun distraction and it will keep you interested, but don't expect any major changes from FIFA 11.
Audio-visual presentation has always been one of FIFA's strong suits, and this year, EA has finally ditched the archaic old menu structure for something more streamlined and functional. In-match atmosphere, from the stadium design to the lighting to the crowd chants is phenomenal as always. Player animations are top notch as always, when the player impact engine behaves itself, that is. The atrocious goal celebrations, however, let down what is otherwise an extremely polished visual package. On the commentary side, Andy Gray gives way to Alan Smith alongside alongside Martin Tyler, and while the duo does a commendable job, the former pairing had better chemistry. FIFA 12 also adds a second commentary pair – Clive Tyldesley and Andy Townsend from the UEFA and World Cup games. They'll show up during cup matches in the career and you can also switch to them as the default commentary team if you like. And as with every FIFA game, there's a brilliant and diverse soundtrack, which is a godsend when you're just staring at the screen as the Career mode calendar ticks over at a snail's pace.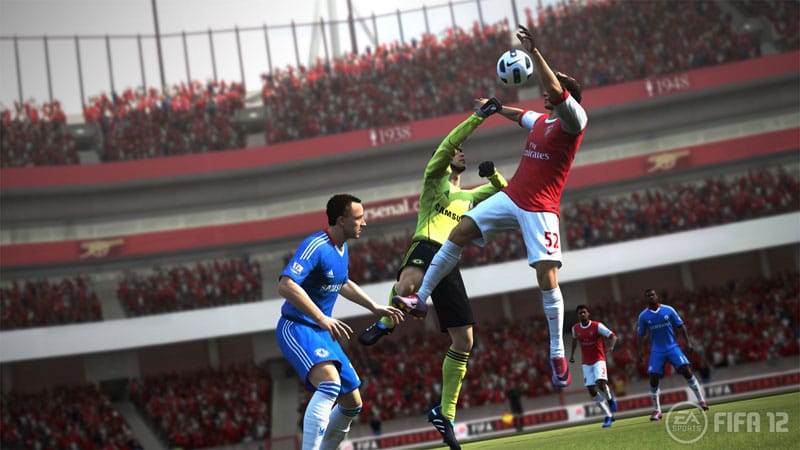 Conclusion
FIFA 12 isn't easily accessible and it certainly isn't without its flaws, but stick with it long enough and you'll peel away the layers to what is a realistically technical game of football that still manages to throw up frequent moments of excitement. The player impact imagine is hit-or-miss, and EA's made only superficial changes to the Career mode, but in terms of gameplay, it's a completely new game, and that should be reason enough for anyone remotely interested in the series to pick it up.