I can only imagine how intimidating FIFA 13 must be for someone new to the franchise. The numerous game modes hidden within menus and sub-menus; the constantly-updating tickers, info bars and widgets all over the place calling out to you – it can leave newcomers a little lost. Even for someone like me, who plays FIFA every year (although not all year), it takes a while to adjust to all the information the game is so eager to throw at you.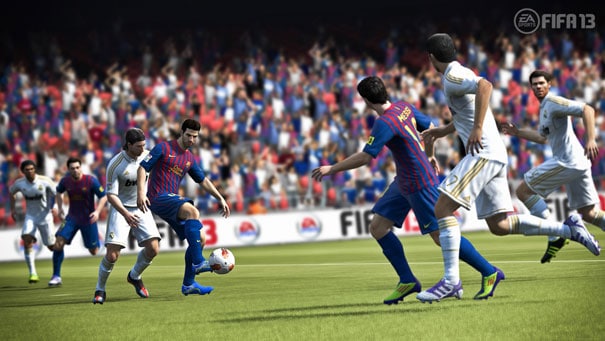 This year, thanks to the new Matchday feature, FIFA does even more to bring the game closer to the real thing. This manifests in multiple ways – via the option to play through your chosen club's current and future real-life fixtures; through real life form changes and injuries being reflected within the game; and through in-match presentation where the commentators will talk about real life player form and league positions. The attention to detail is impressive and it works flawlessly for most part, but it was a little weird to see Juventus' ratings constantly drop despite being league leaders, remaining undefeated, and keeping the Champions League holders to a draw away from home. Don't hate the Old Lady, EA!
On the gameplay front, most of the changes this year are subtle and serve to fine-tune the mechanics from last year's game. Lobbed passes are more effective; off-the-ball runs more dynamic; headers on goal more difficult; the finesse shot has been nerfed; and tactical defending just a little bit more forgiving. The often comedic glitches of the player impact engine also seem to come less frequently now. The one instantly noticeable change in FIFA 13's gameplay is in first touch. Receiving the ball while sprinting now almost certainly results in a heavy and unfavourable first touch, and the same applies to passes or shots on goal performed while sprinting.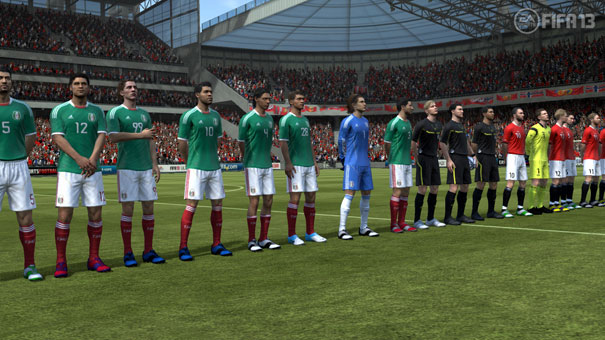 Initially, this seemed like a mechanic that would take the flair out of proceedings and force a more methodical approach, but the correct use of the close control buttons together with first touch actually opens up more avenues of gameplay than ever before. That said, it still seems like the game is a little skewed in favour of the attacker, even if the less punishing tactical defending makes things a little more balanced than last year.
And that's how I would sum up FIFA 13's gameplay – it's balanced. It isn't a radical change from FIFA 12, but there are several small tweaks and fixes here that elevate the overall gameplay. Many people have complained about the increased match speed, and while the game might benefit from a bit of slowing down, it works fine just as it is.
To help out newcomers at sea, there are the brilliant new skill games. These well-designed mini games are a great way to come to grips with the game's controls and many gameplay nuances, with each skill game comprised of several levels. Random skill games will even show up as pre-match loading screens. Pretty much anything you do in FIFA 13 earns you XP and in-game currency, and these can now be used to buy items, goal celebrations, etc from the in-game store.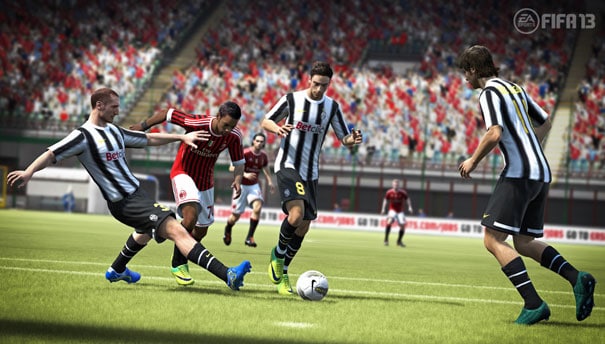 These aside, there aren't too many drastic changes to FIFA 13, but pretty much everything that was already there has either been refreshed, updated or improved. The Career has done away with the player-manager option, and now only lets you play as either player or manager. To compensate for the exclusion, you now have the option to start a career as a player and then turn manager on retirement. It's a great way to streamline the career and at the same time make it more realistic.
There's tons to do offline in FIFA 13, but you'd really only be scratching the surface if you didn't take your game online. Both regular and head-to-head seasons return, as do Clubs. With detailed stat-tracking, an Autolog-like system tracking your friends' activities, and near-instant match-making, FIFA 13's is as seamless an online experience as you'll find. Well, most of the time anyway. For the first day or so after release, online matches were totally lag-free, but over the last couple of days, even online games with friends in the same city were severely laggy, with the game freezing for a couple of seconds at regular intervals. This seems more like a bug than an issue with FIFA's online code though, so I'm hoping there will be a patch out soon.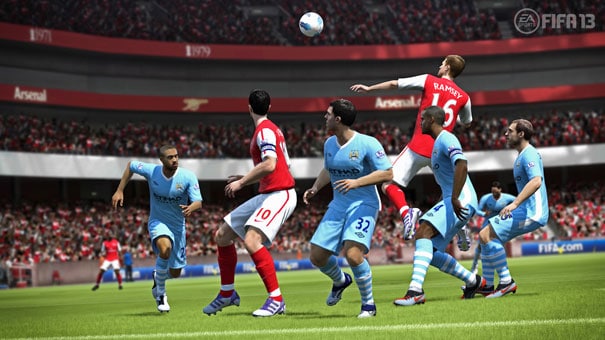 With a toning down of the player impact engine, animations and overall player movement seem far more fluid this year. To add to that, player likenesses, while not always accurate, seem more believable too, and they're given more character with signature moves and goal celebrations. All of this combines to make FIFA 13 a significant step up from its predecessor in terms of visuals. The audio department has upped its game too, with commentators Martin Tyler and Alan Smith seamlessly embedding nuggets of information from real-life events into their play-by-plays, and touchline reports and updates on other matches filling players in on what's happening off the pitch. Simply put, there isn't a better audio-visual package in the sports genre.
Conclusion
Much like its arch rival PES 2013 did, FIFA 13 has upped its game by doing the little things right. Sure, there isn't anything drastically new in this year's game, but there is a balance to FIFA 13's gameplay that has been missing since FIFA 09, and that more than anything that EA can put on the back of the box makes it an absolute must-buy.