While most people are only familiar with the Far Crys and Assassin's Creeds of Ubisoft, the publisher has a tendency to also release smaller games that often are fairly unique in both design and visuals. Some recent examples are Valiant Hearts and last year's Grow Home. Last month, Grow Up, the sequel no one expected, released on current generation consoles and PC.
Grow Up has you playing as BUD the robot again. Experience the drunken robot movement and rag-doll physics as you collect parts on the moon to find spaceship parts. BUD can explore the full planet (albeit a small one) and jump and fly around while upgrading abilities and getting new ones. The opening is quite boring compared to what you get to do after a bit of playing though so stick with it. The thrill of flying and jumping off is great.
You get to scan 24 different plants and grow them wherever you want. I feel like the growing plants mechanic is wasted because it becomes redundant quite soon and you have other means of propelling yourself into the air.
Grow Home had a distinct art style and Grow Up builds upon it. It is great seeing the sunset and even being able to traverse the world quickly enough to chase it. The rag-doll physics of the drunken BUD you control and the nice controls and platforming through a colourful polygonal world combine to make a memorable experience.
Musically, Grow Up is pleasing. I like the combination of retro chip tune style music combined with synth music, but things get a bit repetitive fairly quickly. The sound design in particular is quite nice. The sound of a gushing waterfall getting louder as you approach it adds more liveliness to the small world you get to explore.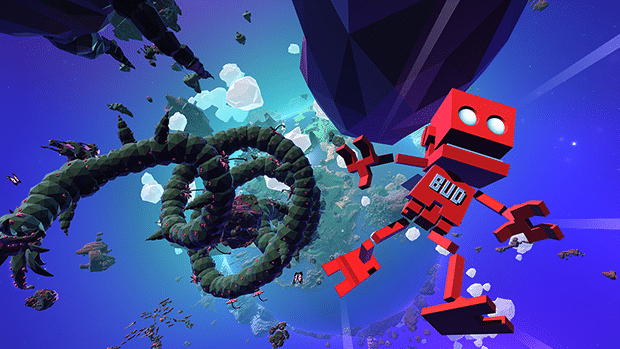 Grow Up is fun but gets boring after some time. Even as a short experience, I wish there was more variety in the challenges. Exploring is great and even though it is a platformer, there's a good amount of flying around, but the performance is not up to par on PlayStation 4. It is a Unity game so you might know what to expect going into this. I'd recommend getting this on PC if you can.
Grow Up is more of Grow Home so if you enjoyed that, you will have a blast. If you never did get a chance at Grow Home, Grow Up is a worthy adventure platformer game that will keep you busy for a few hours. I hope Ubisoft takes more chances like it did with BUD in Grow Up to give us some more interesting albeit smaller experiences. We need more fun platformers.