It's funny how a simple change of perspective can make all the difference. Pro Evolution Soccer has been in the grips of a serious identity crisis this generation, but with series stalwart Shingo "Seabass" Takatsuka diverting his attention towards the Fox Engine-powered next-gen PES game, it's an opportunity for Konami to infuse some new blood into the PES team. And it's done PES 2013 wonders.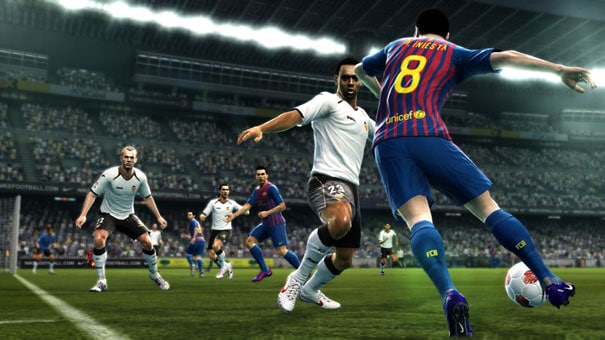 While both FIFA and PES proclaim themselves to be the ultimate football simulation, PES games have always carried just that little bit of fantasy that allowed you to create dream scenarios. Konami has been so busy playing catch-up to EA's effort of late that somewhere along the way, PES lost that hint of arcade magic that made the PS2 games so special. The crisp passing, the godly skills of the world's top players, the endlessly rewarding unique goals. This year, they all return.
The problem over the last few years was that every time the game did something right, something else went wrong. This year, most of the kinks are ironed out and it's remarkable how something that simple dramatically improves the overall game. But there's a lot more to PES 2013 than simply correcting past wrongs. Spend enough time in the new Skill Training mode and you'll see what I mean. RT is now the most important button on the controller, and its proper use in attack and defence, particular with top players, can have a devastating effect. From tight close control, to finesse shots, to perfectly timed tackles, it's the proper use of RT that will help you lift your game to the next level.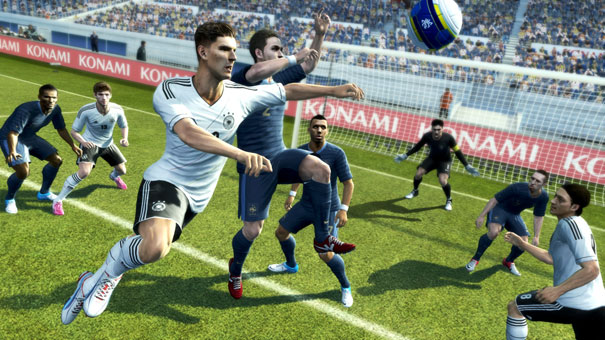 Press R3/RS just when your player is about to receive the ball, and depending on his skill level, he can trap it or prop it up for a volley or trick move. Use R3/RS and RT in concert, and you can pull of slick first touches to wrong-foot defenders and open up space for a pass or shot on goal. In its most basic form, PES 2013 is as simple as football games get, and you can get by just fine using just the face buttons, but like a great combat system, it's when you incorporate the RT and R3/RS combos that the game really kicks into high gear.
The dynamism and open-endedness of play has always been one of PES' strong suites, and this year, you can use manual passing and shooting at any point of any match. Even if you have passing assist enabled, holding down LT will allow you to pin-point your passes, removing all direction and power assists and putting all the control in your two hands. The potential within that is immense and limited only by your skill and vision. Manual shooting takes a lot of getting used to though, and for a long time, your shots will go closer to the corner flag. Soon enough though, you'll get the hang of it and hitting easy shots straight at the keeper will become a thing of the past.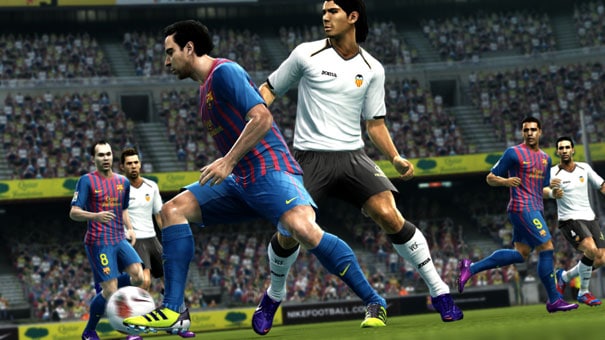 Defending has received a bit of a reworking too. Holding down RT now puts defenders in a holding position, where they'll delay the attacker till support arrives. Press A along with it, and they'll start applying pressure, and when you find yourself in the right position, double-tapping A will prompt an incisive standing tackle without being overly committal. The trick, of course, is getting the timing spot-on. Konami has got the balance just right, so while defending isn't hopelessly hard, it does require your utmost concentration.
The goalkeepers have always been a cause for much frustration in PES games, but this area too has seen improvements. Keepers are better positioned and do a far better job of parrying shots away from goal. Distribution of the ball still leaves a lot to be desired, but overall, it's nice to see goalkeeping finally get some attention.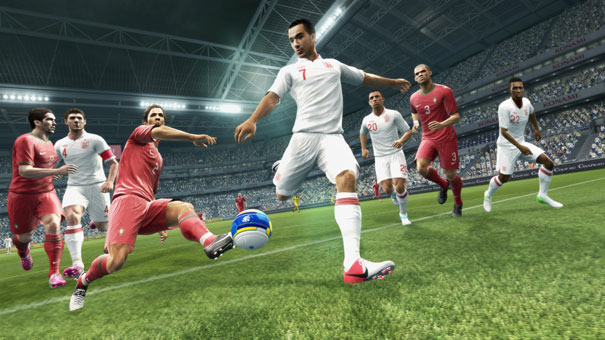 One area where PES has managed to stay ahead of FIFA is in the longevity of the single-player experience, and a lot of that has to do with dynamism of the AI. PES 2013 takes things a step further with AI that cleverly reacts to the state of play. Full backs make aggressive runs forward, strikers are always looking to break the off-side trap, and the midfielders aren't afraid to break formation to exploit openings. This, combined with the new-found slickness in gameplay, makes for an addictive offline experience.
Football Life, PES' career mode that also encapsulates the Master League, hasn't received too much of a change since last year. I'm not a big fan of the frequent cutscenes involving coaches, technicians and board presidents; it just seems unnecessary, and adds needless delays in progression through the otherwise exemplary Master League. This remains one of the best career modes in sports games, but it's clear that it has taken a back seat to gameplay refinements this year.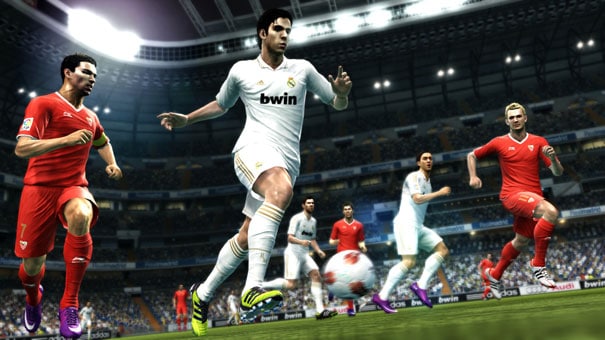 Unfortunately, the online servers weren't up when I played the game for this review, so I wasn't able to test if Konami had made any improvements to the online experience. If last year is anything to go by, online should be fun, well-populated and reasonably lag-free, without doing enough to match the superlative and varied online experiences delivered by the competition.
PES 2013 once again does a great job in its implementation of the UEFA Champions League and Europa League licenses, with top notch presentation and pre-match build-up. Presentation elsewhere is hit or miss. The new mo-capped animations, especially those of the top players, are a joy to watch, and the player likeness are once again solid, but overall, PES 2013 is quite inconsistent in the visual department. The atrocious commentary is something we've come to expect now, but even then, it's shockingly bad at times, especially compared to the forward leaps FIFA is taking in this regard.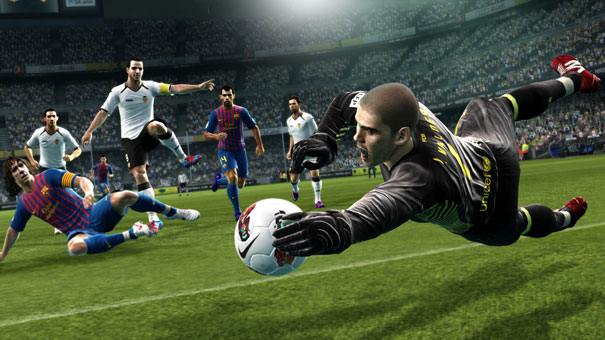 Licenses are always a contentious issue, and this year again, some new ones have come while others have gone. While past games had two licensed Premier League clubs, this time it's just the one – Manchester United. On the flipside, Konami has added licenses for all 20 top flight teams from the Brazilian league. The Italian and Spanish clubs are all licensed too, as are several other clubs from the other big leagues. None of this will be of much concern for long-time fans who know their way around option files, but newcomers may find the lack of EPL and Bundesliga licenses a bit of a deterrent.
Conclusion
This is the strongest PES game to grace this generation of consoles, and that success has come from focussing on its own strengths rather than those of the competition. As one of the most overused lines in gaming goes – the series has gone back to its roots. It's done so by injecting a bit of that arcade unpredictability it was once famous for, while at the same time throwing in new gameplay elements that you won't find anywhere else. Pro Evolution Soccer is confident again, and while it may not cause much of a dent in the competition's fortunes, it offers plenty to entice old fans back and win a few new ones while it's at it.