Here are a few things that cost less than the Deathstalker Ultimate, the latest entrant in Razer's Elite range of gaming keyboards – a Playstation 3, a Google Nexus 7, a Geforce GTX 660 graphics card, an Xbox 360, 20 full-priced PC games. It's hard enough to convince many serious gamers – even those who spend a lot of time gaming on PC – to buy a premium gaming keyboard within the Rs 10,000 price range. So is anyone even going to give the Deathstalker Ultimate a second thought with its price tag of close to Rs 20,000?
What on earth would justify a price like that, you ask? It's primarily the Swtichblade UI, which debuted in the Razer Blade laptop that never made to these shores. It's essentially a touchscreen interface that replaces the Numpad and provides several functions, many of which most of us will never use. There are a set of ten keys above the screen, which are tied to features like Facebook, Youtube, Twitter and Gmail. The keyboard's even got its own web browser. I guess it's all there so we can watch walkthrough videos or read guides while in-game, but I personally don't ever see myself doing that. There's also a built-in media player, but there was a lot of distortion on the Switchhblade screen, which may have been an issue with the review unit. The dedicated screenshot key is nice to have though.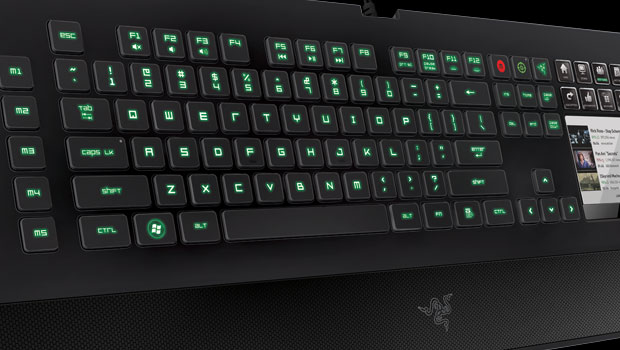 But that's really not why Switchblade exists. The primary function is to simplify the process of recording macros. With record and stop buttons, real-time on-screen indicators of the keystrokes it registers, as well as an option to confirm or cancel a recorded macro, creating macros for your games has never been easier. Deathstalker also supports Razer's Synapse 2.0 cloud profile system, which automatically syncs all settings, macros and game preferences, so you can use them on other compatible Razer devices on any PC by logging in to your Synapse account. When not being used for any of the above functions, the screen acts as a touchpad, complete with two mouse buttons below the screen.
With record and stop buttons and real-time on-screen indicators of keystrokes, creating macros has never been easier.
Despite doing away with the Numpad, the inclusion of the Switchblade UI has meant that this is one beast of a keyboard in terms of size, taking up more space on my desk than any other keyboard I've used. Compounding matters is the fact that the Deathtalker's wrist rest isn't detachable. Most gaming keyboards come with detachable wrist rests and it's an option I've always used, so I wasn't too happy at having the wrist rest forced on me.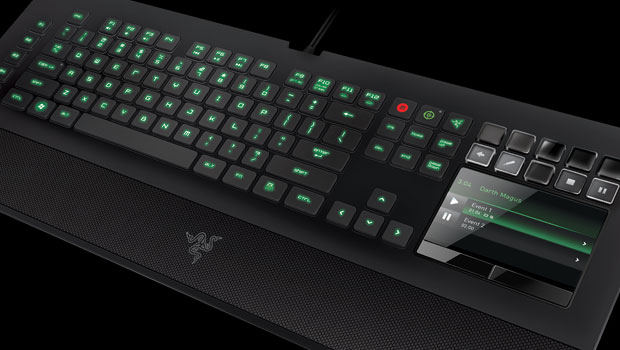 Razer has pulled out all the stops in terms of build quality though. The Switchblade UI may not be the most useful feature, but you can't help but be impressed by the touchscreen interface and its implementation. It works as advertised. The entire keyboard sports a matte finish, which is great, even if the rubberised wrist rest is a bit of a dust magnet. Aside from the lack of a Numpad (although you can pull up a virtual one through Switchblade), this is a full function keyboard, along with five dedicated macro keys arranged vertically on the left side, as well as a function key for backlight brightness, media controls, and volume. The keys sport the signature Razer font, and the keyboard's four chopped off edges give it a nice edgy look. The braided cable is reasonably long, but bear in mind that to use all of the keyboard's functions, you'll need to devote two USB slots to it.
It's got chiclet-style keys, which are more at home on laptops and an absolute no-no for anyone who games on a desktop PC.
My biggest issue with the Deathstalker, however, is in the most basic area – its keys. When I think of a premium gaming keyboard, I think fully mechanical, laser-etched, Cherry MX keys with variable, multiple-colour backlighting. The Deathstalker does offer a host of backlighting features, including multiple colours and variable brightness, but the keys themselves are a severe letdown. It's got chiclet-style keys, which are more at home on laptops and an absolute no-no for anyone who games on a desktop PC. The keys have no travel at all, and even though they use scissor switches for more tactility as opposed to a standard membrane, they don't offer anywhere near the sort of feedback you would look for in a gaming (or even a regular-use) desktop keyboard. Moreover, while typing text, hitting the same key twice in quick succession often resulted in it being registered thrice, so I'd often have words like "cool" show up as "coool". This may well be an issue with the review unit, but something like this could cause a few problems in-game.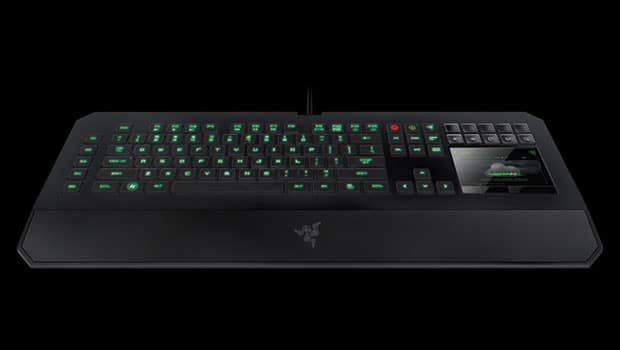 Conclusion
In the end, price doesn't even come into the picture when comparing the Deathstalker Ultimate to other premium gaming keyboards. In terms of pure performance and usability, both during and outside gaming, there are far better options out there, like the Corsair Vengeance K90, the CM Storm Trigger, and Razer's own Blackwidow Ultimate. And all of those cost half as much as the Deathstalker Ultimate. I'd even recommend a membrane-based keyboard like the sub-Rs 5,000 Razer Lycosa over this.
The Razer Deathstalker Ultimate is a fine technological showpiece, but that's really all it is. As a gaming keyboard, it fails at the very basics, and for that, even Snapdeal's reduced price of Rs 17,999 is a crude joke.