What do Alpha Protocol, Star Wars Knights of the Old Republic 2 and Street Cricket Champions have in common? If you thought that Obsidian developed all of them or that they sported fantastic writing, you'd be wrong. The answer lies in the fact that they all have been horribly rushed. And like the former two titles, Street Cricket Champions is extremely prone to glitches and bugs, and it has shoddy production values. Also like the other two titles, you can see that, conceptually, it's as solid as Rahul Dravid's defence on a good day.
Having said that, the core gameplay is quite fluid, with responsive controls and contextual buttons for fielding, requiring you to press the right button at the right moment to catch batsmen out. Batting is equally straightforward; press the corresponding button for the shot of your choice (lofted shot, ground shot or defensive) in combination with the analog stick for direction. What it misses is the ability to go down the wicket or use the d-pad for playing shots. Bowling works similarly, with the usual varieties in pace and spin from out-swing to leg-breaks being available for use in combination with the analog stick for delivery placement. Of course, timing plays an integral role in batting and bowling.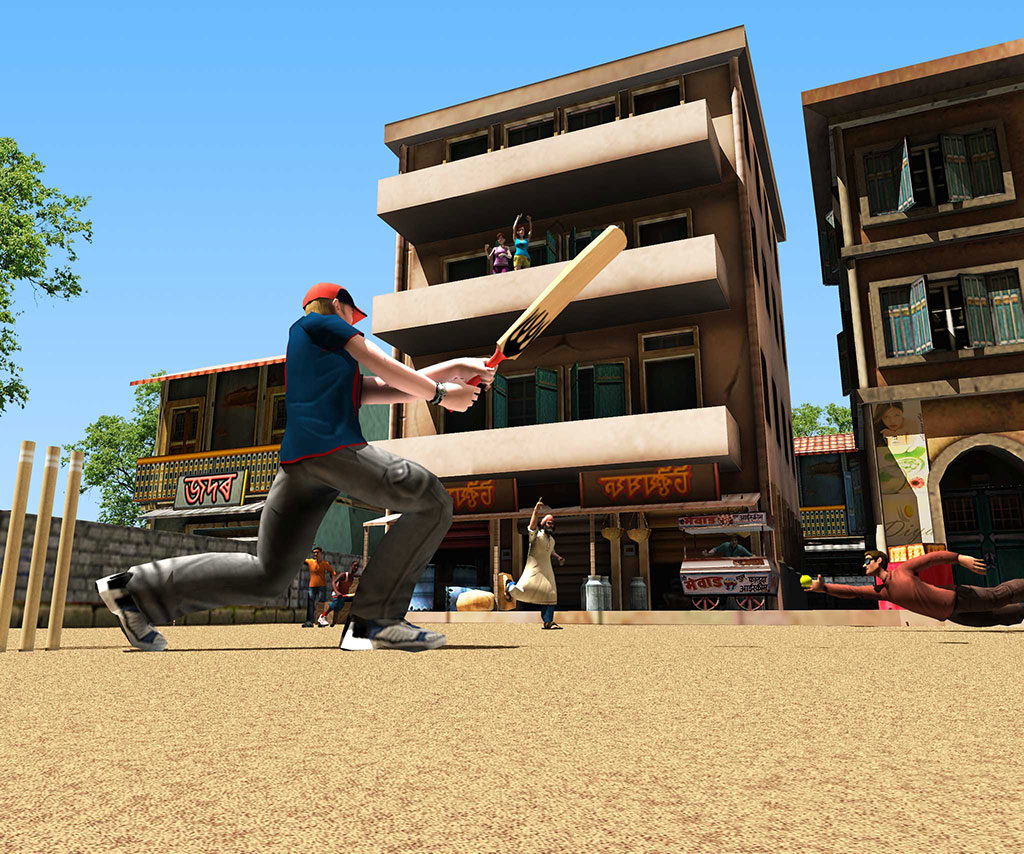 Within moments of picking up the controller, you'll realise that they've adopted the best from the EA Cricket and Brian Lara International Cricket franchises. It has a short learning curve, making it ideal for quick pick-up-and-play sessions. Given that all the ingredients for decent gameplay have existed since Cricket 97 and the Brian Lara franchise along with our genetic disposition for being awesome at the sport, getting the gameplay right was a no-brainer. However, it isn't as derivative as it sounds.
Staying true to the 'Street' part of its moniker, there are some sweet new mechanics like trick shots (think over the keeper's head, among other places), the ability to switch from spin to pace, and objects that when hit multiply your score. It's also got traditional street cricket rules such as last man batting and getting out for hitting specific parts of the ground (such as cars and windows). Don't worry about not knowing where the danger zones lie while batting; before each delivery, you can go into first-person view and check out which areas to hit for bonus runs and which to avoid. Throw in interesting venues such as a busy Kolkota street, an American car park, or a dhaba at night, and you have enough to maintain interest.
These additions make Street Cricket Champions stay true to the old adage of easy to play and tough to master. Before you know it, you'll be quite at ease with the game; not enough to be taking hat-tricks and scoring sixes of each delivery, but enough to bat out an entire innings or restrict the opposition for an achievable chase. Other things like the ten unique teams (with a portion of them locked until you fulfil specific goals) manage to keep this game fresh. Be it the all-girl team called The Juilets or the Indian team known as The Gurus, there's something for everyone.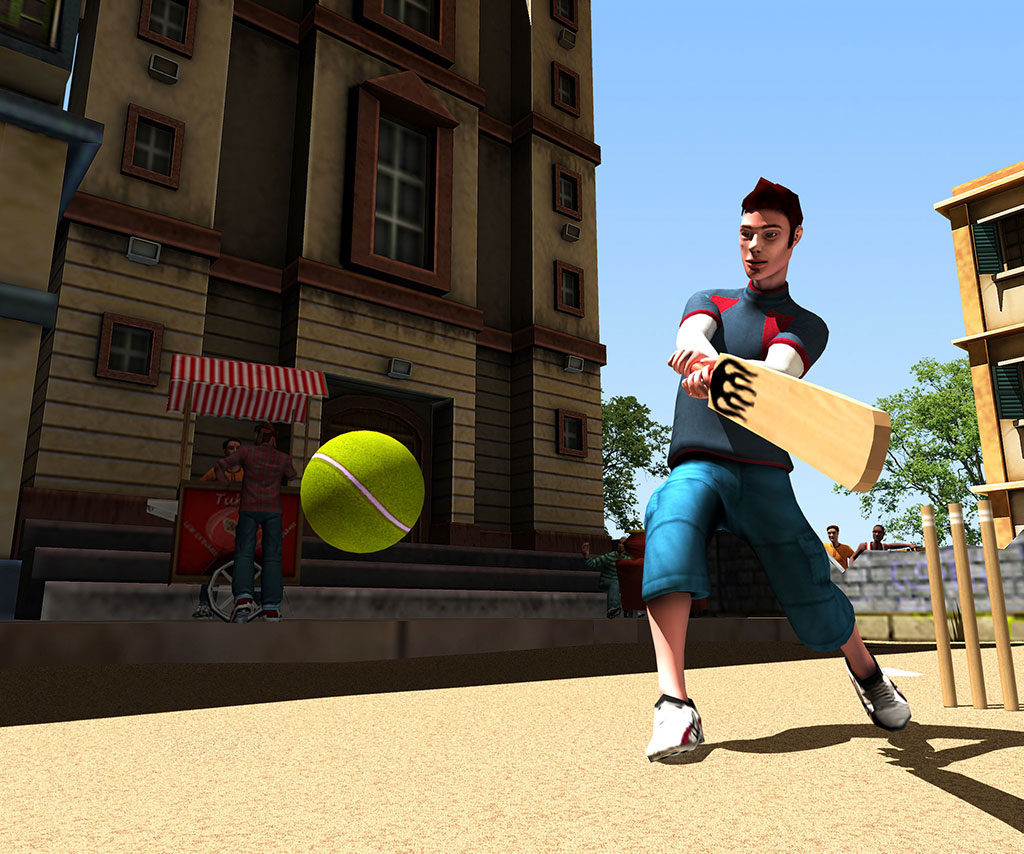 Cheesy team names aside, the game features achievements. Yes, you read right; a PS2 game features achievements. Accomplish specific objectives in the game, such as playing three matches without giving a single extra or hitting six boundaries in an over and you unlock achievements that in turn allow you to unlock venues and teams. It's a nice touch and a hat-tip to give an old system some new moves. If anything, you can't fault the developers for having a fantastic, if a tad derivative of the EA Street series, idea for a cricket game.
But that, unfortunately, is what it remains – a good idea. Almost every other element in the game falls flat, much like the Indian batting line-up of the mid-90s. Graphically, it's a mess. There isn't anything remotely close to being called eye-candy; just a lot of jagged edges. So much so that there are PSOne games that look cleaner and better than this. In addition to this, the animations are a glorified glitch-fest, with every fielder suffering from a case of constipation when chasing the ball. They can't even throw from their location. They instead walk half the distance and then throw it back to the bowler. This makes the fielding look downright odd.
In quite a few games, fielders found themselves inexplicably stuck while chasing after the ball, leading to a good 20-30-second stoppage before the game would manage to correct itself and continue. That's quite strange given that the batting and bowling animations hold up okay for the most part. If this wasn't enough, the game features some logic-defying gaffes, such as batsmen getting injured by spin bowling, and flighted deliveries with a tennis ball taking the term bodyline to a whole new level of cowardice.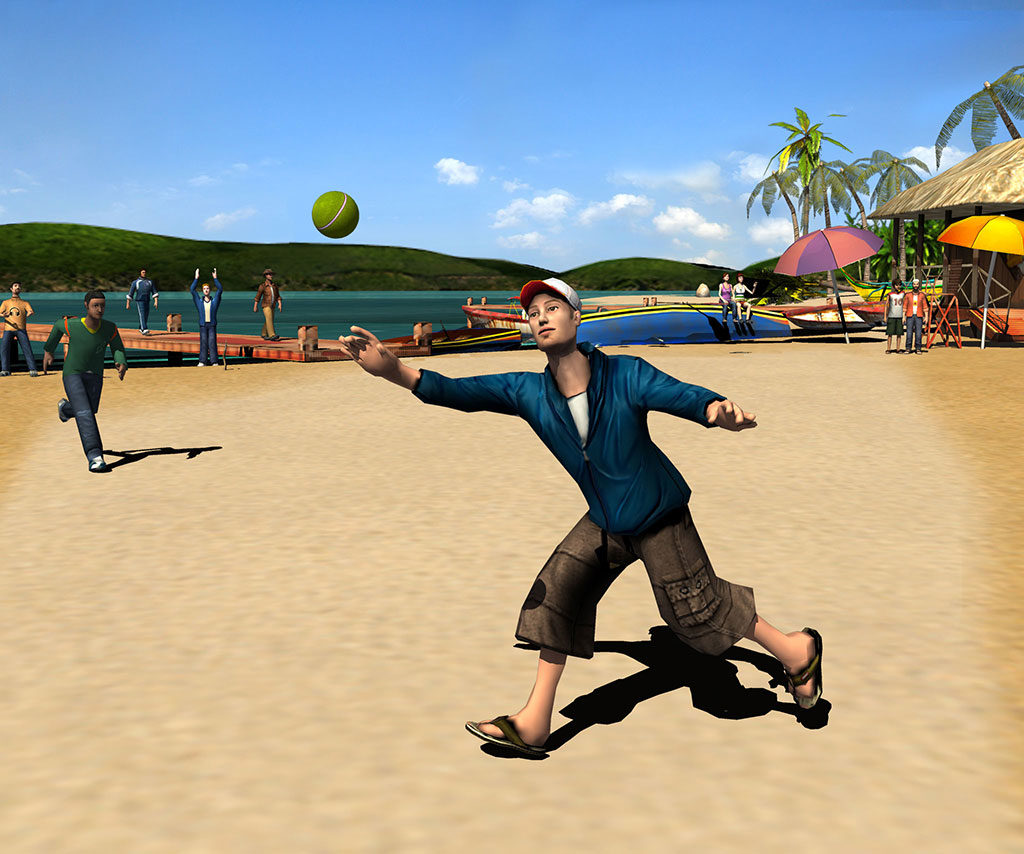 Also making an appearance are terrible sound issues, where certain ambient tracks would continue looping like a bad case of sledging. For example, the dhaba venue was subject to an incessant chirping noise that presented itself after unpausing the game, which made a strong case for playing the game on mute. The parking lot level had a pop-rock song looping with lyrics et al, which made no sense whatsoever. Sure, it was obvious that this game would lack commentary, but to have some random singer belt out a tune in the midst of a cricket match doesn't add atmosphere, it just detracts from it. A lot of what's been done in terms of the aural experience appears to be completely mismatched and, at times, irritating.
It's not as if these bugs were unavoidable. It just shows that the game was rushed to capitalize on Diwali, which is saddening because the originality and flair in terms of scope and ambition deserves better than this step-motherly treatment. Street Cricket Champions would have definitely benefited with some extra QA and testing.
After two poor efforts, this could've been the game that would've put India on the game dev map. However, we have to settle for what is an extremely unpolished game that could have been a lot more. It's worth a look-in only if you have a hankering for a cricket game and do not own a next-gen console or PC, and only if you've played EA Cricket 2007 and Brian Lara 2007 to death and do not have access to live cricket matches.