News
Bioshock Infinite gets snazzy Collector's Editions
Posted on Friday, 19th October 2012 by
Avinash Bali
Even though Bioshock Infinite has been missing in action for a while and we have absolutely no clarity on a release date, developer Irrational Games has gone ahead and announced two Collector's Editions for the game.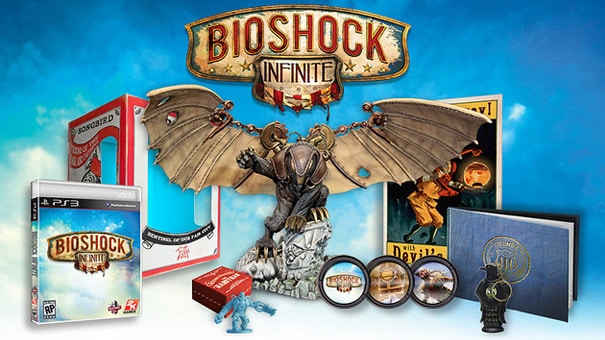 Premium Edition ($79.99)
A 64-page mini edition of Dark Horse Comics' The Art of BioShock Infinite
Digital soundtrack
DLC: Three exclusive Gear power-ups: Bull Rush (makes sprinting melee strikes more effective), Extra! Extra! (audio logs grant extra in-game money), and Betrayer (possessed enemies that you kill explode in a deadly fireball)
Console Exclusives: Xbox 360 users get Booker and Elizabeth avatar costumes. PC and PS3 players get BioShock Infinite themes
A 5″ x 7″ Lithograph print of Columbia propoganda
Handyman Figurine: A 25mm resin-cast figurine for use in the BioShock Infinite: The Siege of Columbia board game
Murder of Crows 3″ Keychain
A copy of the game
Ultimate Songbird Edition ($149.99)
All of the contents of the Premium Edition
Songbird Statue: This resin-cast statue is 9.75″ tall and comes with its own box
The game is being published by 2K Games which means there's a very high probability that both these editions won't make it to India – officially. In such a case, importing it would be your best bet.
Bioshock Infinite
/
Bioshock Infinite collector's editions
/
Bioshock Infinite Premium Edition
/
Bioshock Infinite release date
/
Bioshock Infinite Ultimate Songbird Edition