Nvidia on Tuesday announced the latest generation of its consumer GPUs – the Geforce RTX 30 series – based on its new Ampere architecture. Two GPUs in this series will be available in September, with a third to come in October. Nvidia has also announced India pricing for all three GPUs.
Spoiler alert: they won't come cheap.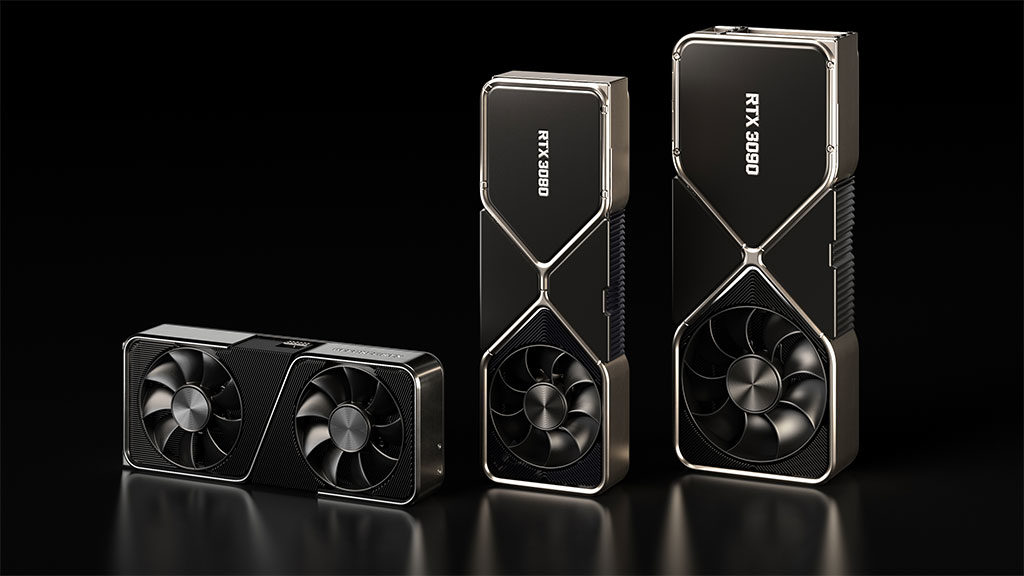 The three GPUs announced at launch are the Geforce RTX 3090, the Geforce RTX 3080, and the Geforce RTX 3070. We wager that there will be a Geforce RTX 3060 somewhere down the line as well. Here are the launch dates and starting prices for each of the GPUs in India:
Geforce RTX 3090
Launch date: September 24, 2020
Starting price: Rs 1,52,000 lakhs
Geforce RTX 3080
Launch date: September 17, 2020
Starting price: Rs 71,000
Geforce RTX 3070
Launch date: October 2020
Starting price: Rs 51,000
If you'd like to know how the RTX 30 series compares with your current RTX 20 series card, or even older GTX 10 and GTX 9 series GPUs, check out this handy comparison chart.
Ampere'd up
Nvidia's Ampere architecture brings with it the latest generation of its Ray Tracing Cores – to power more lifelike lighting and shadows, and Tensor Cores – which enable more AI computational power. In addition to this, Nvidia says the new GPUs also pack new streaming multiprocessors for improved visuals and frame rates and AI acceleration for gaming.
GeForce RTX 30 series also features many firsts. The RTX 3090 will be the first gaming-class GPU with up to 24 GB of GDDR6X VRAM. These GPUs are also the first to feature HDMI 2.1 ports, which supports 8K gaming and 4K at higher refresh rates.
The GeForce RTX 3090 will feature 10,496 CUDA Cores and 24 GB GDDR6X VRAM, while the GeForce RTX 3080 will pack in 8,704 CUDA Cores and 10 GB GDDR6X VRAM. The GeForce RTX 3070, meanwhile, will sport 5,888 CUDA Cores and 8 GB of the conventional GDDR6 VRAM.
What it means for gamers
Besides an insane amount of horse power than will let you max out pretty much any game coming out in the foreseeable future, there are a bunch of new features packed into the RTX 30 series that gamers would care about.
To aid competitive gamers, Nvidia announced Nvidia Reflex, a technology designed to measure and reduce your PC's gaming latency or input lag to improve responsiveness. Its SDK will also allow game developers to incorporate in-game settings to reduce latency. At launch, Nvidia says Reflex will be supported in Fortnite, Apex Legends and Valorant. This video sheds more light on what Nvidia Reflex is all about.
For game streamers, Nvidia says the AV1 codec will allow for high-resolution streams that use significantly less bandwidth.
Aside of Nvidia's Founders Edition, Geforce GTX 30 Series graphics cards will also be available from partner brands such as Asus, Colorful, Galaxy, Gigabyte, Zotac, MSI and others. Many of these cards will also come bundled with Ubisoft's upcoming open-world action game Watch Dogs Legion. Check out what the game looks like on the RTX 30 Series with ray tracing below.
ASUS Geforce RTX 30 in India
Asus India was one of the fist Nvidia partner brands to reach out to us with their plans for the Geforce RTX 30 series in the country.
Asus' selection will include ROG Strix graphics cards across the board for all three GPUs, as well as a TUF Gaming Geforce RTX 30 GPUs. Asus says these cards will sport robust components and "significant buffs" to thermal design. Lastly, Asus will also launch its Dual GeForce RTX 30 graphics cards for "a pure plug-and-play experience".
You can find more details on Asus' offerings here. We've reached out to Asus for pricing details of its RTX 30 series in India and will update this piece as we learn more.