The Witcher 3: Wild Hunt releases later this month and Batman: Arkham Knight is due to release on 23rd June. With such great titles coming up, there's no better time for a PC upgrade, and Nvidia has a great deal on its latest GTX 900 series.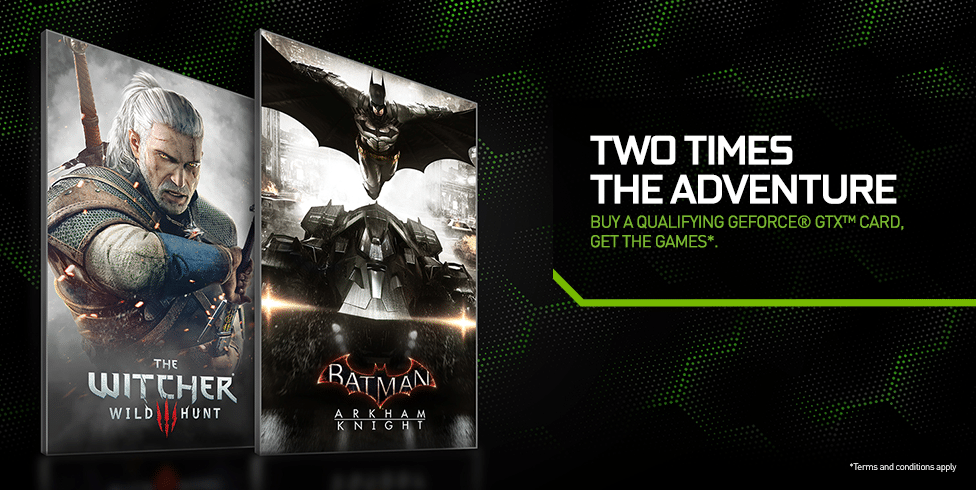 Nvidia has just announced the "Two Times the Adventure" bundle for buyers of its Geforce GTX 900 series graphics products.
Buyers of the GTX 970 or GTX 980 will receive codes for Batman: Arkham Knight as well as The Witcher 3: Wild Hunt.
The buyers have to purchase the cards from authorised Geforce distributors to avail the offer (dealers here). Game codes will be distributed which can be later redeemed on Steam (Arkham Knight) and GOG (The Witcher 3).
Those who pick up other GTX 900 series cards, which include the GTX 960, GTX 980M and GTX 970M, will only receive the Witcher 3: Wild Hunt.
Batman: Arkham Knight takes advantage of Nvidia GameWorks technologies to deliver immersive fog and ice effects, realistic destructible scenery, and improved cloth effects.
The "Two Times the Adventure" bundle is available through authorised Geforce retailers in India till 1st June.