Codemasters made a surprise announcement of Grid Autosport yesterday, just a year after the release of Grid 2.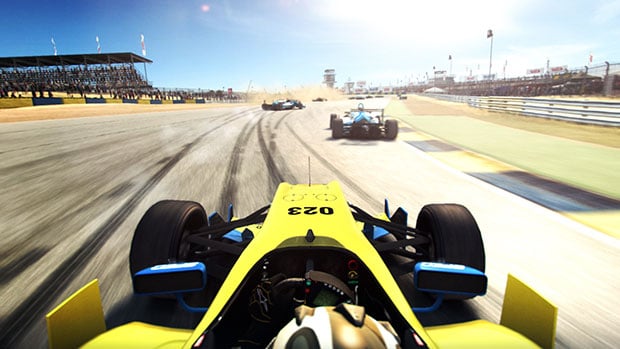 On release of Grid 2, I think it's fair to say that through listening to you guys and a after a substantial amount of reflection, we hadn't quite achieved everything we set out to do – Ben Walke, Codemasters
Grid Autosport builds upon the first two games using a lot of the feedback the developers received after the release of Grid 2, and appears to go back to the circuit racing formula of the first Grid game.
Grid 2 was criticised by some fans for its American-ised narrative structure and abundance of street racing, and Autosport will see the series return to predominantly circuit racing, with open-wheeled and touring cars making a return, along with the in-car view.
While handling will not be all-out sim, Codemasters says it will be more realistic than Race Driver: Grid, which in turn leaned more on the sim side than Grid 2 did. The developers have gone as far as to call Autosport a descendant of TOCA Touring Cars.
Here are few quick features of Grid Autosport, as laid out by Codies:
A more authentic handling model (more sim than Race Driver: Grid)
Five distinct disciplines – touring, endurance, open wheel, tuner and street – play the ones you like, ignore the ones you don't
22 locations, including Hockenheim, Sepang, Jarama and Yas Marina
A combined route list of over 100; more than Grid and Grid 2 combined
Career: become a professional racing driver, join and switch teams, fulfill sponsor demands, beat rivals
Grid Autosport releases on 27th June for PC, PS3 and Xbox 360. Check out the announcement trailer and a batch of screenshots below.