GamesTheShop has announced a midnight launch event for Assassin's Creed: Origins. This was confirmed by a post on the same's Instagram page which lists the event taking place at Oberoi Mall in Mumbai.
https://www.instagram.com/p/Bab0Kg4h6my/
Assassin's Creed: Origins is the seventh instalment in the franchise (accounting for numbered releases) and the first time the franchise has taken a substantiative gap in its releases since its annualization post Assassin's Creed II.
Currently, the following editions are available to pick up in India ranging from Rs 3,599 for the Standard Edition, Rs 3,799 for the Deluxe Edition and Rs 5,999 for the Gold Edition (only copy inclusive of the Season Pass) for the Sony PlayStation 4 and Microsoft Xbox One platform. GamesTheShop also has limited copies of the Collector's God Edition for the PlayStation 4 platform which costs Rs 7,999.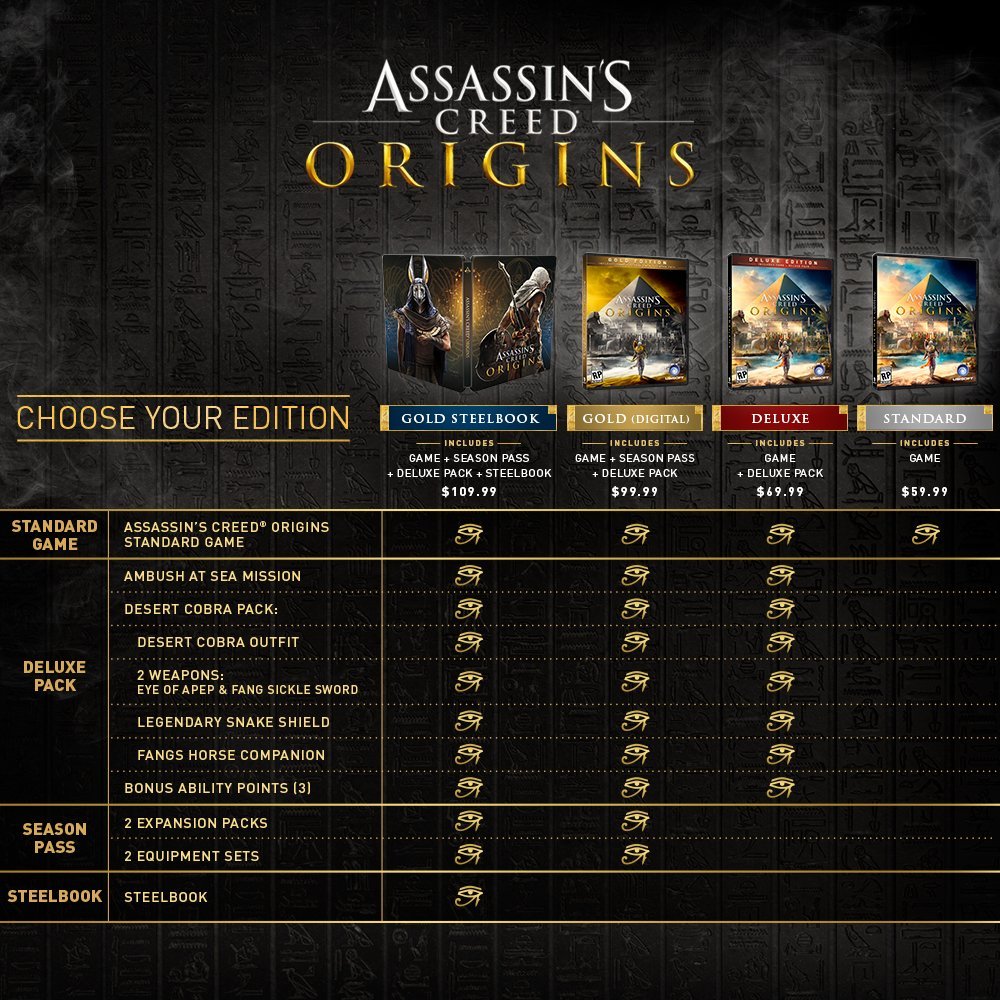 For PC users, the choice of picking up the game is limited to Steam or UPlay! with a slightly reduced price for the Gold Edition only (Rs 5,399).
Also, if you want to know if your PC has got the horsepower to push the game along, Ubisoft has released the Minimum and Recommended Specifications as follows,
Minimum Requirements
OS: Windows 7 SP1, Windows 8.1, Windows 10 (64-bit versions only)
Processor: Intel Core i5-2400s @ 2.5 GHz or AMD FX-6350 @ 3.9 GHz or equivalent
Video Card: Nvidia GeForce GTX 660 or AMD R9 270 (2048 MB VRAM with Shader Model 5.0 or better)
RAM: 6GB
Resolution: 720p
Video Preset: Lowest
Recommended Configuration
OS: Windows 7 SP1, Windows 8.1, Windows 10 (64-bit versions only)
Processor: Intel Core i7- 3770 @ 3.5 GHz or AMD FX-8350 @ 4.0 GHz
Video Card: Nvidia GeForce GTX 760 or AMD R9 280X (3GB VRAM with Shader Model 5.0 or better)
RAM: 8GB
Resolution: 1080p
Video Preset: High