Gran Turismo 6 was unveiled by creator Kazunori Yamauchi at the franchise's 15th anniversary celebrations at the Silverstone circuit in the UK.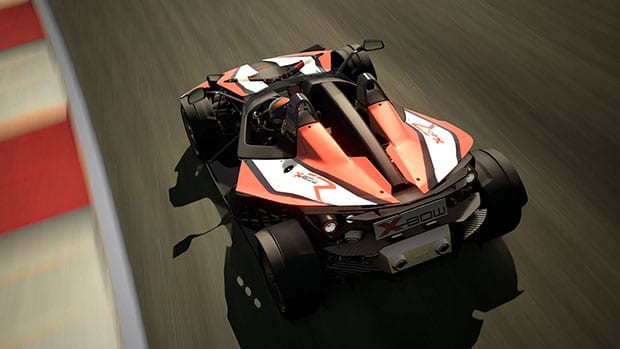 Here are all the details on the game we have so far:
It's headed to the PS3 at the end of this year, although Yamauchi has stated that he has "a PlayStation 4 version in mind."
Demo to be released in July
A new compact engine will increase flexibility to expand the game with regular downloadable content
1,200 cars at launch; more added through DLC. All GT5 cars, plus 200 historic cars, road cars and the latest race cars
"I am very pleased with everything about the new game and the new additions, but the launch will be only the beginning for GT6. The game will continue to develop throughout its life." – Kazunori Yamauchi
Several thousand aerodynamic parts and custom wheels for almost all cars
Increased car personalisation and customisation features. Custom cars automatically added online
33 track locations (7 new), with 71 variations (19 new). Silverstone Circuit confirmed.
Regular additions of new tracks via DLC
Improved course maker with scenery spanning several tens of square kilometres, Andalucía backdrop.
New physics engine for tyre and suspension kinematic modeling. Partnerships with Yokohama, KW Automotive.
Further details to be revealed at E3 and Gamescom.
Players can form online local, domestic and global communities and create and manage their own online events
New user interface – quick response, shortening of loading times
Connectivity with other Playstation devices, smartphones, tablets and PC for enhanced community features
Cars featured in Silverstone demo at the event (* denotes new to Gran Turismo):
Acura NSX '91
Alfa Romeo TZ3 Stradale '11 *
Alpine A110 1600S '68 *
Audi Sport quattro S1 Rally Car '86 *
Ferrari 458 Italia '09
Ferrari Dino 246 GT '71 *
Ford GT '06
KTM X-BOW R '12 *
Lamborghini Countach LP400 '74
Light Car Company Rocket '07 *
McLaren MP4-12C '10
Mercedes-Benz SLS AMG GT3 '11 *
Nissan 370Z (Z34) (GT Academy Version) '08
Nissan 370Z Tuned Car (GT Academy Version) '08
Nissan GT-R Black edition (GT Academy Version) '12
Nissan GT-R Nismo GT3 N24 Schulze Motorsport *
Nissan Leaf G (GT Academy Version)
Tesla Motors Model S Signature Performance '12 *
Toyota 86 GT '12
Sony has released a ton of GT6 screenshots as well as a stunning debut trailer, both of which you can check out below.