Rockstar has finally announced release dates for the PS4, Xbox One and PC versions of Grand Theft Auto 5, and PC gamers are in for a bit of disappointment.
Last year's IVG Game of the Year arrives on PS4 and Xbox One on 18th November, while the PC version will release a couple of months after that on 27th January.
Rockstar has also revealed that in addition to the graphical updates over last year's release, which includes increased draw distances and higher resolution, the PS4, Xbox One and PC versions will also feature, amongst other things:
 New weapons, vehicles and activities
Additional wildlife
Denser traffic
New foliage system
Enhanced damage and weather effects
Enhanced radio selections with over 100 additional new songs and new DJ mixes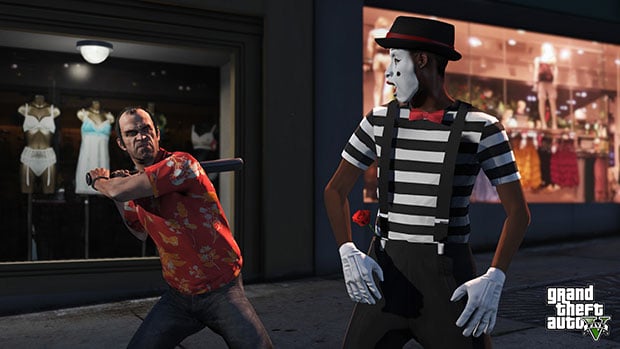 Those who preorder the game will also receive GTA$1,000,000 in-game bonus cash (GTA$500,000 each for story mode and GTA Online).
For those returning to GTA5 from either the PS3 or Xbox 360 versions, a host of exclusive content will be available. This includes rare versions of classic vehicles from across the GTA series, like the Dukes, the Dodo Seaplane and a faster, more maneuverable Blimp; activities like wildlife photography and new shooting range challenges; new weapons, and more.
For GTA Online, the PS4 and Xbox One versions will receive a bump up in player count to 30, and all post-release GTA Online content from the PS3 and Xbox 360 versions will cross over to the new platforms.
So why the additional delay for the PC version? Rockstar had this to say on its blog – "We are also incredibly excited to be bringing GTAV to the PC, but the game requires a little more development time in order to ensure that it is as amazing and polished as possible. "
Rockstar has also released some new screenshots and a new trailer, all captured from the PS4 version. Check it out below.