Konami has, for the first time, set a November release date for its Pro Evolution Soccer series, with PES 2015 arriving on 13th November.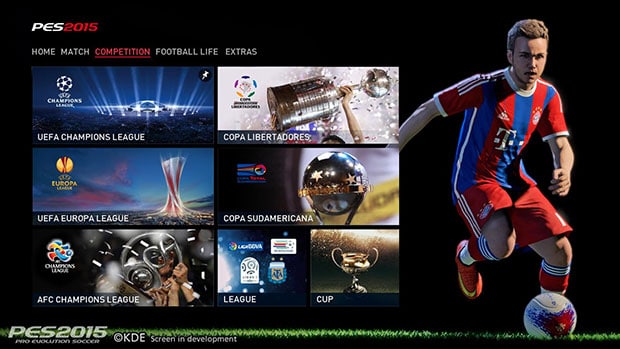 The new menu system, and cover star Mario Götze.
Germany and Bayern Munich star Mario Götze will grace the cover of this year's game, which will mark the series' debut on PS4 and Xbox One.
A playable demo for the game will be available almost two months before release on 17th September across PS3, PS4 Xbox 360 and Xbox One.
Konami has also revealed sever features that will make it into this year's game:
Improved response times.
On-the-ball abilities: Better close control, responsive sprint and wider range of pace. Take on defenders using players' bespoke dribbling skills, rather than 'trick' moves.
Defence: Complete control over when to close down, tackle, or hold up play.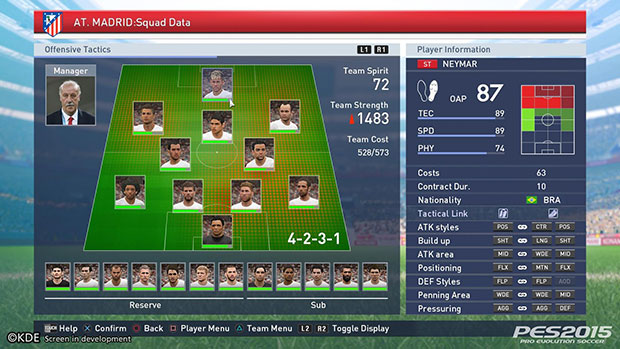 The new myClub mode
Behavioural patterns: Faithfully recreated over 1,000 players, with bespoke animations and playing styles.
Match atmosphere: Crowd animations have been hugely enhanced, and the ebb and flow of a match is met with context-sensitive crowd effects and movements.
Lighting: All in-game elements, from players to crowd and stadium, now benefit from a single source of lighting.
PES ID: Teams are set up to play as they do in real-life, while their star players will work within this framework, but will be instantly recognisable via their runs and playing styles.
myClub mode: Master League Online overhaul allows players and managers to be added using accumulated GP points or via micro-transactions within club dealings. Agents are now used to meet player requirement criteria, while unhappy players can upset the balance of a side to detrimental effect. Team Sprit plays a key role, as the compatibility of the manager between the player, players with other teammates creates better teamwork impacted the on field performances.
Live updates: Weekly DLC updates will constantly update transfers and team line-ups across the English, French, Italian, Spanish and Brazilian leagues. Player data also updated based on performances every week. Applied to online modes and optional within single-player mode.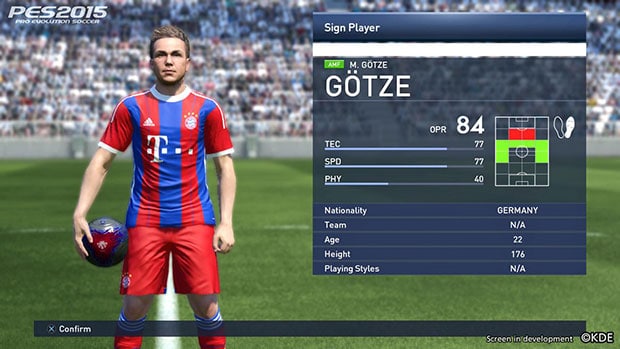 Revamped player attributes
Adaptable match environments: As manager, players can request the grass be left long to slow down short play, or watered to suit a passing style.
Player stats: The player parameter system has been completely rebuilt, working with key community sites across the globe to create the most realistic player stats database.
Second divisions: PES 2015 features the second tier leagues from England, Spain, Italy and France for the first time.
Role control: Three players can divide the defensive, midfield and attacking roles between them for more structured multi-player.
Real managers: In a first, real managers will feature in PES 2015 across a number of European and Latin American sides.
New in-game currency: GP system integrated. Earned within new myClub mode and unlocked via in-game achievements.
Stadium editor: Back with the combination choices available for: Pitch patterns, Side line colours, Seat colours and Goal net design to build your own home pitch.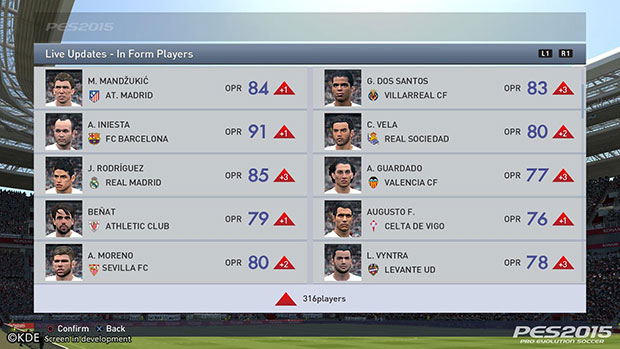 Live updates based on weekly real-life player performances
Presentation overhaul: Simpler, more effective menu system. PES 2015 also remembers your preferred modes for quicker access.
Online divisions: Accrue points in online matches across a season to aim for a promotion or face relegation.
Dedicated 11 v 11 Lobbies
Master League: Revised structure for player growth, transfers, managers and auto-match settings. New cut-scenes and National Super Cups implemented.
Become A Legend: Training modes enhanced, specific BaL match simulations, new transfer and recruitment systems, including a second tier league.
Weather: Rain has been implemented.
Licensed soundtrack: Featuring Cold War Kids , Calvin Harris, Imagine Dragons and Avicii.
PES 2015 is now available for preorder at Amazon.in, priced Rs 999 on PC, Rs 2,999 on PS3 and Xbox 360, and Rs 3,499 on PS4 and Xbox One. Here's a look at the official box art.