Gears of War 4 is the first entry in the series to be developed by The Coalition. They have done a superb job with creating an experience that's welcoming to newcomers and great for long time fans of the franchise. Gears of War 4 packs a ton of content into a single package and is the first numbered game in the franchise since the original to make its way onto PC without counting last year's re-release. Epic gets the best out of Unreal Engine but The Coalition's work with Unreal Engine 4 here is pretty damn mind-blowing. In fact with Forza Horizon 3 and now Gears of War 4, it feels like Microsoft has finally woken up to 2016 to end it with a bang.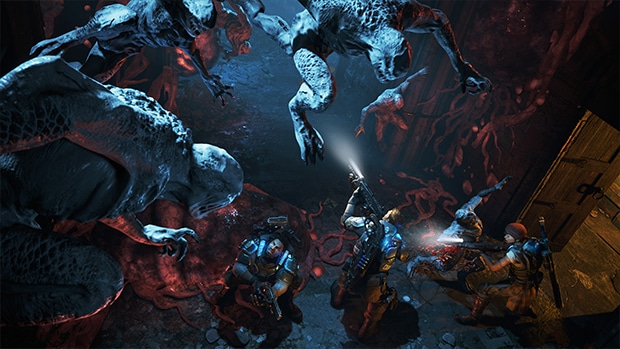 You take the role of JD Fenix, son of Marcus Fenix and embrace your father's legacy throughout the adrenaline pumped campaign. The Coalition has done a fine job of integrating parts of Horde mode into the campaign. JD and his friends escape and traverse through areas with extreme weather conditions and various kinds of enemies in the form of both robots and monsters. The extreme weather serves as a nice new mechanic to the core gameplay as it makes you act on your feet and also a visual showcase. Seeing the lightning storms will make you question how people even refer to the Xbox One as an under powered console. The overall story sets up for the next game. This was pretty much expected since Gears of War 4 was advertised as a start of a new saga but it still is kind of annoying. I'm not a fan of some of the new characters as well. Thankfully I don't play Gears games only for the story because everything else is superlative.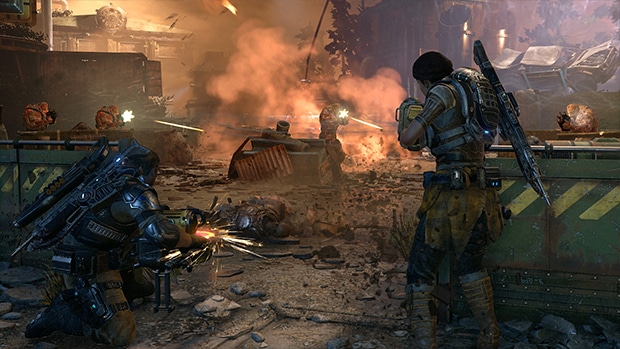 Aside from the story in the campaign, gameplay has received various tweaks keeping things fresh. There's a new reload mechanic that is different for every weapon and it makes things a bit more dynamic. If you're in cover you have a new way of doing takedowns as well. There are new weapons that feel awesome and there isn't a single moment where combat and gunplay didn't feel satisfying.
You can (and I recommend doing so) play the campaign in full co-op mode over the internet or locally with split screen with a friend and it is an absolute joy. I recommend replaying it with a friend even if you like playing things solo.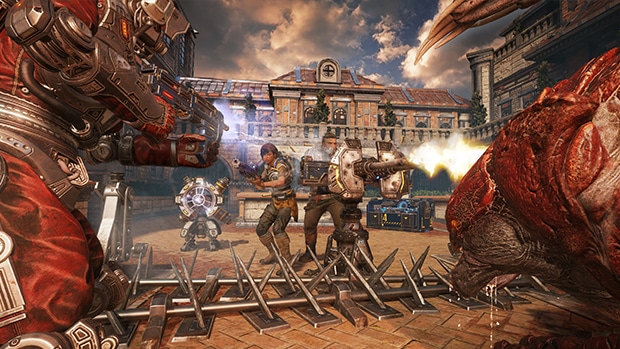 On the multiplayer side of things, there are various modes to show off your skills in ranging from Horde mode to PVP. Multiplayer in Gears of War 4 runs at 60fps as opposed to the campaigns 30fps. A new ranking and matchmaking system has been implemented and you can partake in Versus mode against real people or AI teams as you partner up with friends. One of the biggest changes to Gears' multiplayer in this entry is the class based system. It keeps things interesting more so thanks to the ability to play classes that feel and play differently. Even the enemy AI is impressive. Horde Mode 3.0 is the best horde mode yet in a game.. You can now build your own defence weapons anywhere across the map. Cross platform play is available in all modes but PvP.
Visually Gears of War 4 is nothing short of stunning. The Coalition squeezed the best out of Unreal Engine 4 making this the best looking game on Xbox One and easily one of the best looking console games out there. The weather effects, lighting, and overall polish take this to a whole other level. When the multiplayer beta launched a while ago, I was really disappointed with the visuals on display but The Coalition have turned things around and surprised me in the best possible way.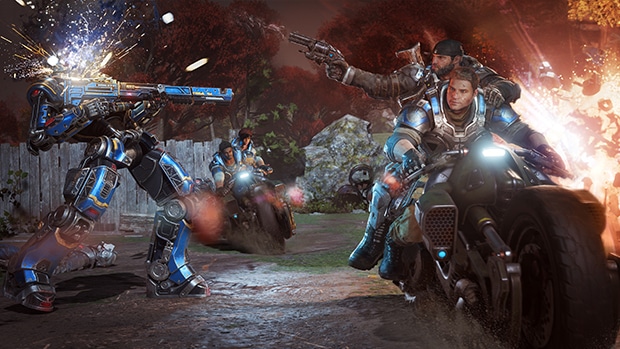 Complementing the visuals is Ramin Djawadi's (Game of Thrones) score and the rest of the sound design that makes for a memorable experience. While I did mention I wasn't a fan of some of the new characters, the voice acting here is very very good.
With its few flaws Gears of War 4 is an easy recommendation for anyone with an Xbox One. It even includes the complete Xbox 360 Gears collection via backwards compatibility for a limited time making the package even more enticing. After the misstep that was Judgment, it feels like The Coalition gave the Gears a franchise a Fenix down (pun intended) to create one of the best Xbox One games ever.