The last few weeks have been fantastic for Nintendo Switch owners with the likes of Super Mario Odyssey, Rocket League, Skyrim, and more hitting Nintendo's hybrid little console. Rockstar Games also released a port of L.A. Noire for the Switch along with the PS4 and Xbox One versions. While this port could have been a rushed job like RiME, the studio handling the port, Virtuos, and Rockstar Games put in a lot to make this release fantastic. L.A. Noire on the Switch offers a lot that the other platforms won't ever be able to and has a few things holding it back from being the definitive version of the game.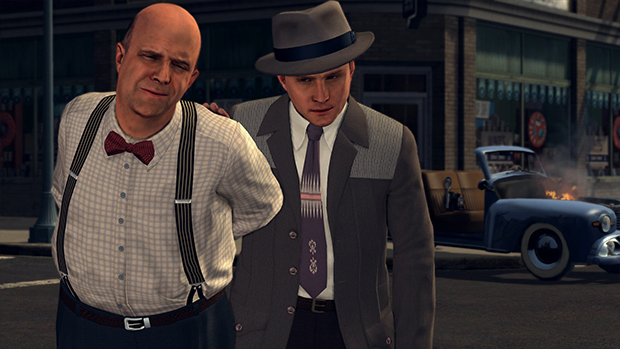 L.A. Noire is a love letter to film noir in general and will take you back to the 40s with its masterful use of music and aesthetics. Unlike most of Rockstar Games' popular titles, L.A. Noire and Bully stand out showcasing that they have more up their sleeve. When it released back in 2011, the MotionScan technology on display was pretty amazing. It still manages to impress today but the rest of the visuals show their age. Having the full experience with all DLC included and a lot of Switch specific enhancements has been great.

You play as Cole Phelps and basically interrogate, drive, explore, and try and solve the various cases in the main story here. There are some actual action gameplay segments as well intertwined within these cases but the overall experience is superb when it comes to the story and its delivery. Some changes have been made and we no longer have the "Doubt" option that became an internet meme. The original three choices have been replaced with "Good Cop", "Bad Cop", and "Accuse". This ends up being a bit confusing as in some situations they feel a bit too vague.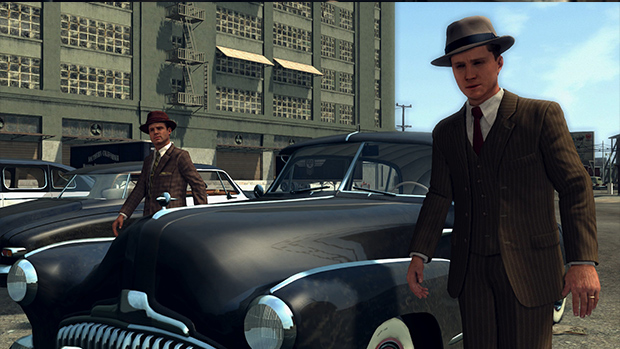 When it comes to the Switch port, there are two different aspects to talk about. The first is the visuals and the performance. L.A. Noire runs at 1080p while docked and 720p in handheld or portable mode. The frame rate target is 30 fps across all platforms and while it mostly hits the target, there are some situations with noticeable drops. On the visual side of things, there have been some compromises made to get it running at that resolution on the Switch. The game itself also shows its age when it comes to visuals in the open world segments. Expect frame drops in rooms or locations with many NPCs. Most of the visual issues will go unnoticed on the small screen though and as a portable version, L.A. Noire's Switch release is super.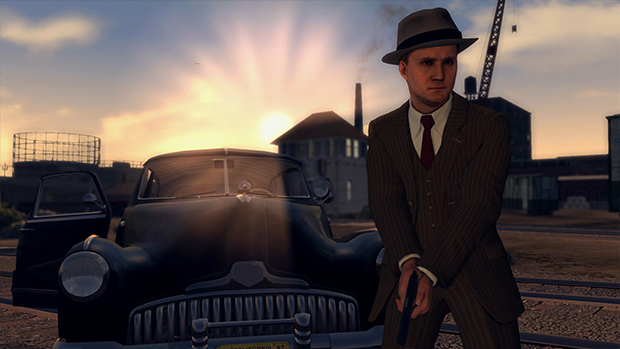 Since the Switch has a touch screen and motion controls through Joy-Cons, many ports make use of these things while others just ignore them. Skyrim has gyroscopic aiming and motion controls for combat but Disgaea 5 lacks any touchscreen functionality when it would've been perfect to play with touch. L.A. Noire makes some of the best use of these features. It makes great use of HD rumble for vibration to give you clues or alert you and has superb touch support. You can do almost everything through touch interactions. It almost feels like the PS4 and Xbox One ports only happened as an afterthought compared to this fully featured port.

The big problem I have with this release is the forced download if you buy it physically. This is a trend we are seeing with NBA 2K18 and now L.A. Noire. WWE 2K18 will also have a mandatory download and SD card requirement. This would not be a big deal had the price been lower but when the release costs more than other platforms, you'd hope it had everything on card. I hope some of the performance issues can get fixed in future patches. 
L.A. Noire is still worth playing today and if you own a Nintendo Switch, there's more here to experience and the ability to play anywhere makes this version an easy recommendation over the PS4 and Xbox One ports. If you value performance and visuals only, you are better off looking elsewhere. I'm excited to see what Rockstar Games brings next to the Switch after this.