Ever had the urge to order a double cheese pizza with a topping of extra cheese?
No. Wait. Don't leave. Your browser hasn't been hijacked. And neither has this site. You haven't been redirected to my amazing yet non-existent food blog. Yet. It's just that asking your friendly neighbourhood pizza man to deliver you a pie with thrice the amount of cheese has a lot in common with the first expansion pack to 2011's life consuming role-playing game, Skyrim.
Dubbed as Dawnguard, this 1600 MS Points purchase lets you take part in the struggle between ancient, powerful vampires and the hunters of said vampires known as the Dawnguard. You can either walk (rather glide) the path of a vampire lord or be a hunter of these accursed demons.
Dawnguard's premise has you exploring a cave that soon leads you to discover the emergence of a vampire conspiracy to blot out the sun. Plus,  there's one of the series' all powerful Elder Scrolls thrown into the mix. You have to choose between being a vampire lord or a vampire hunter. It's a choice you have to make quite early in the game and it is irreversible.
Aligning you with either clan from the very outset should, in theory, allow for some diverse progression. The practicality is quite different; you'll find a lot of quests are the same regardless of your choice. Soon enough, you'll be risking life and limb to find something for someone who you need for something else altogether in a deep, dark cavern. You know, much like all of Skyrim's quests. There isn't anything too diverse or different from what you have already played. Most of the missions feel like they exist solely to pad up Dawnguard's main storyline.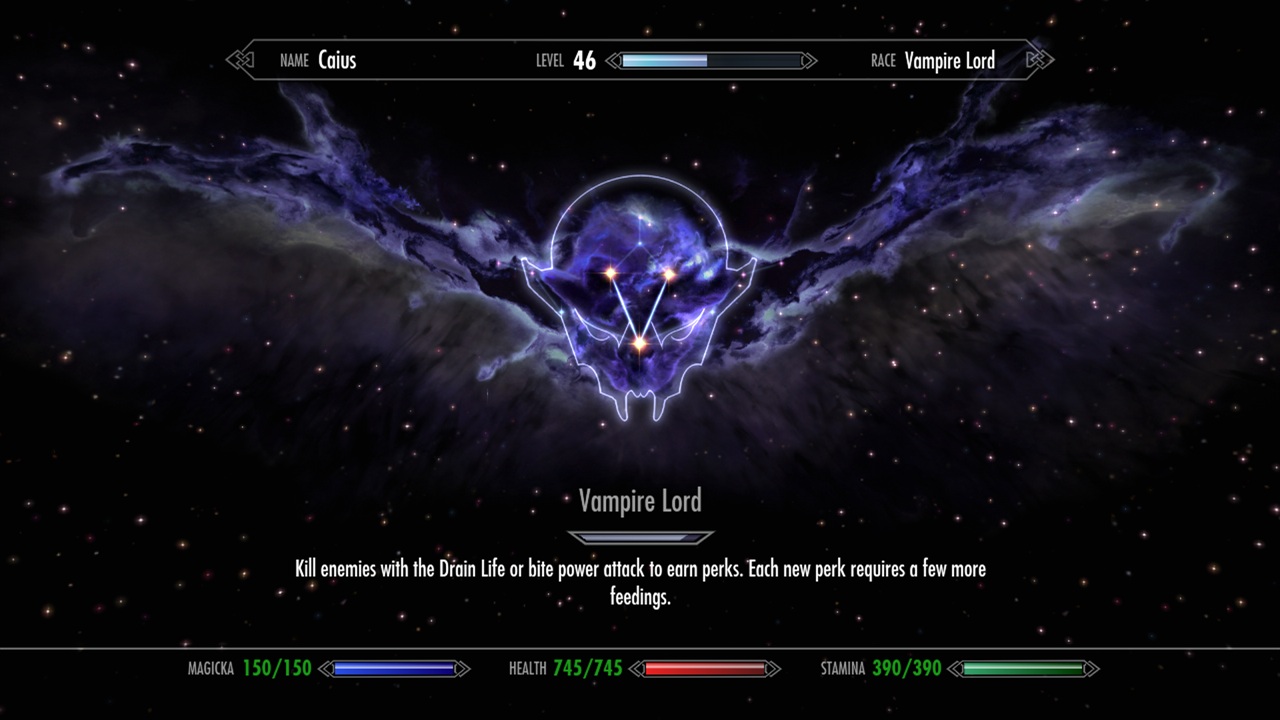 Aside from this, the advantages of playing as a vampire lord far outweigh those of being a member of the Dawnguard. Sure, joining the latter lets you use armoured trolls and crossbows, but that doesn't stack up too well when compared to transforming at will into a beastly hulk of a vampire. You can float around and perform ghastly blood magic such as raising the dead. Or you can take to the ground and swipe at your enemies with your claws.
Furthermore, being a vampire lord grants you access to a new skill tree. Perks include being able to summon gargoyles, turn into the mist, and using bats to feed on your foes. Needless to say, Bethesda has done its best to ensure that you don't end up playing this expansion as the good guy.
And take the sinister route you shall, albeit with some interesting issues. When in vampire mode, you cannot use potions nor can you access the map. Forget about opening chests too because you can't; perplexing because you can open doors though. Also, prepare to find yourself unable to go through corridors unless you morph back into your humanoid form.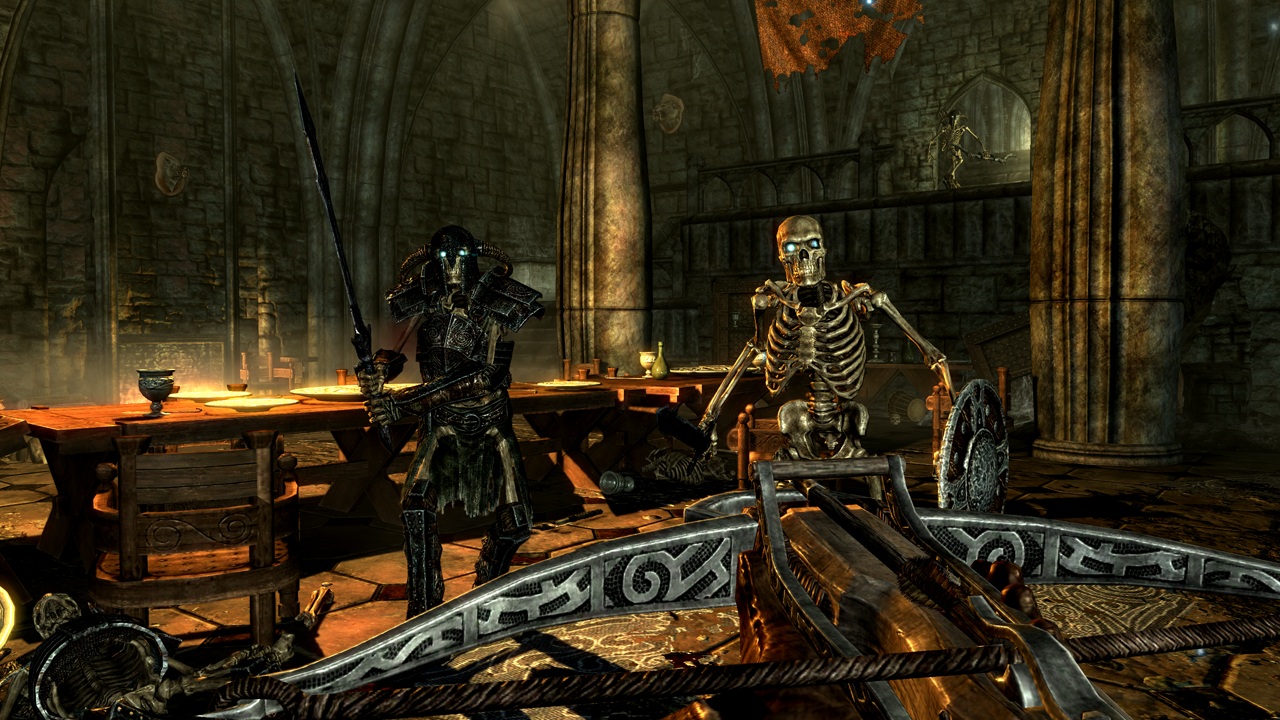 However, the biggest con is that you're in third person mode. It feels clunky and unintuitive, especially if you've spent a good hundred hours or so playing the game in first person. To further compound matters, you cannot skip the long-winded animation that takes place when you transform from human to vampire lord.
From all of this, it appears that Dawnguard's choice isn't one between good and evil. Instead it's a choice between a solid, albeit generic campaign that has everything in common with the base game, and a new way to play— hovering around as a ginormous vampire and sucking blood out of unsuspecting victims that ends up having its fair share of annoyances. It's not much of a choice, but that's what you get if you're hellbent on playing this.
Not all is lost though. There are some things Bethesda has done quite smartly with this release. For one, the events of the game have you traversing all over Skyrim, much unlike their earlier DLCs, which had you restricted to specific areas. The effects of the vampire menace are heard wherever you go. From gossipy soldiers to scared citizens, everyone seems to be affected by the events at play. It's a nicely integrated approach that ties in well with the base game.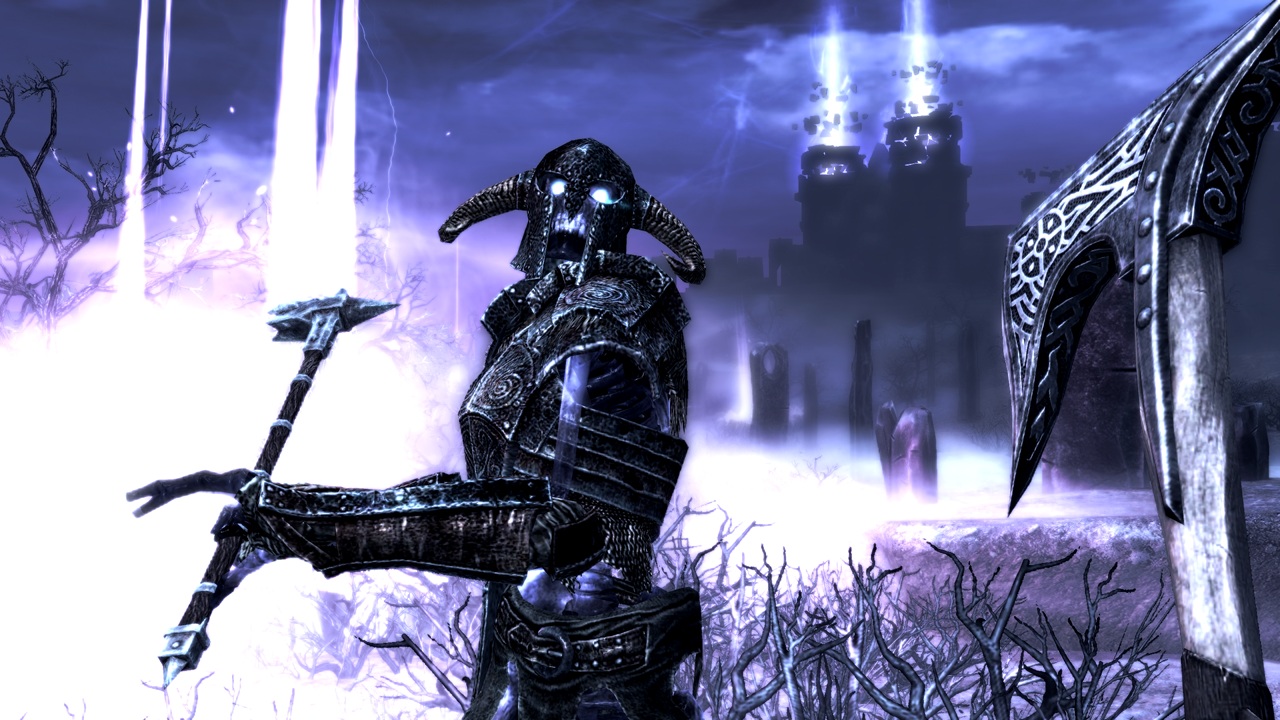 In addition to this, there's a particularly awesome follower you gain with a slew of powers that come in handy as the game goes on. Without spoiling much, she's probably one of the better characters developed by Bethesda. Then there's some really good loot, such as Auriel's bow that let's you harness the power of the sun with every shot. Incidentally, the already existing werewolf class is granted a few new perks as well such as being able to summon another werewolf into battle.
At this point, you're probably wondering what exactly does any of this has to do with pizza. You see, much like the triple cheese, crusted goodness of a well made pie, it feels excessive. By the time you've gorged your way through half of it, you realise that you never did need three times the cheese or even twice the cheese. Similarly, since Skyrim already offers you so much to do and so many ways to do it in, you end up feeling that Dawnguard is those extra layers of cheese that do nothing but needlessly supplement an already bulky frame.
Conclusion
You may have chanced at trailers that promise a meaty adventure filled with interesting characters, new environments and a lot more to do. The reality is starkly different. At twice the price of Bethesda's other DLC releases, Dawnguard does give you a lot to see and do, but it ends up being redundant and unnecessary. Much like extra cheese on a double cheese pizza.