News
Battlefield 4 officially announced, beta in Fall 2013
Posted on Sunday, 15th July 2012 by
Avinash Bali
Update: EA has finally confirmed that beta access to Battlefield 4 will indeed be offered as preorder incentive for Medal of Honor: Warfighter's Limited Edition for Xbox 360, PS3 and PC.
The Battlefield 4 beta will go live in Fall 2013 (around September-October), which hints to a end-of-2013 release for the follow up to DICE's successful Battlefield 3.
Original story
Is Battlefield 3 already at the end of its life cycle? Doesn't look like it with nearly a year's worth of DLC in the pipeline, but that hasn't stopped EA from leaking Battlefield 4 on Origin.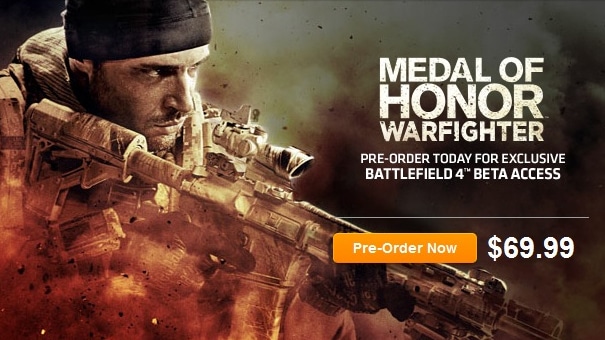 According to a rather attentive Neogaf member, gamers are being promised beta access to Battlefield 4 upon pre-ordering Medal of Honor: Warfighter. This offer seems to have been taken down by EA now and upon browsing both the US as well as Indian Origin stores, we found no such offer.
If you remember, a similar offer was doled out with the Medal of Honor reboot in 2010, with Battlefield 3 beta access being offered as a pre-order bonus. Various websites have reached out to EA for clarification, but have received no official confirmation or denial from the publisher.
All this talk of Battlefield 4 is not surprising because, hey, we all know Battlefield is about to become a yearly franchise for EA sooner or later. What is surprising – if this is true of course – is that EA isn't churning out another Bad Company game, or a direct sequel to 2142 for that matter. And that makes us really sad.
Battlefield 4
/
Battlefield 4 beta
/
Battlefield 4 Medal of Honor
/
BF4
/
ivg
/
medal of honor
/
Medal of Honor: Warfighter
/
MoH: Warfighter