On Friday, IVG packed its relatively small bags and braved the crappy weather to travel to Ubisoft's Pune office. The occasion? To attend India's very first Ubiday event, a social gathering of game developers and journalists, where unsurprisingly, all conversations veer towards games.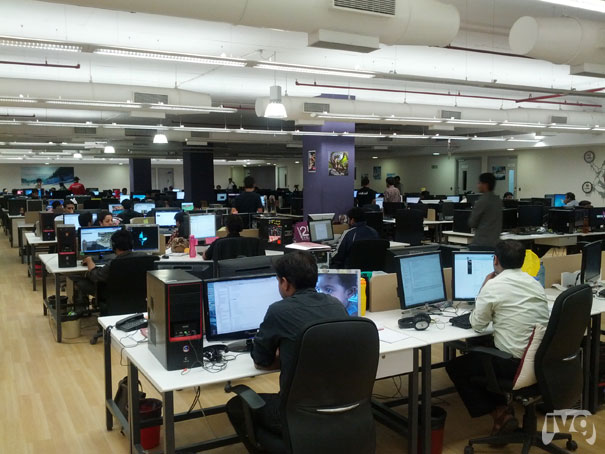 The traffic to Pune was a bit unexpected so we reached the event nearly two hours late. Not a big deal since it turns out we didn't miss a lot. As soon as we arrived at their office, we were quickly ushered into their conference room, where Syed Abbas, one of Ubisoft's game producers, was talking about their HD remake of the Splinter Cell Trilogy. Knowing what goes on behind the curtains is always nice, and Syed regaled us with talks of deadlines, limitations and, of course, the hotly debated topic of Metacritic ratings.
After that, we were shown footage of a game we really can't talk about (now you know how we feel), but know this – it is an HD remake of a really awesome game. After Syed left the stage, Jithin Rao, also a producer, came on to talk about development on some of the in-house DS and 3DS games. Not really my cup of tea, but interesting stuff nevertheless.
Once the presentations were done with, we were unleashed on a very pleasant buffet that we regrettably did not take any pictures off. After lunch, it was time to hit some of the preview stations that were set up for Far Cry 3, Assassin's Creed 3 and Splinter Cell: Blacklist. We did manage to spend a decent amount of time with both Far Cry 3 as well as Assassin's Creed 3 so expect standalone previews for both those games real soon. Sadly, we couldn't really spend a lot of time with Splinter Cell: Blacklist as the pre-Alpha demo was rather buggy, crashing ever so often.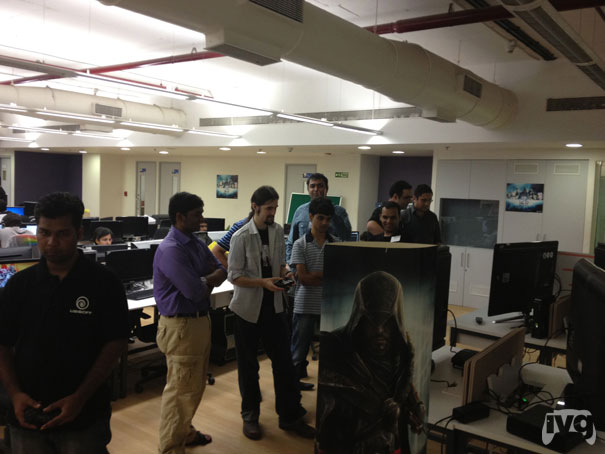 After the hands-on, it was back to the conference room, where game designers Jitesh Panchal and Haiderali Choonawala explained Ubisoft's philosophy on game design – Form Follows Function. It was interesting to see how Ubisoft tackles the whole process from the inception of a concept to the execution of a product using this mantra. To further elaborate this way of thinking, they split the audience up into multiple groups for a team-building exercise of sorts. Each team was given thirty strands of spaghetti, a small bottle of clay and a marshmallow. The objective was to build a really high tower using the raw materials and then rest the marshmallow at the top. Sounds simple on paper, but of course, it really isn't. Our team managed to perform the task and upon completion, our tower measured an impressive 19.5 inches. Only it wasn't that impressive when we found out the other teams had built towers reaching 25 and 26 inches respectively. So much for our crafting skills.
Lastly, Prashanth Kannan from the quality control department guy took centre stage and ran us through a day in the life of a bug tester. These guys don't often find themselves in the spotlight, but we'd like to take a minute to give it up for these troopers who soldier through broken levels and bugs over and over again so you get a refined, playable product at retail.
And that's pretty much where our day ended. We shook hands, bid the friendly staff at Ubisoft goodbye and began our torturous five-hour journey back to Mumbai. Before you make a beeline for the photo gallery, we'd also like to remind you that Ubisoft Pune is hiring, so if you feel you have the necessary skills, you can apply (send in your CVs to jobsindia@ubisoft.com) for any of the following positions:
Programming
Technical Manager
BI Programmer
PHP Programmer
Java Programmer
Flex/AS3 Programmer
Multiplayer Programmer
Intern AS3 Programmer
3D Art
Senior 3D Artist
3D Animator
2D Art
Design
Game Designer
Level Designer
Project Management
Quality Control
Release Engineer
Premaster Technician
Quality Control Lead
Web Tester
Game Tester
In addition, intern and entry-level positions are also available in all departments, and these are mainly offered to local students and graduates. A majority of interns are also extended job offers on completion of their internships.
Check out the Ubisoft Pune studio in our image gallery below.