Milestone Interactive has announced that it is delaying the release of Medal of Honor: Warfighter and Need for Speed: Most Wanted in India, while international release dates remain unchanged. It's a bitter pill to swallow at first, but in the long run, it's a move that makes a lot of sense.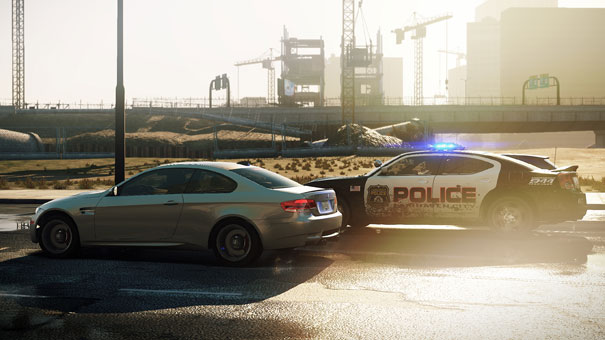 Need for Speed: Most Wanted now arrives on 6th November
For starters, having different release dates for different territories/countries isn't new. Take Warfighter itself as an example. It releases on 23rd October in North America, 26th October in the UK, and 25th October in the rest of Europe. So a different release date for India wouldn't be unprecedented. On the contrary, given the geographical challenges, it would be understandable.
Getting products across a country like India too is a logistical nightmare, thanks to the different duty structures and rules and regulations followed by various states. For example, the drastically different regulations and duty structures of West Bengal and the delays they cause for shipments is a long-standing issue, and it results in games hitting shelves in Kolkata days after they arrive in Mumbai. This delay will help account for such eventualities.
What this delay will (or should at least) also help with is preorders, which as of now are an absolute sham in India. As things are now, loyal customers who pay well in advance to preorder their game are made to wait and feel silly while those who don't preorder can just walk into a store and pick up a copy. With this delay, the distributors should (ideally) be able to ensure that retailers who are conducting preorders are able to deliver the game to their customers by release date after accounting for the retailers' own shipping timelines. If need be, the distributors should make public a list of authorised retailers through whom buyers can be assured of timely delivery of preorders.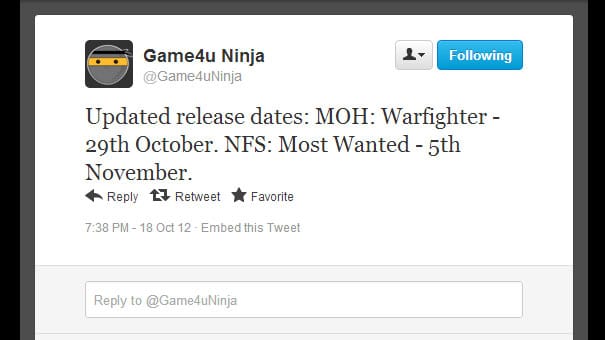 The delay announcement on Game4u's Twitter account
While I can appreciate that these delays were announced in advance, a week from the release of Warfighter is cutting it a little too close. Also, if this is a practice that publishers intend to follow regularly, it should be done across all platforms, regardless of who's distributing, and announced at least a month before release.
What was really confusing about this announcement was the hap-hazard manner in which it was made. Rather than the announcement coming from EA or Milestone, it was made public by Game4u, a retailer that doesn't have the reach or the authority to make an announcement that also affects every other retailer in India. I spoke with a couple of other retailers about Game4u's announcement and neither had been made aware of the delay by Milestone; Game4u, it seems, was the only one.
I support this move of setting a different release date for India to account for logistical challenges, especially given that it's being done to facilitate a smooth nation-wide launch. But while this gives distributors a little breathing room, it also places them under the microscope. In the past, delays were attributed to many different reasons, but with a separate Indian release date arrived at to account for all those eventualities, the distributors will be solely answerable for any delays now.