EA has decided against releasing a Need for Speed game this year, making it only the second time in the franchise's history that there won't be a Need for Speed game released in a calendar year.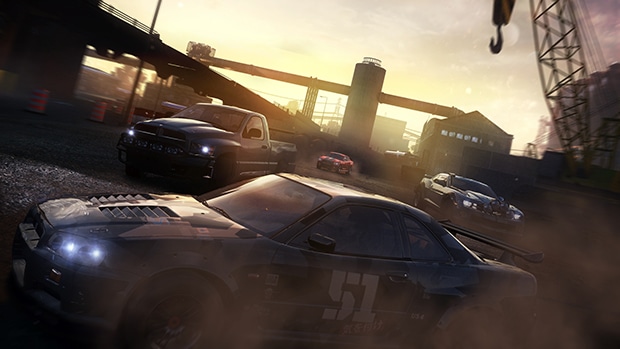 If you're a racing fan and this news has you bummed out, take a look at the racing games that are coming out this year or are heavily rumoured to do so, and suddenly, the lack of a Need for Speed game doesn't seem so bad.
Mario Kart 8
Wii U – 30th May 2014
In any other country, the impending release of a Mario Kart game would be reason for much celebration, but since Nintendo isn't officially present in India and neither are its consoles and games, we'll have to scour the grey markets for our fix. It's the franchise that defined kart racing, and while the likes of Sega, LittleBigPlanet and Angry Birds have tried their hand at it, none of them have quite managed to pack in the charm Nintendo does.
This month, the kart racer debuts on the Wii U. Mario Kart 8 looks set to extend the series' rich pedigree, with the biggest roster of Nintendo characters ever to grace a Mario Kart game; anti-gravity gameplay sections; comprehensive local and online multiplayer features, including creating tournaments with customisable rules; and the ability to upload replays to YouTube.
Grid Autosport
PC, PS3, Xbox 360 – 27th June 2014
Many fans of Race Driver: Grid were left disappointed by the street racing focus and Amercican-isation of Grid 2, and Grid Autosport is Codemasters' attempt to set things right. A product of fan feedback following the release of Grid 2, Autosport will take the series back to what it does best –  circuit racing. The game will now feature five driving disciplines – touring, endurance, open wheel, tuner and street – and in career mode, it will let you play the ones you enjoy and completely ignore the ones you don't.
Several world-famous circuits, including Hockenheim, Sepang, and Yas Marina, will be included, and the cockpit view will also make a return. Autosport will also return to the career mode structure of the first Grid, where you can join and switch teams, fulfil sponsor requirements, and race alongside a teammate. The biggest change, however, will come in the handling department, which Codemasters says, while not simulation, will lean more in that direction than the first Game.
Driveclub
PS4 – 8th October 2014
Evolution Studio's follow-up to the Motorstorm series was initially planned as a PS4 launch title, but many delays later, the street racer now has an 8th October release date. Pegged as a social racer, Driveclub will encourage friends to form clubs and take on other clubs and climb the leaderboards, or simply just drive around together and take in the sights.
Those familiar with the PGR series or the first Grid game will be right at home with the controls, and for those new to racing games, Driveclub hands out rewards for pretty much everything you do in the game, much like the instant gratification handed out by multiplayer shooters. If you're still not sold on Driveclub, a stripped down version of the game with 10 cars, one location (with 5 tracks and 11 variations) and all game features will be available to PS Plus subscribers for free at launch.
The 90s Arcade Racer
PC, Mac Wii U, iOS, Android – Q2 2014
If all the talk of realistic physics, damage modelling and dynamic weather has you missing the good old arcade racers from the 1990s, you're not alone. In fact, 700 people just like you backed The 90s Arcade Racer on Kickstarter, a simple arcade racer that harks back to the days of Daytona USA, Virtua Racing and Ridge Racer.
The 90s Arcade Racer aims to bring back everything we loved about those games – the overly colourful visuals, ridiculous track environments, and simple arcade controls. What started out as one-man Kickstarter project has now been taken on by Nicalis, a company that specialises in retro-styled games and has handled ports of popular indie games like VVVVVV, Cave Story and Binding of Isaac.  Look for it on PC and mobile sometime this year.
The Crew
PC, PS4, Xbox One – Autumn 2014
The Crew is probably the game in this list that has me the most excited. It's an incredibly ambitious open-world game that has you driving coast-to-coast across the continental United States, both on and off-road. It's being developed by Ivory Tower, a new studio with many of the members from Test Drive Unlimited developer Eden Games, and Driver developer Ubisoft Reflections, so this is a team that knows what open-world racing is all about.
The game also places a heavy emphasis on customisation, to the point where you can take a street racing car like, say, a Nissan 370z, and turn it into a 4WD off-road rally car. As you'd expect from a next-gen open-world racer, The Crew will also have dynamic weather conditions and day-night transitions, as well as seamless switching between single-player and multi-player.
Project CARS
PC, PS4, Xbox One, Steam OS – November 2014
If Need for Speed is taking to a year off to create a game based on fan feedback, NFS Shift developer Slight Mad went even further and involved gamers in every step of the development of Project CARS (Community Assisted Racing Simulator). The result is one of the most comprehensive and visually stunning racing games we've ever seen, and it's coming this November to PC and consoles with 4K support as well as virtual reality via Project Morpheus and Oculus Rift.
As far as motorsport goes, Slightly Mad has thrown pretty much everything and the kitchen sink into Project CARS. It's got every car type you could hope for, from muscle and supercar to open-wheel and karts, and over 60 tracks to race them on. It's got a career mode that has you create a driver, join teams, earn sponsors, and make your way into the racing Hall of Fame. Online, it's got everything from asynchronous time trials and global leaderboards to complete online race weekends. To add to all of that, it's got dynamic time of day and weather, and it looks downright phenomenal.
Next Car Game
PC – 2014
It's not the most imaginative name, but all that matters is that Next Car Game is Bugbear's spiritual successor to the FlatOut series. The game is already available on Steam Early Access, but if you'd rather not pay to be a beta tester, the full game will release at some point this year. What we've seen so far is nothing short of impressive, with realistic physics and bone-crunching damage modelling, all of which will be pushed to the limit with the return of destruction derbies.
Of course, there will be the explosive race events as well, full of contact racing, destructible environments, and everything we've come to expect from FlatOut. The cars, as you would expect, are rusty old heaps of metal that would be considered junk in other games, but here, you can take them apart and customise them down to every last detail. Next Car Game is being developed on Bugbear's in-house ROMU engine, and while it's only been confirmed for PC so far, the developers haven't ruled out future console versions.
F1 2014
PC, PS4, Xbox One – 2014
Codemasters raised the bar for racing games on PS3 and Xbox 360 with the introduction of its EGO engine that has powered each of its games since 2008. This year's F1 game hasn't been officially announced yet, but it will certainly be the developer's first outing on PS4 and Xbox One, with Grid Autosport sticking to last-gen platforms, and this probably means a brand new EGO engine will also make its debut.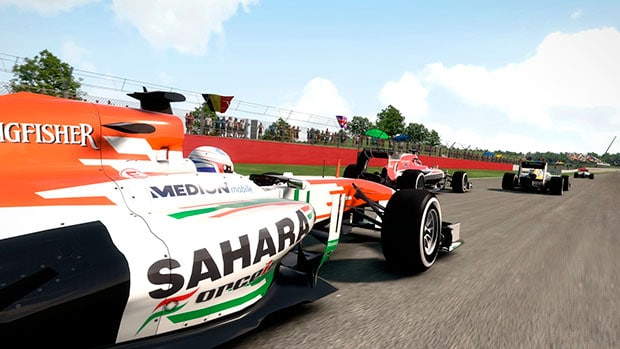 F1 2013
Codemasters has already hinted that F1 2014 will run at a native 1080p and 60 fps, and everything from the cars to the tracks will be rebuilt from the ground-up. There's also been talk of incorporating real-world F1 team and race data into the game in real-time, although how this will be executed remains to be seen. The F1 games under Codemasters started out with a bang, and while it continues to maintain its high quality, the series has been running out of ideas over the last couple of years, and the new consoles could be just the push the franchise needs.
Assetto Corsa
PC – 2014
Like Next Car Game, Assetto Corsa is also currently available via Steam Early Access, but the two games couldn't be more different. Where Bugbear's game is loud, nasty and has scant regard for rules and regulations, Assetto Corsa is a pristine simulation that strives for unmatched realism and demands inch-perfect driving from players. Created by Kunos Simulazioni, a small studio in Italy dedicated to creating simulations, Assetto Corsa will feature licensed cars from the likes of Ferrari, BMW, Pagani, McLaren, Mercedes and Lotus, and world famous circuits like Spa, Nurburgring, Silverstone, Imola, Monza and Mugello.
It will offer a variety of racing modes, from drag and drift to entire race weekends (complete with practice and qualifying sessions). For those who like to get technical, Assetto Corsa will offer complete control over car telemetry and tyre simulation. If you'd rather keep it simple, the game will also come with four assist options – gamer, racer, pro, and custom. Over and above all of this, the developers will give the community exhaustive modding tools to create and integrate their own content into Assetto Corsa.
Forza Horizon 2
Xbox One – TBA
This is the wild card on the list because Microsoft hasn't even uttered a word about the existence of Forza Horizon 2 – sequel to the brilliant open-world Forza spin-off that is the only racing game to have received a 10/10 review on IVG. That said, there have been plenty of hints over the months to suggest that the arrival of Horizon 2 is imminent. Just a some of those hints – leaked concept art, info from a Microsoft insider, Ultima Sports confirming its involvement in a new Microsoft racing game, and a Playground Games employee confirming that he's working on a new Forza game. It doesn't get more conclusive than that.
Forza Horizon
So it appears Forza Horizon 2 will release around September, with a reveal likely at Microsoft's E3 press conference in June. But what can we expect from it? The Microsoft insider said it will run at 1080p and that it will feature a "super sexy weather system" and "shit tons of co-op/social stuff… so you can road trip with your bros". The first Horizon game got an insanely fun rally DLC expansion, hopefully we'll see an equal amount of off-road focus in Horizon 2.
In summary, EA will be pretty happy that it doesn't have to compete with this lot.