Milestone Interactive has announced preorder incentives and midnight launch plans for FIFA 15 in India.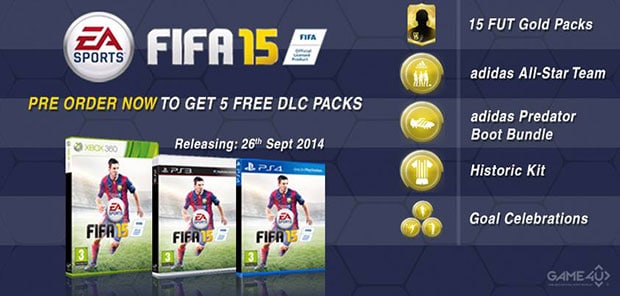 Those who preorder the game on either platform will get five DLC packs. This includes:
15 FIFA Ultimate Team Gold Packs
Adidas All-Star Team
Adidas Predator Boot Bundle
Historic kit
Goal celebrations
This set of preorder DLC will be available through Game4u and other select retailers. We'll update this story with that list of retailers as we get it. In addition, Game4u is also offering a free t-shirt with all preorders.
As always, Game4u also plans to host a midnight launch for FIFA 15, but specific details haven't been revealed yet.
FIFA 15 will release in India on 26th September for PS4, Xbox One, PS3 and Xbox 360. A download code for the game will also be bundled with the Xbox One (available for preorder exclusively at Amazon.in) when it launches in India on 23rd September.