The first demo for Pro Evolution Soccer 2013  is available for now on Xbox 360, PS3 and PC. The demo is about 1 GB in size, and while it's free for all PSN users, it's only currently available to Gold subscribers on Xbox Live. PC users can download the PES 2013 demo here (includes mirrors).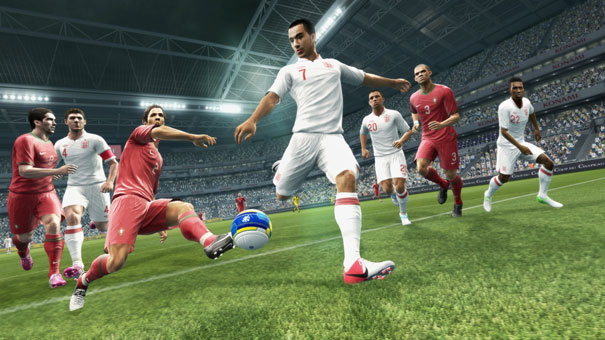 Original story:
The first playable demo for Pro Evolution Soccer 2013 (PES 2013) will arrive on 25th July, Konami has announced.
Since last year, Konami has begun a trend of releasing two playable demos for PES prior to its release. If last year's dates are anything to go by, the second demo should arrive by mid-September. Last year, the game showed significant advances in gameplay and polish between the first demo and the second, with the latter being nearly identical in most aspects to the final release.
The first demo will feature eight playable teams. Among the national teams, Germany, England, Portugal, and Italy will be available, while on the club side, Santos FC, SC International, Fluminense and Flamengo will be present via the Copa Libertadores mode. No other demo details were revealed, other than the fact that players will be able to tweak difficulty settings.
PES 2013 boasts of several new features, including PES FullControl wherein players are given total control over every pass, shot and first touch; Pro-Active AI, which ensures that players move intelligently on and off the ball; and the Player ID system, which enhances individuality, with players that look, move and play like their real life counterparts.
The first demo will be available for download on 25th July for PS3, Xbox 360 and PC. Check out the demo announcement trailer below and head to the official PES channel on Youtube for more PES 2013 videos.