We've just been informed by Express Interactive that nationwide pre-orders for the special edition of Grand Theft Auto V have begun across Flipkart and Games the Shop.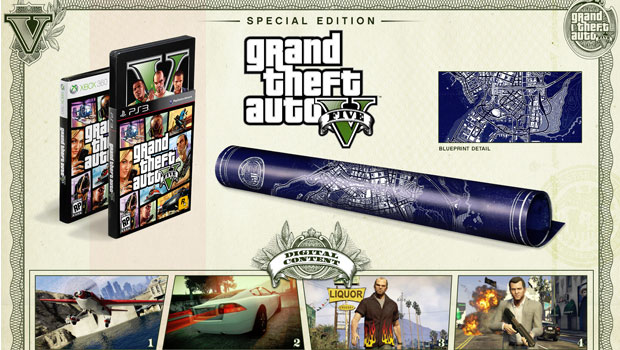 On Flipkart, users can chose to pre-order the standard edition for Rs. 2,799 as well. However, if you go in for the special edition, you'll get access to:
Full retail copy of Grand Theft Auto V
Collectible SteelBook with Exclusive Artwork – This special SteelBook features double-sided, never-before-seen artwork of Michael, Trevor and Franklin.
Blueprint Map –  This exclusive, additional 21.5" x 26.75" map displays a blueprint view of Los Santos and Blaine County. Cryptic markings indicate locations for fast cash and other points of interest for the up-and-coming entrepreneur.
Special Ability Boost – Michael, Franklin and Trevor each have a unique special ability. With this boost, the special ability bar will generate 25% faster.
Stunt Plane Trials – Single player Stunt Plane Trials let you take on additional aerial challenges spread throughout Los Santos and Blaine County.
Bonus Outfits, Tattoos and More – Michael, Franklin and Trevor get bonus outfits in their wardrobes, character specific tattoos at tattoo parlors, and special deals from shopkeepers across Los Santos and Blaine County.
Additional Weapons – When visiting Ammunation stores in single player, merchants will have special weapons in their inventory available for free: the Pistol .50, Bullpup Shotgun and melee Hammer
The Special Edition for Grand Theft Auto V is being listed as Rs. 3,299 as opposed to the $80 price tag it carries around the world. I'd say this is a good time to pre-order this game, especially at that price. Grand Theft Auto V releases September 17, 2013 for the Xbox 360 and PS3.