After months of speculation and countless rumours, Sony India has finally announced the official launch date and price of the PS4.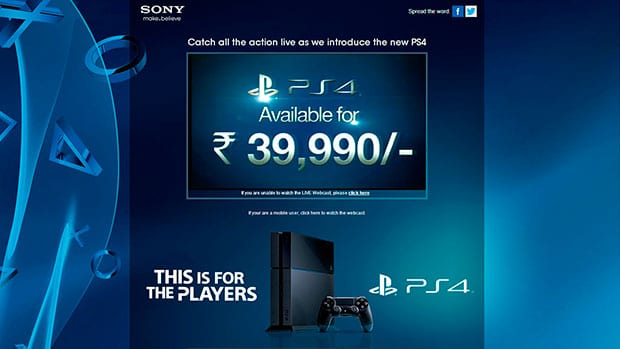 The console will be available in stores starting 6th January and will be priced at Rs 39,990. Only one version of the PS4 will be sold in India (no bundles).
Sony will also release the Dualshock 4 controller (in black, red and blue colours) and the PS4 camera in India. Both will be priced at Rs 4,990.
PlayStation India country manager Atindriya Bose said after the press conference that Sony expects 90% of the launch stock in India to be sold within the first week, suggesting the possibility of shortages.
Here's the list of 11 games that will be available at retail at or before the PS4's launch in India:
Assassin's Creed 4: Black Flag: Rs 3,499
Battlefield 4: Rs 3,999
Call of Duty: Ghosts: Rs 4,299
FIFA 14: Rs 3,999
Injustice: Gods Among Us Ultimate Edition: Rs 2,499
Just Dance 2014: Rs 2,999
Killzone: Shadow Fall: Rs 3,999
Knack: Rs 3,999
LEGO Marvel Super Heroes: Rs 2,499
NBA 2K14: Rs 2,999
Need for Speed: Rivals: Rs 3,999