PlayStation Vita turns a year old this month, and Sony has decided to celebrate its first anniversary with a massive sale.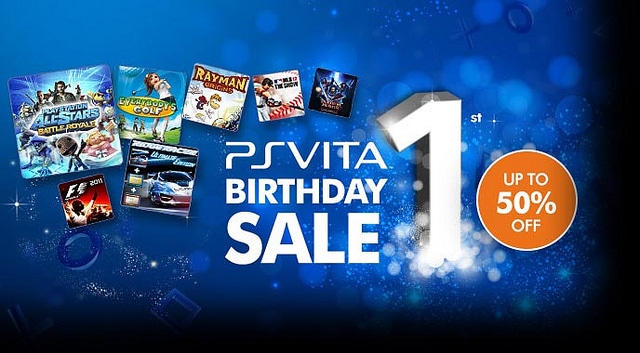 Starting today and going on for a fortnight, the sale sees 24 Vita games go for up-to 50% off. PS Plus subscribers save an additional 10% on top of the sale price on most games.
The complete list of the games with their prices are given below. You can click on the title to be directed to the web store where you can purchase them.
A-men
Was Rs 600, now Rs 425 (Rs 383 for PS Plus users)
Army Corps of Hell
Was Rs 1,899, now Rs 1,200 (Rs 1,080 for PS Plus users)
Asphalt Injection
Was Rs 1,579, now Rs 780 (Rs 702 for PS Plus users)
BLAZBLUE Continuum Shift Extend
Was Rs 1,579, now Rs 1,199 (Rs 1,079 for PS Plus users)
Dungeon Hunter: Alliance
Was Rs 1,659, now Rs 1,080 (Rs 972 for PS Plus users)
Escape Plan
Was Rs 780, now Rs 390 (Rs 351 for PS Plus users)
Everybody's Golf
Was Rs 1,129, now Rs 844 (Rs 760 for PS Plus users)
F1 2011
Was Rs 2,400, now Rs 1,200 (Rs 1,080 for PS Plus users)
Hustle Kings
Was Rs 480, now Rs 240 (Rs 216 for PS Plus users)
Little Deviants
Was Rs 1,129, now Free
Lumines: Electronic Symphony
Was Rs 1,659, now Rs 1,080 (Rs 972 for PS Plus users)
Michael Jackson The Experience HD
Was Rs 1,579, now Rs 780 (Rs 702 for PS Plus users)
MLB 12 The Show
Was Rs 1,800, now Rs 900 (Rs 810 for PS Plus users)
ModNation Racers: Road Trip
Was Rs 1129, now Rs 840 (Rs 760 for PS Plus users)
MotorStorm RC
Was Rs 360, now Rs 180 (Rs 162 for PS Plus users)
PlayStation All-Stars Battle Royale
Was Rs 1,659, now Rs 1,199 (Rs 1,079 for PS Plus users)
Rayman Origins
Was Rs 1,659, now Rs 1,080 (Rs 972 for PS Plus users)
Ridge Racer – Utimate Edition
Was Rs 1,579, now Rs 780
Shinobido 2: Revenge of Zen
Was Rs 1,899, now Rs 1,200
Super Stardust Delta + Advanced Star Fighter Pack Bundle
Was Rs 600, now Rs 300 (Rs 270 for PS Plus users)
Tales from Space: Mutant Blobs Attack
Was Rs 420, now Rs 210 (Rs 189 for PS Plus users)
Top Darts
Was Rs 480, now Rs 240 (Rs 216 for PS Plus users)
Touch My Katamari
Was Rs 1,899, now Rs 1,200
Unit 13
Was Rs 1,659, now Rs 1,199 (Rs 1,079 for PS Plus users)