The highly anticipated shooter Star Wars Battlefront from DICE is getting a beta this October.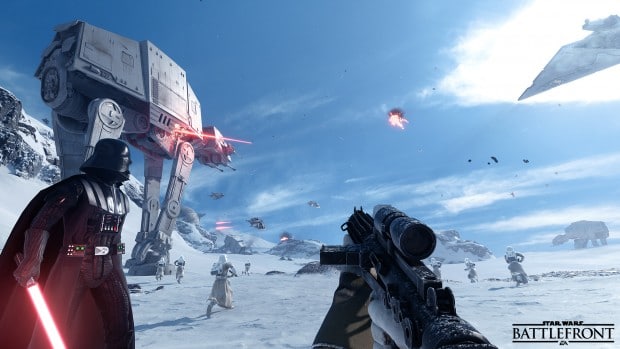 The beta will will feature Walker Assault on Hoth, a 40-player multiplayer battle featuring Rebels and the Empire. Players will also get a chance to play as Darth Vader and Luke Skywalker in the Walker Assault mode.
Two additional modes will also be available, namely Survival Mission, where you and a Rebel friend must fight back waves of Imperial forces; and a brand new mode called Drop Zone, details of which aren't available yet.
There's no mention about pre-ordering Battlefront in order to have access to the beta, so it should be an open beta.
Along with the beta announcement, EA announced the Battlefront "Companion" experience – a strategic card game called Base Command that you can play on the Battlefront website to earn credits that will unlock things like Star Cards, weapons and more in Battlefront.
The Battlefront Companion will also be available for iOS and Android devices.
Star Wars: Battlefront is set for release on 17th November for PS4, Xbox One and PC.