This shouldn't come as a surprise to anyone, but if you're an Uncharted fan, there's still plenty of reason to be excited. The Playstation Blog (EU) has just announced the awesome Uncharted 3: Drake's Deception Explorer Edition for fans of what is arguably the PS3's most beloved first-party franchise. The announcement comes just days before Sony's E3 press conference, a significant portion of which you can expect to be devoted to Nathan Drake's latest exploits. A less elaborate Special Edition was also announced.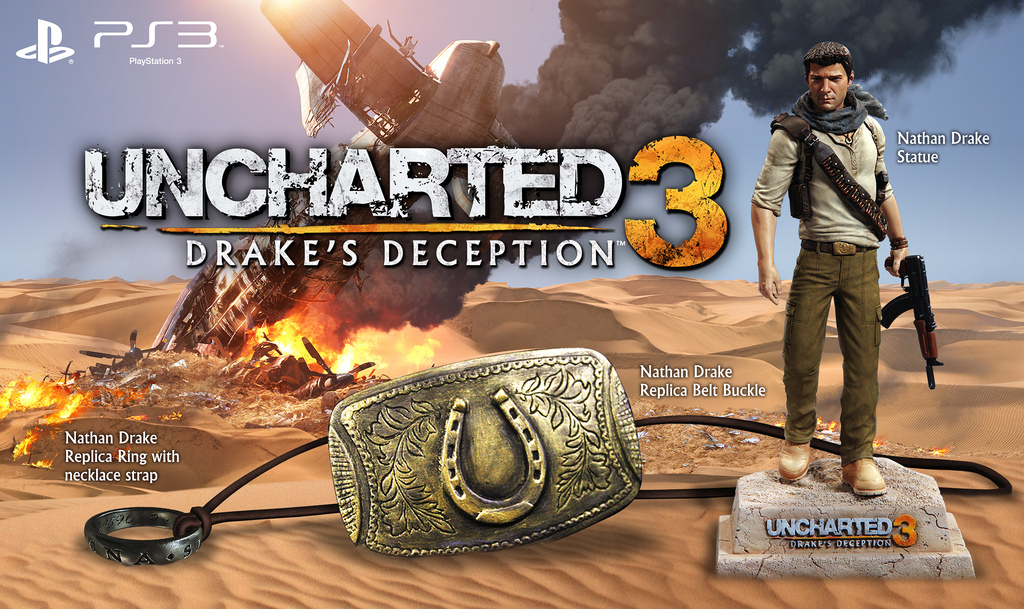 The Explorer Edition is every bit as extravagant as fans would have hoped, containing the following items:
Nathan Drake figurine
Replica of Drake's belt buckle
Replica of Drake's ring/necklace
All of this will come packed in an "antic style replica traveller box with a real authentic feel to it".
The Explorer Edition will also include all the contents of the Special Edition, which comprises of very cool packaging that "will look like Nathan Drake's diary with fully illustrated pages, including concept art, screenshots, sketches etc." The Special Edition also includes PSN vouchers for downloadable content in the form of multiplayer skins and perks.
No price has been mentioned for either the Special Edition or the Explorer Edition, but going by recent trends, we can safely assume that the former will be priced at around Rs 2,799 in India. The Infamous 2 Hero Edition is priced at Rs 7,990, so we can expect a similar pricing for the Uncharted 3 Explorer Edition as well, but we'll have to wait for confirmation from Milestone Interactive, the game's distributor in India.
Uncharted 2: Among Thieves was a true masterpiece, earning the very first 10/10 review on IVG, so expectations are very high for the third game in the series.
At E3, you can also expect to see a lot more of Uncharted: Golden Abyss, which is being developed by Sony Bend for the new Playstation handheld, rumoured to be called Vita.
So, is anyone here a big enough fan (or crazy enough) to pay Rs 8,000 for the Explorer Edition?
/raises hand