Over four months after its console release, WWE 2K16 will be headed to PC on March 11, publisher 2K Sports has announced.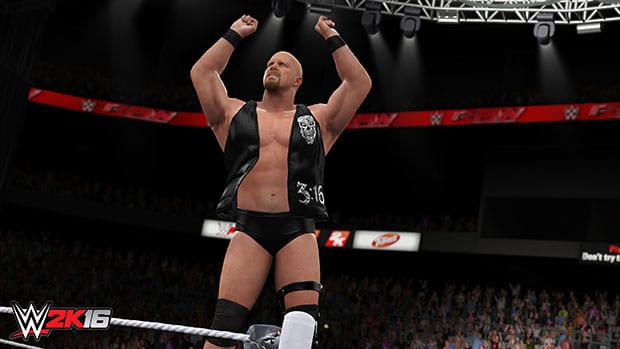 The PC version will include all the features and content found on the PS4 and Xbox One versions of the game, plus all the DLC released so far.
Here's a list of the content that will be included in WWE 2K16 for PC:
Full Game
Access to two playable versions of Arnold Schwarzenegger from The Terminator films
MyPlayer Kickstart: Instant access to boost created Superstar ratings and attributes in the game's MyCareer mode
Accelerator: Instant access to all unlockable content
New Moves Pack: More than 30 new moves, including the Corner Enzuigiri, Avalanche Ram, Sidewinder Suplex, Standing Crossface Chickenwing, and Dragon Sleeper
Legends Pack: Playable WWE Legends: Big Boss Man, Dusty Rhodes, Lita, Mr. Perfect, "Rowdy" Roddy Piper and Trish Stratus
Future Stars Pack: Playable NXT Superstars: Samoa Joe, Diego, Fernando, Blake and Murphy
2015 Hall of Fame Showcase: Playable matches include "Macho Man" Randy Savage vs. Jake "The Snake" Roberts; Rikishi vs. The Rock; Alundra Blayze vs. Paige; Larry Zbyszko and Arn Anderson vs. Ricky "The Dragon" Steamboat and Dustin Rhodes; Tatsumi Fujinami vs. Ric Flair; The Bushwhackers vs. The Natural Disasters; The Outsiders vs. Harlem Heat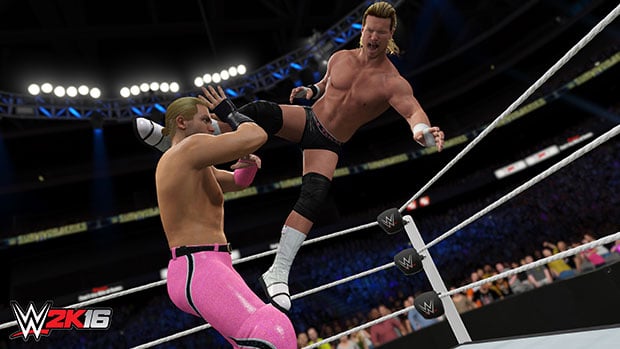 Here are the game's system requirements as per its Steam page:
Minimum system requirements:
OS: 64-bit: Windows Vista SP2
Processor: Intel i3-2105 / Phenom II X2 550
Memory: 4 GB RAM
Graphics: GeForce GTX 460 / Radeon HD 5870
DirectX: Version 11
Storage: 44 GB available space
Recommended system specifications:
OS: 64-bit: Windows 7 / Windows 8
Processor: Intel Core i5-3550 / AMD FX 8150
Memory: 8 GB RAM
Graphics: GeForce GTX 660 / Radeon HD 7850; 2 GB DDR VRAM
DirectX: Version 11
Storage: 44 GB available space
WWE 2K16 is currently available for pre-order on Steam. The full price of the game is Rs 989, with a 10% preorder discount bringing its current price to Rs 890.
The PC version will also receive a retail release, but not on disc. More details here.
In the mean time, check out IVG's review of the PS4 version of WWE 2K16.