It's strange how two games based on the same sport can have such distinctly separate fan bases. There are FIFA fans and then there are Pro Evolution Soccer fans, but there's very little overlap between two. I've personally always preferred the longevity in PES' core gameplay, which keeps Master League (PES' version of Career/Manager mode) interesting season after season, but FIFA pretty much aces it in every other department. So this year presented a unique opportunity.
With Konami releasing PES 2015 in November as opposed to around the same time as FIFA, I've been playing FIFA 15 exclusively for the last month or so and I've grown to enjoy it. Now, having been attuned to FIFA's brand of football, I recently had a chance to play the latest build of PES 2015. There's so much different in the way the two games play that it'll take a while to get used to PES if you're coming off FIFA, but once you do, there's a lot of fun to be had.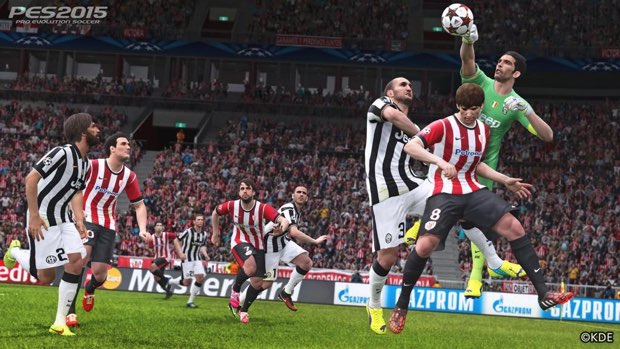 Before I continue, I should clarify – the comparisons between FIFA 15 and PES 2015 here aren't designed to show one superior to the other, but to explain how PES approaches the same sport differently, and why that may interest those who may never have ventured beyond EA's series. So with that in mind, here's why PES 2015 might be worth checking out even if you swear by FIFA.
This is Not a Simulation
The very first thing you'll notice when you kick off a game in PES is how much quicker it is. Players run and turn faster, passes ping around more briskly, and animations are snappy (even if sometimes unrealistically so). Coming off FIFA 15, it feels like you're playing on fast-forward, so it might seem a bit unrealistic. This is not the deliberately-paced simulation FIFA 15 aims to be, but at the same time, it isn't ridiculously arcadey either. Player and AI movements, team tactics and ball physics do keep things very much within the realms of reality. The true-to-life tactics of the famous clubs and attributes of star players are actually better represented than in FIFA, so there's plenty of authenticity too, from Arjen Robben's signature cut-ins from the flanks, to Athletico Madrid's steely defence.
What you will also get, however, is more unpredictability in how build-up moves play out. It's more impulsive and reactive than FIFA 15, where you often have to think three passes ahead. There's no right and wrong here though; both games approach gameplay and pacing differently, so even if you prefer FIFA's more weighty and realistic style, there's plenty of reason to appreciate and enjoy PES' approach if you're willing to give it the time.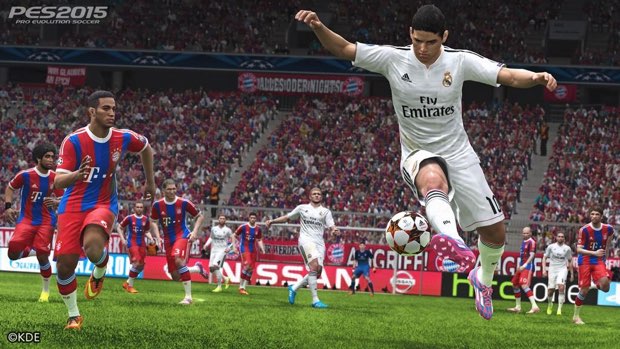 Defending Can Be Fun
If you're coming off FIFA 15, you'll be happy to know that, in PES 2015, sliding tackles actually work. Having your defender slide in at pace and dispossess an attacker who is dangerously in on goal feels just as rewarding as scoring a goal at the other end. Defending is also where FIFA players will probably require the most practice, because attempting a standing tackle in PES 2015, as in previous games, actually requires you to double-tap the [SQUARE] button on the PS4 controller. Like FIFA 15, however, timing is everything, even if PES 2015 doesn't punish you as severely if you get it wrong.
PES 2015 feels balanced in the sense that it isn't skewed in favour of attackers, although you will miss the weightiness of the challenges in FIFA 15 or how the great defenders can bully the opposition when shoulder to shoulder.
More Movement, Fewer Tricks
The one aspect that I'm thrilled Konami has built on from last year is the ability to dribble past defenders without relying on tricks or super-human bursts of speed. Simple changes in direction using just the left analog stick, along with shifts in player momentum or changes in pace (even slowing down), will allow skilled players to manouvre past defenders. PES 2015 does still allow you to perform roulettes and rainbow flicks, but it's so much more exciting to beat opponents simply with positioning, close control, change of pace, and using an oncoming defender's momentum against him. This also works largely because the ball genuinely feels detached from the player when in possession. The downside to this was that, last year, goalmouth skirmishes resembled a game of pinball, with the ball wildly pinging around. Thankfully, that appears to have been fixed this year.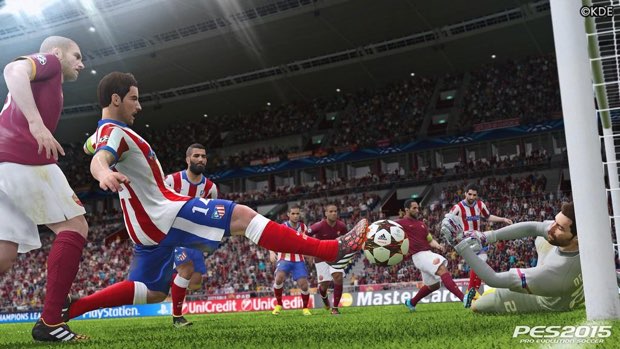 Role Control in Co-op
At it's peak in the PS2 days, before multiplayer went online, PES was the got-to co-op and multiplayer game for football fans, and Konami wants to make offline multiplayer interesting again. In FIFA's Pro Clubs mode, you can play online with friends where each of you controls your own Pro, but role control in PES 2015 goes further than that. Up to three players can play a co-op match together and control the different parts of the team – defence, midfield and attack. It's amazing how something as simple as this is only making it into games now, but it's a masterstroke and it takes away the randomness of player switching that usually ruins the experience in co-op. I had a chance to try this out, and aside from making co-op simpler and less confusing, it also makes you feel more responsible for the performance of the half or third of the team under your control.
The L Word
Ask FIFA players what they don't like about PES, and the majority of them will say it's the lack of licenses. That's true to a limited extent though. If you're a fan of the English Premier League, then sure, you'll be disappointed because Manchester United is the only licensed EPL club. Similarly, Bayern Munich, Schalke and Bayer Leverkusen are the only licensed Bundesliga teams, but other than that, PES has pretty much all bases covered. All the teams from the Spanish, Italian, French and Dutch top division are licensed, and many of them also now feature licensed second division teams. In addition, PES also has the exclusive license to the UEFA Champions League and Europa League. So when you really think about it, the license situation isn't as bad as it's made out to be.
And if you happen to play it on PC, the mod community will have you covered with accurate names and kits for every club and national team. Unfortunately, mod support isn't available on new consoles (yet) due to stricter controls by Sony and Microsoft over external content.
Now, while these are all aspects of PES 2015 that I think would appeal to all football fans, there are some areas where PES simply cannot compete. FIFA's online features are unparalleled, and FIFA 15 has done great things with Career Mode too, while PES' Master League has stagnated after years of neglect. The new myClub mode this year is Konami's reply to FIFA Ultimate Team, but only time will tell if it can come anywhere close. You also won't find the kind of presentation and production values you get from FIFA 15 in PES 2015, although player likenesses are infinitely better.
However, PES 2015 plays a different brand of football – it's more urgent, more unabashed and doesn't take itself as seriously. That may not be what you want from a football game, but it at least makes it worth a look in.
***
Pro Evolution Soccer 2015 releases on 13th November and is now available for preorder at Amazon.in for PC (Rs 999), PS4 (Rs 3,499), Xbox One (Rs 3,499), PS3 (Rs 2,499) and Xbox 360 (Rs 2,499).
A playable demo is available for PlayStation and Xbox platforms, with a PC demo scheduled for closer to release.