In this week's app round-up, we've got an old school puzzler in The Curse; a mobile adaptation of a console-based critical favourite in Rayman: Jungle Run; one of the most impressive high-end iOS releases in recent times in Horn; and well, a game that needs no introduction – FIFA 13.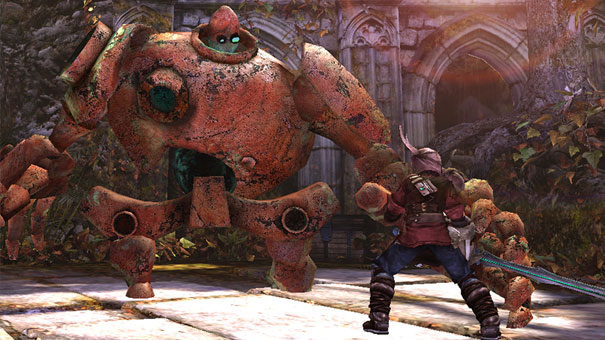 Horn
By Sameer Desai
Platforms: iOS; Price: $6.99
Horn is one of the more ambitious titles on the iOS platform, aiming to bring high-end console quality gameplay and presentation to mobiles at tablets, much like Infinity Blade did before it. This third-person action-adventure hinges on two core gameplay aspects – puzzles and combat, and revolves around the game's titular character, who happens to wake up from a deep slumber to find all humans transformed into mechanical heaps of metal.
The story isn't its strongest suit, but compared to the majority of mobile games, it's in a different league, aided by outstanding voice acting and a stellar score. Unlike Infinity Blade, which allows limited interactivity with the game world, Horn lets you move freely. Thankfully, it employs an entirely touch-driven interface as opposed to an on-screen analogue stick. Simply tap anywhere on the ground for Horn to move there. Jumps and shimmies across ledges are also handled cleverly using quick time taps and swipe gestures respectively. The downside to this control method, of course, is that Horn can't move backwards; you'll need to turn the camera for that.
The puzzles involve lots of switches to be flipped and arrows to be shot through torches, but it's all pretty basic. The game does throw some real head-scratchers your way every now and then, making the bland majority feel like a lost opportunity. The same can't be said about the superlative combat though, which mostly comprises of swordplay using swipes across the screen and dodging left and right. Battles are pretty basic early on, but later bosses are quite challenging, and finding their weaknesses and working out their attack patterns to overcome them feels quite rewarding.
Visually, Horn is a stunner, and few games on iOS can compare to it. Rays of light peer through trees, streams and rivers shimmer as sunlight bounces off them, the hulking bosses are an impressive sight, and the environments do well to immerse you into the story. That said, the locations do tend to repeat quite a bit, making things a little monotonous at times. Also, the game does stutter from time to time on the new iPad, but not enough to sully the experience.
Horn takes the right approach to bringing high-end games to mobile devices by leveraging the touch interface rather than shoehorning console-like controls. If you're looking for a serious gaming fix for your iOS device, this one is right up there.
8/10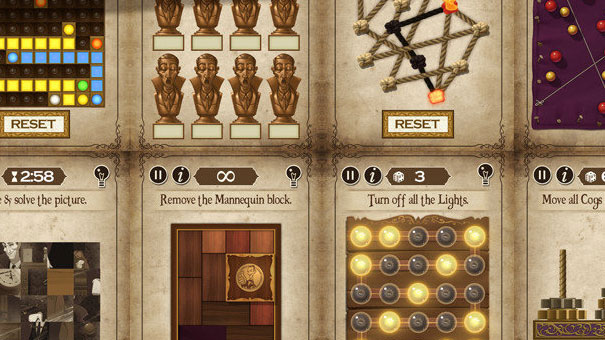 The Curse
By Amit Goyal
Platforms: iOS, Android; Price: $0.99
Version tested: iOS
The Curse is as old school as it gets when it comes to puzzle games. Simply put, it is a compendium of a hundred brainteasers of progressively increasing difficulty. The puzzles are not interlinked by a common theme, save for the simplistic story of the game that ties them together.
The puzzles are mostly familiar – riddles, sliding blocks game where a piece must be removed from a grid by sliding around the other pieces, jigsaw puzzles where pieces must be used to form specific shapes or moved around to form the bigger picture, and other common puzzles such as burn the rope and jars (where water has to be divided in unequal proportions between three jars)
The game mixes up the puzzles fairly well to ensure you are not doing the same thing for too long. Further, some of the puzzles are either limited by time or the number of moves to keep the players on their toes.
The story that ties all these puzzles together is that of Mannequin, a malevolent force who appears as a suave gentleman wearing a mask, and was unleashed when the player starts the game. In the interest of fairness, he gives the player a chance to recapture them by solving a hundred puzzles. Every few puzzles, he returns with quips and taunts for the player. It's done fairly well, but the humour is hit or miss.
My other concern is the difficulty of the game. The puzzles can get quite complicated as you move along, which may put off some players, and the game requires you to buy hints via in-app purchase to simplify it. It's a cheap move from what could have been a nice game to kick back with on a lazy afternoon. For those who really dig these kind of puzzles, it may well still be.
5/10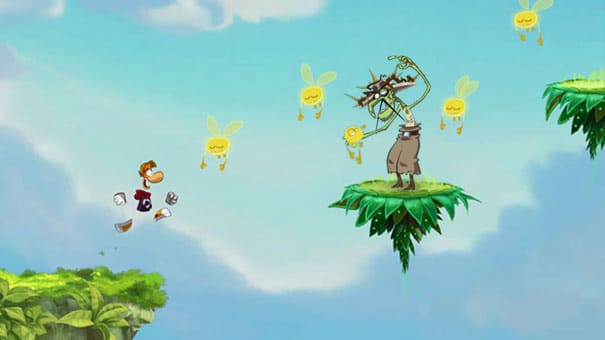 Rayman: Jungle Run
By Amit Goyal
Platforms: iOS, Android; Price: $2.99
Version tested: iOS
Rayman: Jungle Run is the mobile spin-off of the highly successful and critically acclaimed side scrolling platformer Rayman: Origins. However, rather than attempting a port of the console/handheld game, Jungle Run has been built ground up keeping in mind the advantages, limitations and demographics of the mobile platform. The end result is a highly enjoyable and unique side scrolling game that no one should miss out on even at its slightly higher price.
Like endless running games, Rayman runs automatically in the game, with the player required to perform all the other actions. However, the similarities end there. Instead of employing an endless run to score as many points, the game is divided into 40 levels, with the objective to collect as many lums as possible in each level. Collecting the lums requires precise timing and sharp controls, and coupled with the quirky design, beautiful art and excellent level design, it makes each level a blast to play. You will keep going back to each level until you collect all lums.
Further, the levels are divided into four groups, with each group introducing a new action – jump, fly, wall run and punch – to ensure that the game does not get repetitive. As soon as you get comfortable with a mechanic, the game introduces a new one to add another layer of challenge to the game.
Rayman: Jungle Run is an excellent game through and through, and a must-have for all platformer genre aficionados. It successfully carries its console legacy on to the mobile platform and adapts the touch controls well into its eco-system, making it a very engaging experience.
9/10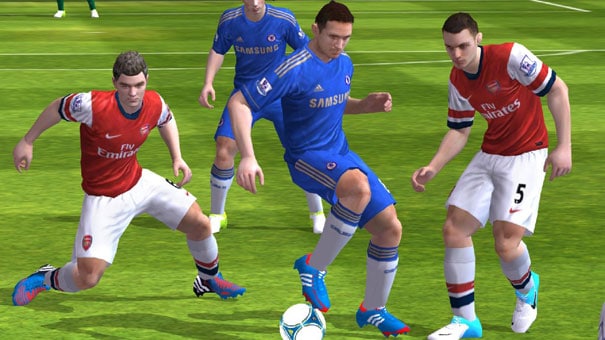 FIFA 13
By Sameer Desai
Platforms: iOS; Price: $6.99
There are some great football games available on the App Store. From the quick thrills of Freekick Battle, to the accessible mini-game-based Score!, to the surprisingly deep management features of New Star Soccer, all those games have succeeded because they are designed for the platform they're played on. FIFA 13, on the other, aims to bring console sensibilities to mobile devices, and this means the inclusion of virtual console controls.
To the game's credit, and very much in line with the franchise's reputation, it manages to cram in way more content than iPhone and iPad gamers might be used to. There's a tournament mode, a career mode, every major club and league officially represented, and this year, online multiplayer too. This is all great news for those looking for a console-like football experience on their iPhone or iPad, just as long as they haven't actually played a recent console or PC version of FIFA.
FIFA 13 on iOS includes none of the gameplay features we've come to expect on consoles and PC, which is understandable considering the technical limitations, but it doesn't include any of the game modes either. The Manager Mode here is something that was discarded from the mainline series years ago, and the online options comprise of only quick matches and online friendlies. And I had a lot of trouble finding matches, with the game either throwing up connection or Wi-Fi errors.
I've never liked virtual console controls on a touch interface, and it really shows its limitations in a game like FIFA 13, where movement is more minute in additional to several other controls for passing, shooting, sprinting, skill moves, etc. There's a reason why other popular mobile football games don't use this approach; it doesn't work.
As you would expect, FIFA 13 looks great on the new iPad. It's one of the better looking mobile games around, backed by some great commentary. For those looking for a more traditional football game experience on their mobile devices with licensed leagues and clubs, this is a great option, but for those who already get their FIFA fix on consoles or PC, there are several better options on the App Store.
7/10