In this week's mobile games round-up, we have a demo disguised as a free game, a paid game that wants you to keep paying, proof that devs still make games for Windows Phone, and an example of the freemium model done right. Check it out.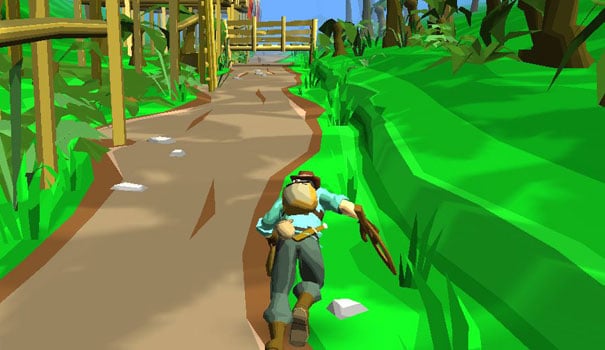 Pitfall!
By Amit Goyal
Platforms: iOS; Price: $0.99
For those of you who don't know, Pitfall is a remake of the 1982's iconic adventure game of the same name by Activision for the Atari 2600. It also happened to be the second best-selling game on the platform, outperformed only by the legendary Pac-Man. Activision must have guessed that many of their consumers back then must now be iPhone-toting corporate honchos, and even included a wave of nostalgia for the fans of the original that may well be worth the price of admission.
The game is great fun to play. It follows the ever-popular endless-running formula, where the player must swipe up and down to jump over or slide under obstacles and keep running as long as he can. Turns are controlled by swiping left and right, and the developers have included a whip to tackle monstrosities such as gigantic snakes and scorpions (and a rather tiny crocodile).
The game follows in the footsteps of Temple Run, and I would go so far as to say that it trumps its inspiration. The graphics are clean, slick and reminiscent of the original at all times and the controls are tight and crisp. Further, the game feels more like an adventure than any of the others in the same genre, with changing scenery that includes tropical forests, caves and swamps. Within these, there are motorcycle and mining cart segments that are immensely enjoyable.
However, Activation is not merely content with your 99 cents. The game follows a checkpoint system every 2,000 meters. By using the diamonds the player earns from levelling up, you can unlock checkpoints and start the game from the last checkpoint you reached. But to do that, you need Macaw Tokens that must be purchased with the in-app currency of silver bars (amongst other upgrades and consumables).
Considering how stingy the game is in doling out both diamonds and silver bars, it is a blatant attempt to push the player to utilize the IAP system (or start right from the beginning each and every time). One would think that a paid app would stress less upon IAP, but that's Activision for you. Irrespective of whether you are a fan of the original Pitfall or not, this is a game definitely worth putting your money in for the sheer sense of adventure you feel while playing it.
7/10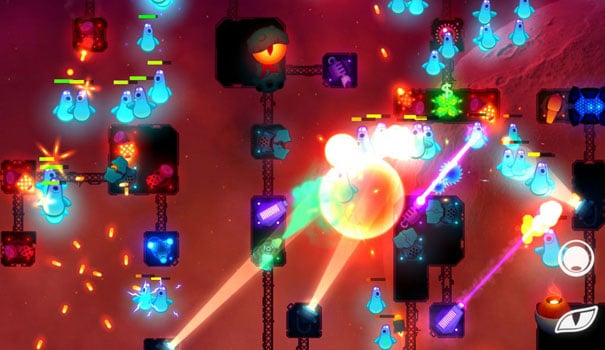 Radiant Defense
By Rishi Alwani
Platforms: iOS, Android, Windows Phone; Price: Free
Version tested: Android
Set across the galaxy's space stations, Radiant Defense has you laying down turrets of various shapes, sizes and power to prevent a neon-coloured alien menace from ravaging the universe. It's a simplistic tale backed by some pretty random dollops of humour, a somewhat overenthusiastic alien villain, and a nonchalant space captain.
The banter between the two during levels is chuckle-eliciting at best. There's an interesting twist to the tower defence genre here with the ability to barricade areas of the map. Clever use of this skill would have your foes taking more damage with the same number of gun placements on hand as they'd be taking a longer route to their objective.
Don't let the bright hues fool you; Radiant Defense is a humbling experience. No matter how great you think your tower defence skills are, you'll find yourself on the receiving end of a rather sound shellacking. Even if you were to give in to the temptation of letting developers Hexage know that their freemium plan was working by procuring the game's additional weapons, it barely makes things any easier. This is one of the toughest games you'll have the distinct pleasure (or displeasure) of playing on a mobile device.
7/10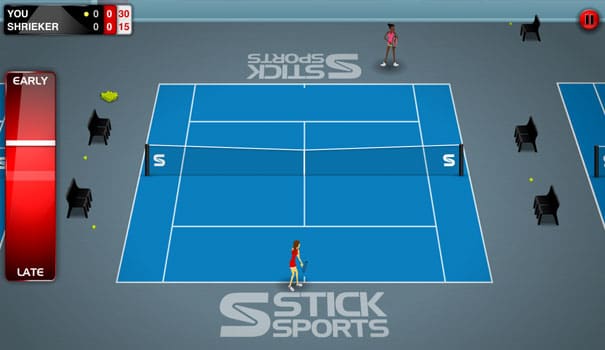 Stick Tennis
By Amit Goyal
Platform: iOS; Price: Free
Version tested: iOS
The 'free' price tag on Stick Sports' latest offering qualifies it as nothing more than a glorified demo. The free version is extremely low on content, with the casual sets game mode, a handful of levels in World Domination and the Daily Challenge available for play. But it is enough to gauge that this is a game worth spending money on.
The gameplay is based completely on timing and placement. It is easy to pick up and play, but employs a fair bit of strategy and knowledge of the game, especially against tougher opponents that you can play by buying its paid modes. The player character moves on its own, and you control the shots by swiping in different directions. Swiping left or right allows you to play cross-court shots, and swiping forward and backward allows you to sacrifice placement to increase or decrease the power behind the shot.
Getting the timing right allows you to play a shot with a greater probability of winning the point. To add a bit of variety, different opponents have different strengths and weaknesses. Some are good close to the net, while others play better at the base line. Advanced opponents are good all-round, and require a fair bit of understanding of the game and its application. Some of the matches with stronger opponents can get really challenging, but never impossible.
The best value-for-money deal is the World Domination mode, which for $1.99, offers 16 progressively tougher opponents each in the men's and women's divisions. The other modes include versions of the popular annual Grand Slam events, where you can play with any player from the top seed to the bottom seed in both the men's and women's divisions. Each of these costs $0.99.
9/10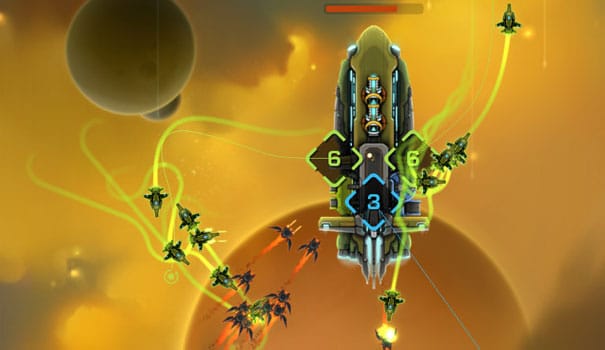 Strikefleet Omega
By Rishi Alwani
Platforms: iOS, Android; Price: Free
Version tested: Android
This game is best described as the result of Starcraft and Flight Control having a torrid affair. Set amidst a war between humans and bug-like aliens, the game has you controlling a squadron of space fighters that have to protect your main vessel. Much like Flight Control, you'll spend a fair amount of time tracing their flight paths by literally tracing your finger across the screen. You can also warp in additional ships by mining ore, fire artillery at the enemy, and eventually level up at the end of each mission, giving it quite the RTS feel.
The story is told through comic book sequences that aren't too heavy on the sci-fi and the presentation is slick. One major issue though is the inability to zoom in to the battlefield, which is pretty sad given the sheer scale of some skirmishes.
In spite of being a freemium game, the developers have done a great job of not shutting you out of progressing (as was the case with CSR Racing) by forcing you to make an in app purchase. In fact, all you'll miss out on are some overpowered ships that don't do much to affect your overall experience.
If you're looking for an interesting take on the RTS and tower defence genres at the magic cost of free, you can't go wrong with Strikefleet Omega.
8/10