Last year was without a shadow of a doubt the Year of the Fighting Games with almost every legendary franchise churning in a contender for the crown. While games like King of Fighters XII deserved to go into the garbage bin straight out of the factory, most of the others were solid heavyweights who put up a quite tough fight in the ring.
The two surprise hits of the year would definitely be the spiritual sequel to the popular Guilty Gear series – BlazBlue, as well as the dark horse, UFC 2009: Undisputed, both packing excellent gameplay elements. The sixth iteration of the Tekken series, going by the tried and tested formula of 'if it isn't broken, don't fix it', managed to blend in perfectly into the 15 years-old franchise, but perhaps lost its fizzle due to lack of new moves.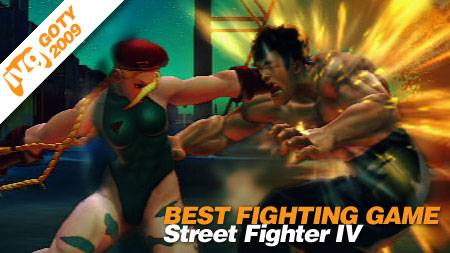 As expected, the WWE franchise, showing signs of lethargy, also released its annual contestant WWE Smackdown! vs RAW 2010. And speaking of lethargic, the PSP (Take note peeps, this is called a Low Blow!) also saw its fair share of strategic button mashers, with Soulcalibur making its debut on the handheld in the form of Soulcalibur: Broken Destiny and an amalgamation of characters of the epic Final Fantasy series in Dissidia: Final Fantasy.
However, Street Fighter IV, going back to old school elements which made Street Fighter II a roaring arcade success, managed to reign supreme well over the other fighters. Garnering critical acclaim from almost the entire gamut of gaming media, the fighting game masterpiece clearly took the title belt for the year, knocking the completion flat out cold. Nevertheless, the sheer quality of the competition made 2009 stand out exceptionally in the fighting games category, making it a year to remember for fans of the genre.
IVG Staff Pick: Street Fighter IV