2010 is home to some major heavyweights such as God of War 3, Halo: Reach, Bioshock 2, Gran Turismo 5 and Duke Nukem Forever (heh, see what we did there?). However, like every year there are always a handful of titles with little or no hype behind them that end up astounding us with their superlative quality or the sheer awesomeness of a new (and well-executed) idea.
And leading the pack in our member voting is none other than the highly unconventional PS3-exclusive crime thriller Heavy Rain. The game promises to be a whole new beast when it comes to story telling, and will feature gameplay which is truly unique with a heavy emphasis (with implications) on the choices the player makes. With Indigo Prophecy, Quantic Dream has already demonstrated their flair for bringing new ideas to the table, and IVGians can't wait to lap up their latest effort.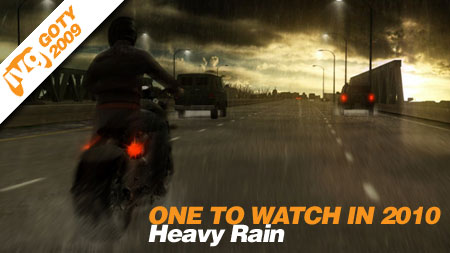 Remedy's psychological thriller Alan Wake finally releases in 2010 after years or waiting and teasing, and the gameplay videos showcased so far are very promising. Rounding off the pack are Rockstar's Wild West extragavanza Red Dead Redemption and 2K's Mafia II, along with Vigil Games' Darksiders, which has already started accumulating some pretty impressive reviews. We feel, however, that the belle of the ball this year is going to be Tom Clancy's Splinter Cell: Conviction. Sam Fisher's latest outing is backed by an impressive E3 presentation, and plenty of new gameplay mechanics such as 'Mark and Execute' and 'Last Known Position' to add freshness to the series. Oh, and there's a full fledged co-op campaign as well.
With so much going on with Sam Fisher's latest outing, we feel that Splinter Cell: Conviction is the game to watch out for in 2010.
IVG Staff Pick: Tom Clancy's Splinter Cell: Conviction