We wrote a while back about how EA may soon have a new distributor in India. Turns out we were wrong. Future EA releases will be available exclusively through Amazon in India.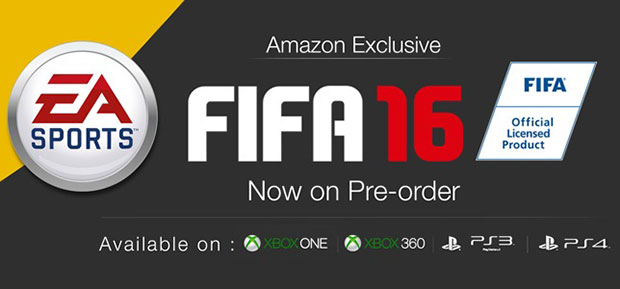 The exclusive deal between EA and Amazon.in comes into effect from today. As per Amazon, 'this will include India's biggest gaming franchise FIFA and other popular titles like Battlefield and Need for Speed.'
"We are very excited to be the partner of choice for EA's gaming portfolio in India. We are the fastest growing eCommerce platform in the country today and India's Largest Video Gaming store. This partnership is a validation of the faith customers and sellers place on our brand. This partnership gives us the opportunity to forge deeper engagement with gaming enthusiasts across the country and aligns with our vision of offering customers in India the widest selection at low prices, fast and reliable delivery and a trustworthy shopping experience," said Noor Patel, director, category management, Amazon India.
The first release through this partnership will be FIFA 16, which is already up for preorder. It will be available in two variants – deluxe and standard.
The standard edition is priced Rs 3,999 on PS4 and Xbox One, and Rs 3,499 on PS3 and Xbox 360. As always, EA won't release the PC version on disc, so Origin is the only way you can get it on PC.
While it's great news that EA games will finally be available in India once again, it does leave physical retail in a lurch, which relies heavily on big games like FIFA and Need for Speed for a large chunk of their gaming business.
The move will also surely put grey market importers on alert, who will look to capitalise on the demand for games like FIFA from physical retailers.
Disclaimer: Amazon.in is an advertiser on IVG