It's not like it needs to be announced, but EA has revealed the first bits of info on FIFA 14, which is set to arrive this fall (late September-early October, we presume).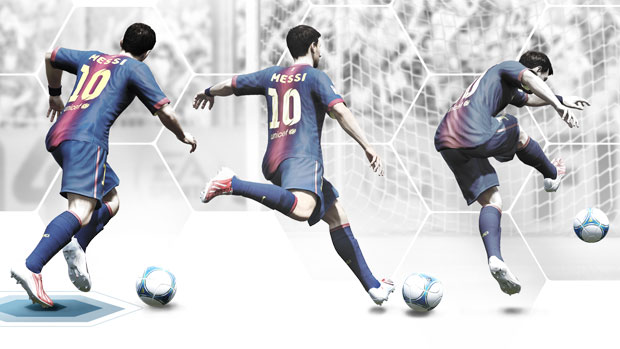 The game has so far been announced for PC, PS3 and Xbox 360, although EA has said it is also coming to other platforms, which it will announce later.
FIFA 13 was also released on PS Vita, Wii U, PSP and PS2, and we can be quite sure that FIFA 14 will also arrive on the PS4 and the new Xbox. But could this be the year EA stops releasing FIFA on PS2 and PSP?
One of the big features EA has revealed for the new game is 'Pure Shot', which aims to deliver more variety in shots on goal. Shot types include dipping shots, knuckle shots and rising shots, and will be determined by power, positioning and momentum. The system is being designed to make a well struck shot on goal feel as rewarding as it does in the real thing.
The other new feature, which we're not quite sure can be called a headlining feature, is 'Real Ball Physics'. How ball physics are different in FIFA 14 only time will tell.
Other gameplay additions include:
Protect The Ball: Enabling players to fend-off and block defenders while dribbling at any speed, out-muscle opponents for position, and turn defenders to carve out opportunities.
Teammate Intelligence: Improved decision-making logic delivers tighter, smarter marking and improved run tracking.
Sprint Dribble Turns: Players can turn in every direction at sprint speed while preserving momentum.
Variable Dribble Touches: Variety on touches when sprinting. Skilled players will have better touch and more control when sprinting with the ball.
In the Career mode, the new Global Scouting Network lets players search for talent all year, while a new hub delivers easy navigation and live scouting reports.
In multiplayer, FIFA 14 promises a new online mode that encourages more social competition, although no other details were divulged. There also changes being made to FIFA Ultimate Team, but again, no details.
"FIFA 14 will play the way great matches are contested with build up through midfield, tension throughout the match as chances are created, and incredible finishing," said executive producer David Rutter. "Opportunities in FIFA 14 will be rewarding and great goals will look stunning."
EA's released a bunch of screenshots and a couple of technical videos (no proper gameplay though). Check them out below.