Update: We've just got word from Express Interactive that Indian gamers will be able to avail of the pre-order bonus from specific retailers. This includes access to the in-game Atomic Blimp as well as a double sided poster. A list of retailers has not been provided yet.
Rockstar Games has announced two special editions for their highly anticipated open world action game, Grand Theft Auto V. You have the Collector's Edition priced at $149.99, while the Special Edition will retail for $79.99. While it's not entirely confirmed yet, there's a large probability that both versions will make it to Indian stores as well. Here's a look at both their contents:
Grand Theft Auto V Special Edition –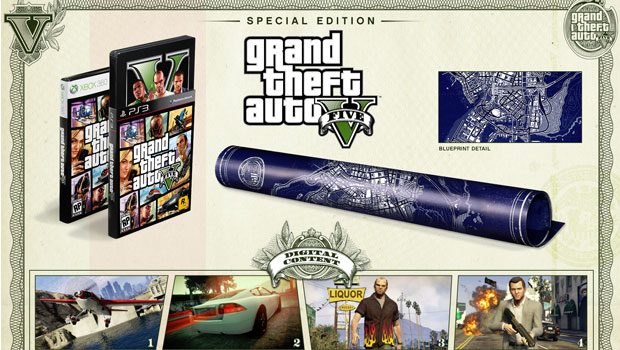 Full retail copy of Grand Theft Auto V
Collectible SteelBook with Exclusive Artwork – This special SteelBook features double-sided, never-before-seen artwork of Michael, Trevor and Franklin.
Blueprint Map –  This exclusive, additional 21.5" x 26.75" map displays a blueprint view of Los Santos and Blaine County. Cryptic markings indicate locations for fast cash and other points of interest for the up-and-coming entrepreneur.
Special Ability Boost – Michael, Franklin and Trevor each have a unique special ability. With this boost, the special ability bar will generate 25% faster.
Stunt Plane Trials – Single player Stunt Plane Trials let you take on additional aerial challenges spread throughout Los Santos and Blaine County.
Bonus Outfits, Tattoos and More – Michael, Franklin and Trevor get bonus outfits in their wardrobes, character specific tattoos at tattoo parlors, and special deals from shopkeepers across Los Santos and Blaine County.
Additional Weapons – When visiting Ammunation stores in single player, merchants will have special weapons in their inventory available for free: the Pistol .50, Bullpup Shotgun and melee Hammer.
Grand Theft Auto V Collector's Edition (includes all the contents of Grand Theft Auto V Special Edition as well) –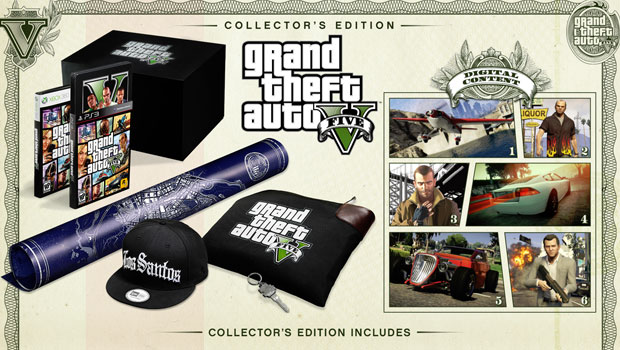 Grand Theft Auto V Security Deposit Bag with Logo Key
Grand Theft Auto V New Era 9FIFTY Snapback Cap
Custom Characters for Grand Theft Auto Online
Unique Vehicles and Garage Property
Grand Theft Auto V releases September 17th, 2013 for the Xbox 360 and PS3.