The new Hitman game release has been shifted December 8 to March 2016.
Planned as a game far larger than Hitman:Absolution, developers IO Interactive have described Hitman its "the biggest venture". Unfortunately, that also means delays.
"These few extra months will mean we can add more to the launch content of the game, more than we had originally planned, and then follow with a tighter frequency of updates, which ultimately will create a better game for everyone. And in the end, that's what we're all looking for", IO Interactive said.
"We know it's frustrating to have to wait a bit longer for the game, but we truly believe it will mean we can deliver a better launch and overall experience."
To describe the grand scale of the game, IO interactive shared an infographic, comparing a mission in the new Hitman called Paris Showstopper to the largest level in Hitman: Absolution, Streets of Hope. The new level is roughly six times larger than the previous largest level. We are hoping this reflects multiple paths the players can take to complete a mission.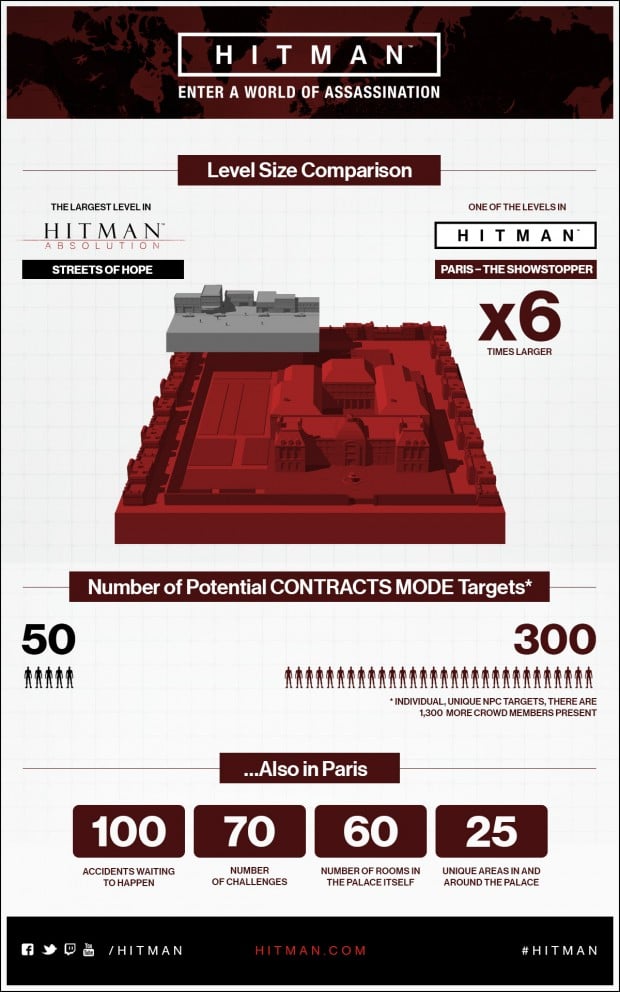 The new Hitman is due for release on Xbox One, PlayStation 4, and PC sometime in March 2016.